KFC Brought Back The Double Down And We Tried It To See If It Lives Up The Original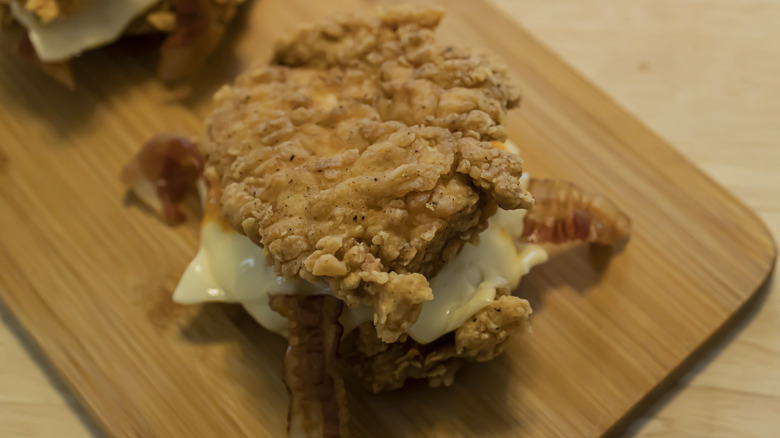 S.G. Howe/Mashed
KFC is the fast food chicken chain that we hate to love. The buckets of chicken are hugely convenient for busy people, especially parents, and at least one of those 11 herbs and spices must be pure magic considering how good the batter tastes. Fast food chicken isn't exactly an empty arena, but for some reason, KFC satisfies a craving that Chick-Fil-A, Church's, and Raising Cane's don't quite seem to reach.
It's no secret that KFC is far from a nutritional powerhouse — the chain and its begrudging yet somehow loyal patrons are well aware of that — but Colonel Sanders has pushed the boundaries a time or two, most notably with the Double Down. Who knew that a fast food sandwich could have such a meteoric arc through American culture for years, leaving disapproval, concern, and morbid curiosity in its wake? The Double Down first debuted in 2010, and it was an immediate success, surpassing 10 million sales by the end of its first month. Why did a random chicken sandwich inspire both a legion of critics and a cult following that has awaited its return for almost a decade? We got to a KFC on the sandwich's first day back to see if the Double Down lives up to the hype or if it was put to bed for a reason. 
What's in the Double Down, and what comes with it?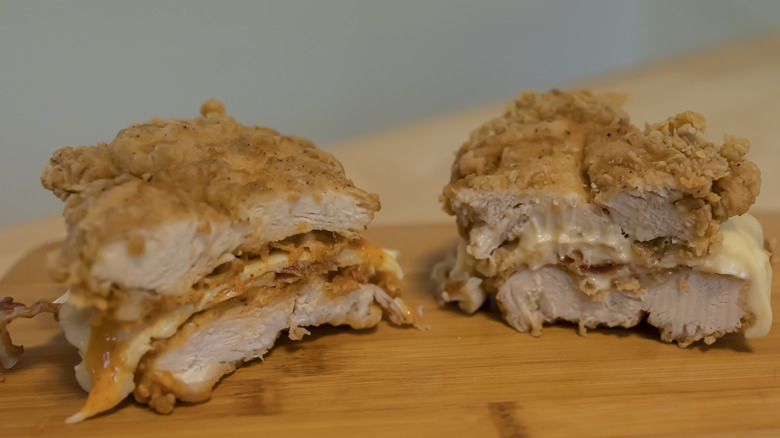 S.G. Howe/Mashed
It's difficult to call the Double Down a sandwich because the term implies the inclusion of bread. Unless you count the chicken's breading as a bun, there's no grain to be had on this "sandwich." The Double Down is two chicken breasts, battered and fried in KFC's extra-crispy breading. Sandwiched between (okay, we see how the term applies now) the pieces of chicken are two slices of hickory-smoked bacon and two slices of cheese (it's not specified what type of cheese, although we believe it is white American). You can order the Double Down regular — that means with mayo — or spicy, which exchanges the mayo for a spicy sauce. 
Yep, that's all. There are no buns and no vegetables — the Double Down is predominantly meat. The Double Down can be ordered as a single item or as a combo, which adds on one medium-sized side and one medium-sized soft drink.
How much does the Double Down cost?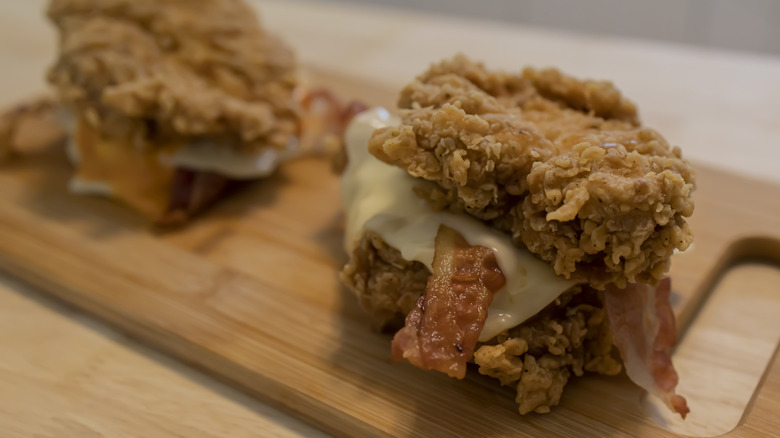 S.G. Howe/Mashed
The Double Down is not the thing to order when you have an undying craving for fast food and $10 to spend. The sandwich alone is $8.99 plus tax at our local KFC. We purchased two sandwiches a la carte and paid $19.42, which could buy you enough chicken sandwiches to last a whole week from other drive-through chains. If you have the appetite for it, you might as well make the Double Down a combo — it only costs three dollars more for the medium-sized meal.
The cost makes sense when you consider how much chicken the sandwich gives you — we weren't expecting to get two chicken filets and two slices of bacon for the same price as the chip of poultry you can get on the McDonald's menu. But hunger and budget definitely need to align here; the Double Down gets filling fast, so be sure your eyes aren't bigger than your stomach so this almost $10 fast food sandwich isn't going to go to waste.
How long is the Double Down available, and where can you get it?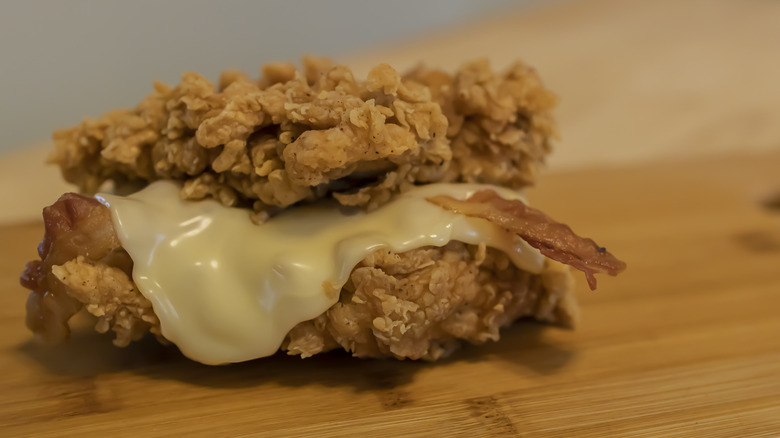 S.G. Howe/Mashed
The Double Down is available at participating KFC locations for only four weeks after its re-launch date, which was March 6. It appears that the release only includes the American market, but even Canada has had its run-ins with the bunless wonder over the years. There doesn't seem to be any online store locator for finding participating KFCs, but this sandwich uses ingredients already kept on hand for other menu items, so availability should in theory be widespread. 
There are almost 4,000 KFC locations in the United States, so you shouldn't have too much trouble finding this sandwich. California has the most at 427, followed by Florida at 254. Double Down fans in Alaska, Wyoming, and South Dakota are the most likely to have a hard time getting their hands on this meat heap, with only five, six, and six Kentucky Fried Chickens in their states, respectively. 
How does the Double Down compare to other KFC menu items?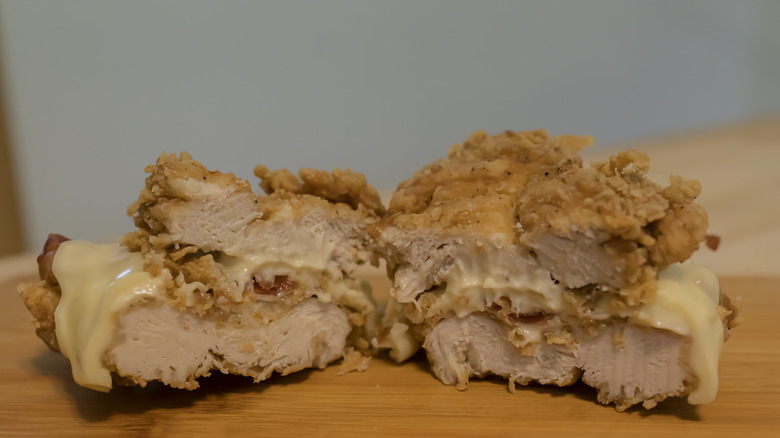 S.G. Howe/Mashed
The Double Down is definitely, in our opinion, the most unique thing currently on the KFC menu. This restaurant doesn't really delve into sandwiches much; besides the also limited-time-only new bacon and cheese chicken sandwich, the only bunned offering at KFC is a classic chicken sandwich and a mini version of the same, both of which come with either mayo or spicy sauce and pickles.
This is one area where we think the Double Down could perhaps have been improved — there needed to be the tang of pickles or, if not that, a leaf of lettuce and a few onion slivers. We aren't missing that the schtick of the Double Down is its silliness and absence of normal sandwich components, but if we are going to pretend for even a moment that this is supposed to be genuinely enjoyable, at least pickles would have been nice. 
KFC Double Down nutrition facts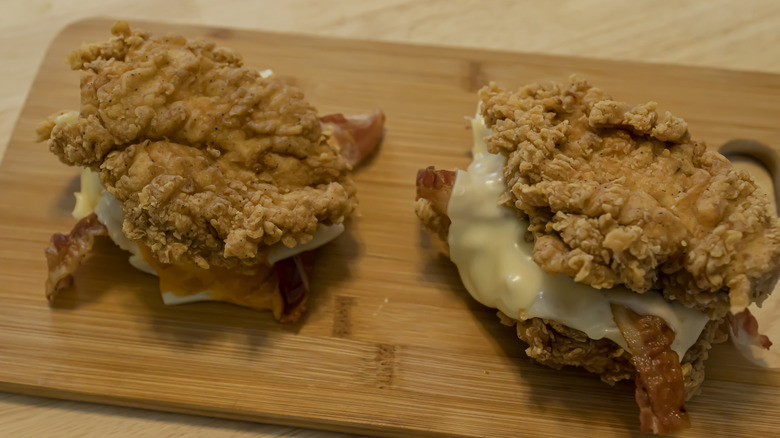 S.G. Howe/Mashed
This is the part that we all knew was coming but would have been happy to ignore. Under normal circumstances, we'd ask the question "is the Double Down good for you?" But a more appropriate wording for this review would be "how bad is the Double Down for your health?" Unfortunately, KFC's Full Nutrition Guide online doesn't have this chaotic creation on its list, but Fast Food Nutrition tells us that the 2023 version of the Double Down (which does seem a bit bigger than the OG, in terms of the size of the chicken filets) will cost you 610 calories, with over half (54%) of those calories coming from fat and just over a third from protein.
There are definitely some numbers in the Double Down's nutrition label that are likely to thwart off some potential customers — namely the 37 grams of fat and the 150 milligrams of cholesterol. That's 57% and 50% of the recommended daily intake, respectively. Easily the most grimace-inducing — and probably most anticipated — value on the label is the sodium. One Double Down brings a whopping 1,880 milligrams of sodium, which is over three-quarters of the recommended amount. There are, at least, 52 grams of protein in the sandwich, as one would expect when the buns are slabs of chicken. 
So how does the Double Down taste?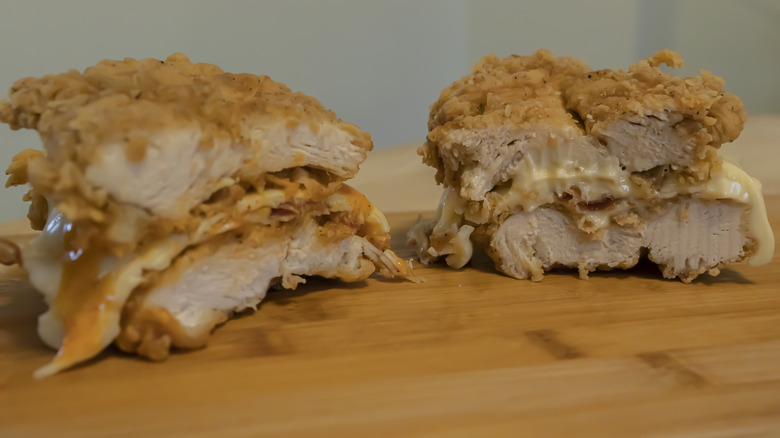 S.G. Howe/Mashed
For what it is, the Double Down tastes fine. Regular-sized-mouth-havers have to be able to unhinge their jaws to get the whole thing in. It's a bit of a textural circus, given there's no soft bread or crunchy vegetables. The crispiness of the bacon is mostly lost among the chicken, and two strips doesn't seem adequate for competing with that much chicken. If you've found regular KFC chicken to be too greasy for your liking, as we've noticed from the chain's food, a positive of the Double Down is that it doesn't share any of that greasiness. If we had to pick a favorite, it would be the spicy version. The sauce isn't unbearable, but the added heat and smokiness make the Double Down more interesting beyond protein overload. But overall, eating about a quarter of the sandwich was enough for the whole "the buns are chicken breasts, get it?!" novelty to wear off and the meat sweats to set in. 
So is the new Double Down better than the 2010 version? From what we can remember, the old sandwich was a bit smaller than this, and we don't remember there being a spicy version. Otherwise, everything is identical, so you could say that the 2023 Double Down lives up to its predecessor. However, that doesn't really answer the question of whether it should exist in the first place.