The Fermented Ingredient You Should Be Adding To Pasta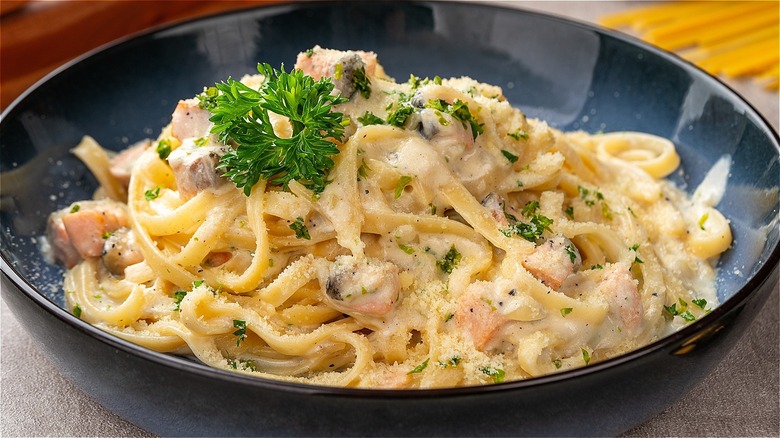 Michaelnero/Shutterstock
Pasta is one of the easiest staples to cook at home, so if you're anything like us, chances are you've eaten it in at least dozens of different ways. But if you feel stuck in a rut, overly reliant on jarred marinara or plastic tubs of pesto to get a tasty dinner on the table, you don't need to despair. That's because it's possible to liven up a basic pasta dish with one ingredient you can keep in your fridge for months without it going bad, and just a spoonful or two can add a big boost of flavor to even a simple recipe for buttered noodles. The ingredient in question? Doenjang.
It seems like these days everyone knows about kimchi, but there are other fermented Korean foods that should be on your radar, too. And while spicy gochujang gets a lot of love, it's not as versatile as doenjang. Doenjang is a paste made from fermented soybeans, similar to miso. It's a thick paste that can sometimes be a little chunky, and it has a salty, savory, slightly sweet flavor that helps amp up Korean soups like doenjang-jjigae. But that same flavor can be used to liven up an otherwise boring weeknight pasta dinner.
Doenjang is the pasta secret
You may have heard of creamy miso pasta, but did you know that you can add Korean doenjang to pasta, too? On TikTok, New York Times Cooking shared Eric Kim talking about his method, which is a Korean take on Italian food. He adds add doenjang, butter, milk, mirin, and black pepper to pasta that's removed from the cooking water before it's al dente, then finishes cooking it in a pan with the other ingredients and some pasta water until the pasta is al dente and the sauce is creamy and emulsified. Kim says that "doenjang has its own cheesiness that's incredible," that brings out "deep savory flavors that have been unlocked on your tongue that you've never had before." Take that, parmesan!
You could also try making a compound butter with doenjang, and simply add that to your recipe whenever you cook up some pasta. Just swirl with your pasta, pasta water, and pepper until the pasta is cooked to your liking. And much like the viral TikTok miso butter flavor bomb, doenjang butter isn't just for pasta — it can be used to add a savory boost to everything from seared steaks to cornbread muffins, or even simple baked potatoes or steamed veggies. One thing is for sure, though. Once you realize how versatile this fermented Korean flavor bomb is, you'll want to keep a tub of doenjang in the fridge at all times.