The One Type Of Fish Chefs Never Buy At Costco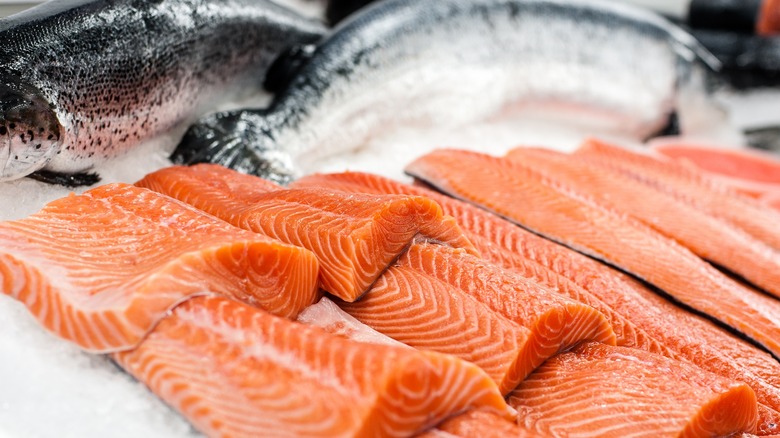 Taras Shparhala/Shutterstock
While we can't deny that Costco is the place to go if you're looking to buy your groceries in bulk, the wholesaler can be a less-than-ideal place to shop for fresh produce, dairy, or meat. As you might guess, the reason for not doing this comes down to quantity and quality over time. That gigantic crate of blueberries may be a great price, but there's simply no way your family will be able to eat the entire thing before the berries spoil. Seriously, just skip the Costco produce. The same concept applies to Costco's sour cream. Even if you consider yourself a sour cream fiend, you probably wouldn't be able to consume 3 pints of it before it starts growing mold.
Unfortunately, this pattern continues with Costco's fish. That said, there's a very specific category of fish that Costco shoppers shouldn't buy — and chefs recommend avoiding it for very specific reasons. So what do you need to know about Costco's fish?
Don't buy Costco's frozen or pre-seasoned salmon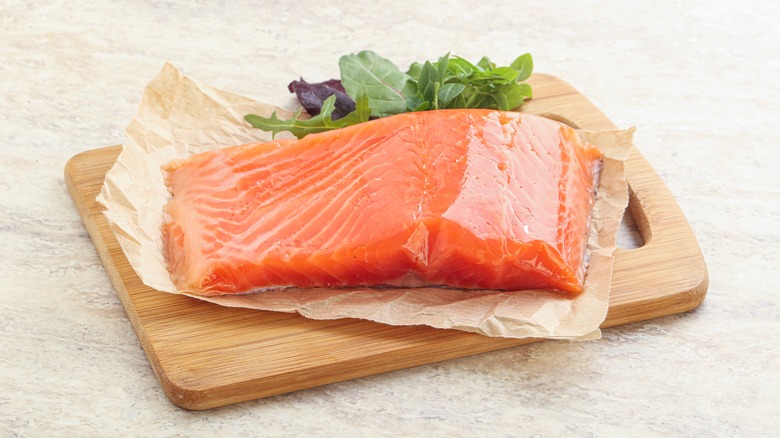 Andrey Starostin/Shutterstock
Chef Lizzy Briskin spoke with Insider about which Costco products she avoids at all costs, one being the store's frozen and pre-seasoned salmon. According to Briskin, freezing and/or marinating fish for extended periods of time can prove detrimental to the meat's integrity and texture. Whether this occurs from ice crystals melting or acids from marinades breaking down proteins within the meat, the result is the same: mushy fish. Gross.
Instead, Briskin recommends shopping for fresh salmon at Costco's seafood counter. Sure, it may be a bit more expensive than buying frozen fish, but keep in mind you're paying for quality. You'll also be able to marinate the fish yourself, which is great if you prefer certain flavors or are planning to pair it with specific dishes. This fresh ginger and salmon recipe, for instance, pairs beautifully with rice or a tossed salad. We don't know about you, but we're hungry and ready to get cooking!