We Tried The New High Noon Tequila Hard Seltzers. This Is What Summer Tastes Like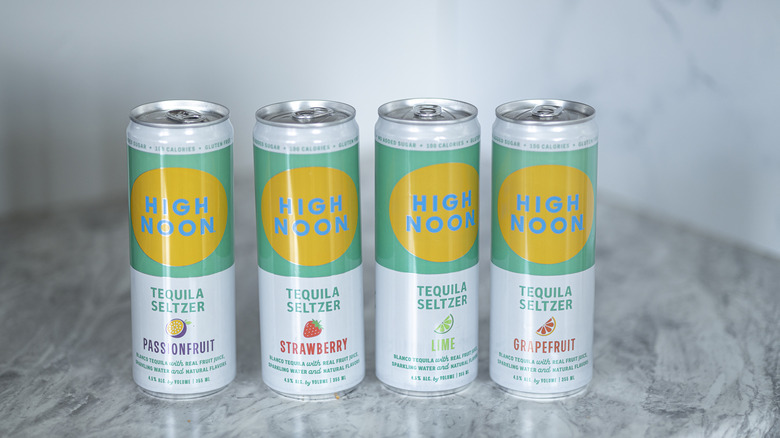 S.G. Howe/Mashed
It's refreshing, light, and delicious — sparkling water, or seltzer water, has had a grip on us ever since its popularity surged a few years ago. First, there was plain old seltzer water, followed by flavored seltzer water. Then booze joined the party with spiked flavored seltzer waters, a beverage made popular by brands like White Claw and Truly. If you're a fan of bubbly, especially with additional alcohol, then there's a new adult version of this sensational summer sipper in town, courtesy of High Noon. Only this time the alcohol packing the punch is tequila, instead of vodka or sugar-fermentation-derived alcohols like the type that's used in White Claw. 
On March 1, High Noon launched its new Tequila Hard Seltzer in four flavors: strawberry, lime, grapefruit, and passionfruit. After a cold and bleary winter, a batch of lively new seltzers that have come to party is just what many of us need. So, in the spirit of warmer months ahead, we snagged the new drinks to find out if they really are barbecue-ready and poolside-worthy. 
What's in High Noon's Tequila Hard Seltzers?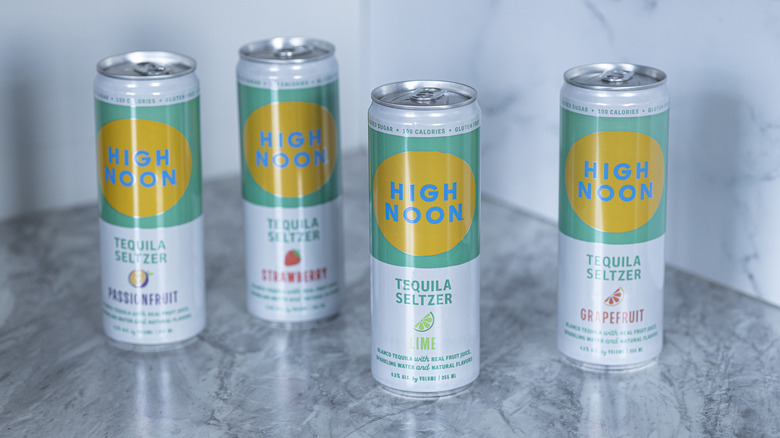 S.G. Howe/Mashed
What will you find in each can of High Noon's Tequila Hard Seltzer? According to the packaging, you will encounter nothing more than blanco tequila, sparkling water, fruit juice, and natural flavors. There are no added sugars or high fructose corn syrups in these bubbly beverages. 
So what, exactly, is blanco tequila, and why does it matter that High Noon uses it here? Blanco tequila is one of three types of tequila, all of which come from the agave plant — the other tequila varieties are reposado and añejo. The distinguishing factor between the varieties is how long they've been aged, which in turn affects their taste. 
Blanco tequila, also known as silver tequila, is not aged at all. Instead, it's bottled immediately after the final round of distilling, leading to a sharp, peppery flavor with citrus notes. This is often preferred for cocktails because of its straightforward, robust, and simple flavor. Other tequila varieties have more layers to their taste because of the aging process they've gone through. Añejo cocktails are rare, as this tequila is considered to be at its best when sipped straight, but reposado can add rich complexity to margaritas and other tequila-based drinks. 
How much do the High Noon Tequila Hard Seltzers cost?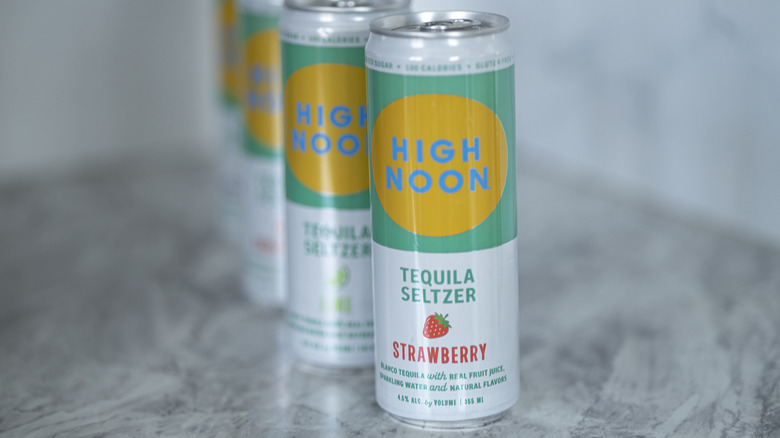 S.G. Howe/Mashed
According to High Noon, the Tequila Hard Seltzers are currently only sold in an eight-count variety pack. The cost will vary quite a bit based on local and state taxes and regulations, plus any can deposits that might apply. All of this means that this new variety of seltzers is a bit more expensive than its vodka-based counterparts. At the small liquor store in Minnesota where we purchased our seltzer sampler, the eight-pack of Tequila Hard Seltzers was nearly $30 after taxes and deposits. However, the MSRP for the tequila hard seltzer is just $21.99, so you may be able to find it at a cheaper price near you.
To put the cost of High Noon's Tequila Hard Seltzers into perspective, an eight-pack of the same brand's Vodka Hard Seltzers cost just $20.99 at Target. Even the 12-pack of High Noon's vodka seltzers cost about $5 less than the tequila version in an eight-pack at the price we found it. The tequila seltzers run you about $3.75 per 12-ounce can, over a dollar more per can than the vodka seltzers at our regional rates.
How long will High Noon's Tequila Hard Seltzers be available, and where?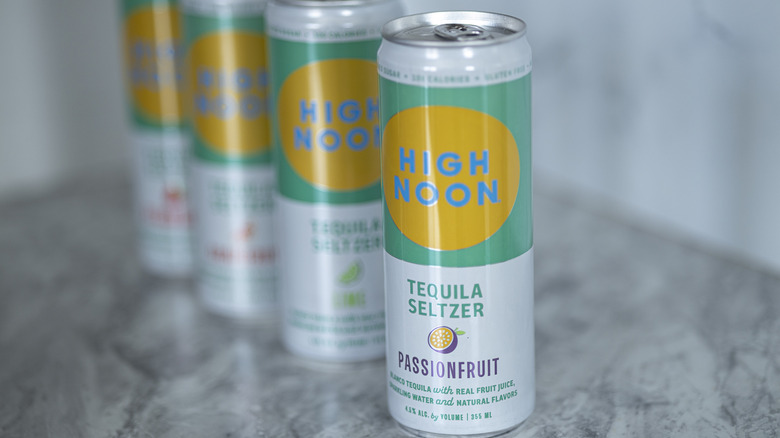 S.G. Howe/Mashed
It appears that High Noon doesn't intend to kill the 'quila any time soon. That's because the brand has not labeled the new tequila seltzers as limited-time-only or seasonal, so we have reason to believe that they'll be around for a while. The new drinks just launched in March 2023, so availability in some areas of the United States may remain spotty until High Noon's full-fledged marketing campaign takes off later in the spring. 
We found our eight-pack at a small, locally-owned liquor store chain. You may have even better luck using High Noon's liquor locator tool, but this doesn't appear able to distinguish between vodka and tequila varieties as of writing. In any case, if you want to scope out the shelves for the new seltzer while out shopping, High Noon products are carried at quite a few major liquor retailers including Costco, Target, Walmart, Safeway, and 7-Eleven. Booze delivery app Drizly can also help locate High Noon and bring it right to your door, assuming you're fine with additional delivery fees.  
Are the Tequila Hard Seltzers better than High Noon's Vodka Hard Seltzers?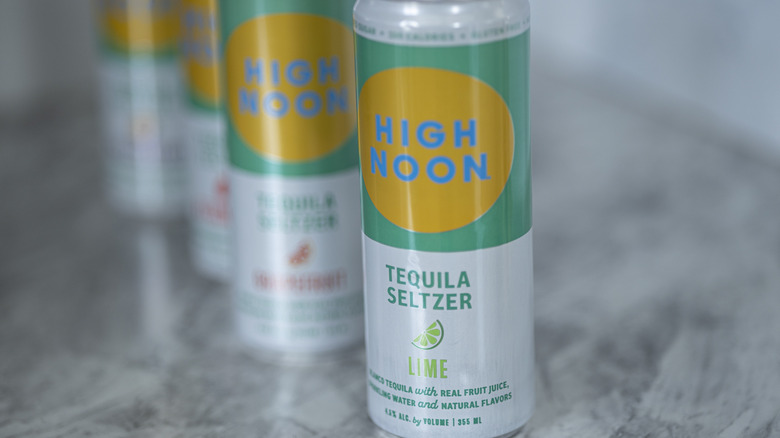 S.G. Howe/Mashed
Between margaritas and shots, tequila is seldom excluded from summertime shenanigans. Is this spirit the new It Girl of warm weather drinking? Vodka seltzers are certainly a good alternative when you don't want the heavy carbs of beer, the tannin headaches of wine, or the grimace-inducing gut-kick of straight liquor. But how does a tequila seltzer measure up against the competition?
The High Noon Tequila Seltzers are there for when you're not a fan of vodka's taste or bite. Since we prefer tequila, we found the new seltzers to be more enjoyable. The more complex flavor of tequila is just more interesting than that of vodka, even with a simpler blanco tequila variety. Ultimately, the hard seltzers sort of taste like sparkling margaritas. 
All told, we don't think one of the vodka or tequila seltzers is better than the other, outside of subjective preference. We've tried both kinds of alcoholic seltzer from High Noon, and while the Tequila Hard Seltzers do seem to taste like a stronger cocktail, both varieties contain an equal amount of alcohol by volume. In the end, the choice is up to you.
What are the nutrition details?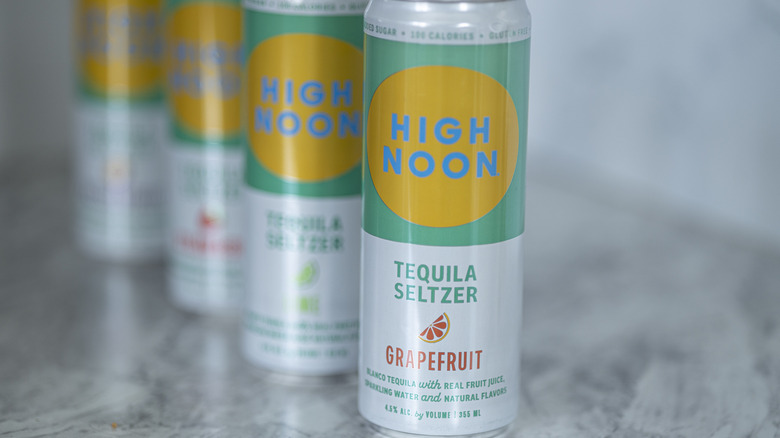 S.G. Howe/Mashed
According to the nutritional info on the packaging, these seltzers are low in calories (about 100 per 12-ounce can), sugars, and carbs, making this a potentially good sipper for anyone who prefers lighter drinks. All of these varieties are free of artificial flavors, added sugars, high fructose corn syrup, or gluten. 
The passionfruit flavor is the highest in carbs at 5.1 grams, followed by lime, strawberry, and grapefruit (5, 4.4, and 4.3 grams, respectively). Each flavor only contains 2.6 grams of sugar per can, and none contains any protein or fat. By contrast, the average on-the-rocks margarita contains around 12 grams of sugar per every four ounces and may contain over 10 grams of carbs plus 160 calories or more. 
As for alcohol, all of the High Noon seltzers contain 4.5% alcohol by volume. That's less than White Claw Hard Seltzers and Truly seltzers, which each contain 5% ABV in their regular products and around 8% ABV in stronger seltzers. 
Which High Noon Tequila Hard Seltzer is the best?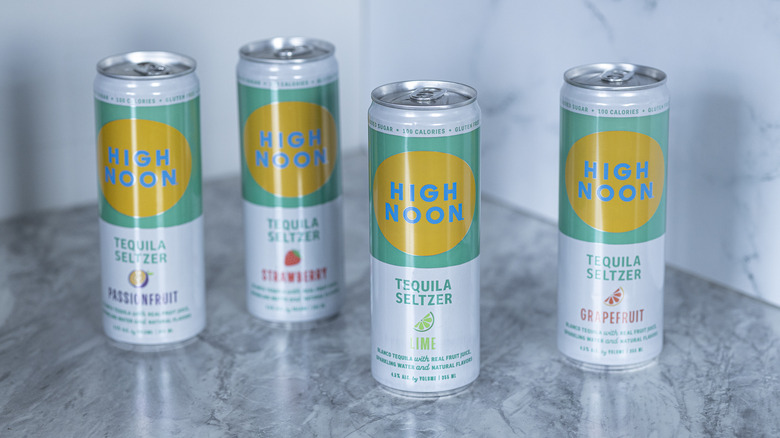 S.G. Howe/Mashed
The new lineup of High Noon Tequila Hard Seltzers includes four flavors: grapefruit, passionfruit, strawberry, and lime. If we had to pick a favorite, it would be a close race between strawberry and lime. The lime tequila seltzer reminded us of a traditional on-the-rocks margarita, just with a few bubbles added. It wasn't overbearingly sweet but wasn't bitter, either. 
The strawberry tequila seltzer was a touch sweeter, but still very balanced. The bright, summery berry taste paired well with the blanco tequila. This was the standout flavor of the lineup. When we think of the ultimate summer drink, it isn't surprising that something involving strawberries and tequila comes to mind. The strawberry one may be our favorite right now, but hopefully, High Noon will eventually incorporate some of its best vodka seltzer flavors, like pineapple and cherry, into the tequila roster. 
Which High Noon Tequila Hard Seltzer is the worst?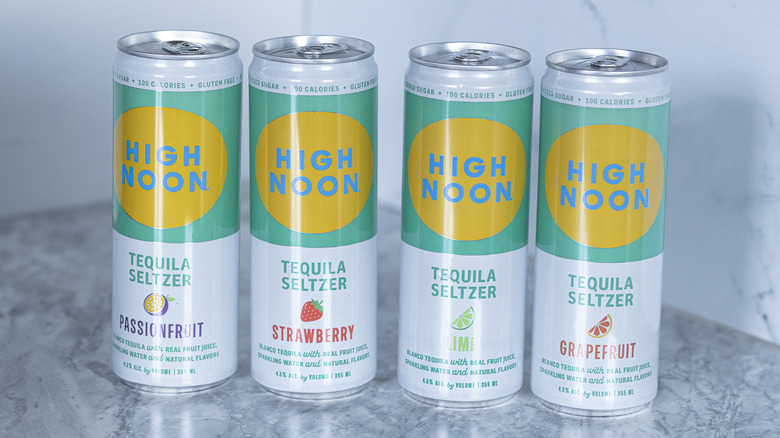 S.G. Howe/Mashed
Between the grapefruit and passionfruit flavors, we preferred the passionfruit more. It was a two-part taste that started sweet and ended on a subtle note of bitterness. It was still very pleasant but not as enjoyable as lime or strawberry. Given that it's a more unique flavor, especially when compared to strawberry, passionfruit can be an acquired taste. 
The grapefruit flavor of High Noon's seltzers took a fast plummet to last place. Even the smooth blanco tequila wasn't enough to balance out grapefruit's traditionally sharp and bitter flavor, a taste that we can find tolerable in some instances but certainly not this one. We'd have rather tasted any one of the other flavors the vodka seltzer comes in incorporated into the tequila seltzer line. The grapefruit seltzer isn't one we'd care to finish, making it would probably be the last flavor standing in the fridge if we were to buy the variety pack ever again.
Are the High Noon Tequila Hard Seltzers worth it?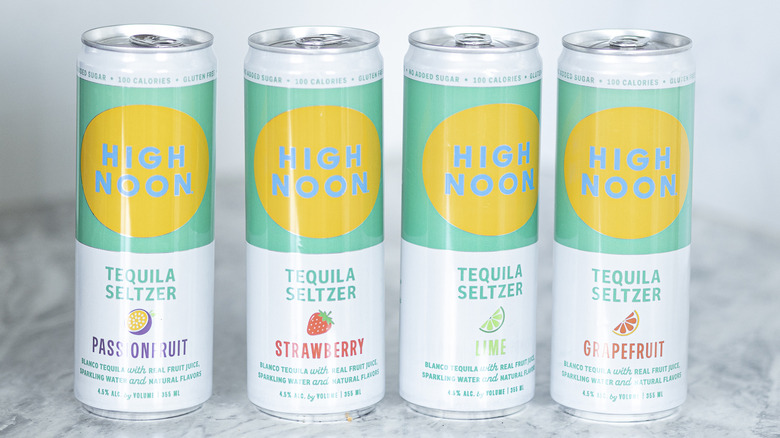 S.G. Howe/Mashed
We thoroughly enjoyed the flavor of (most of) these new Tequila Hard Seltzers from High Noon. If you're not a huge tequila fan, we don't think the seltzers are worth the buy if you can only find them at a serious markup. And even once we start to see more of this tequila seltzer in stock for a more reasonable price, we'd be happy to skip the grapefruit flavor. These seltzers will be worth the price to us when we're able to buy packs of individual flavors like you can with the vodka variety.
Overall, these were super-fun beverages with strong fruit flavor with smooth, balanced tequila. We think your guests would approve if you included an eight-pack at your next cookout. Although summer may be a few months away, High Noon's Tequila Hard Seltzers can carry us through the remainder of winter. They are hot sun and everything fun in a can.