Don't Panic, But There's A Girl Scouts Thin Mints Seasoning Blend Now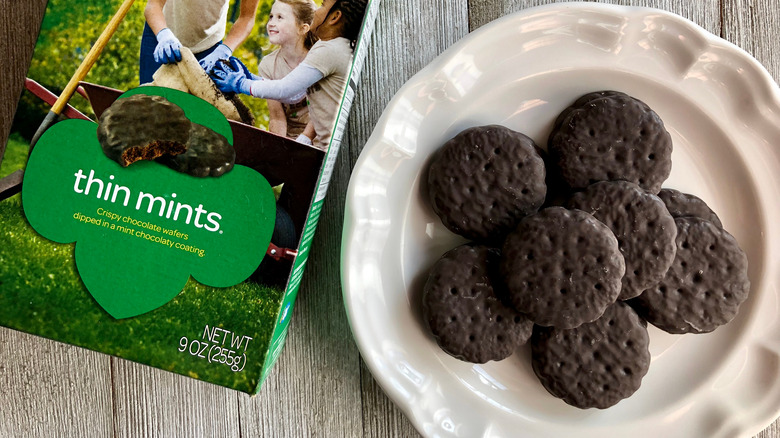 JMCA.photo/Shutterstock
For many Girl Scout cookies fans, there are few things as satisfying as taking a bite of a crumbly, crispy Thin Mint. But these are only available from the Girl Scouts of the USA for a short part of the year, typically from January to April. You've previously had to spend months languishing after finishing off the crumbs from the bottom of the box, waiting for a sash-wearing scout to knock on your door. But on March 14, B&G Foods announced a new product offering that may satisfy your cravings year-round. The product is an officially licensed Girl Scouts Thin Mints Seasoning Blend that will be available year-round, according to a press release.
B&G has previously released other branded sweet treat sprinkle blends, like Cinnamon Toast Crunch Cinnadust and Twix Shakers Seasoning Blend. Thin Mints is the only Girl Scouts cookie variety on the market in seasoning form, and it's currently only available at Sam's Club, the wholesale membership-only shopping center owned and operated by Walmart Inc. Here's everything we know about the seasoning blend rollout.
What to expect from the Thin Mints Seasoning Blend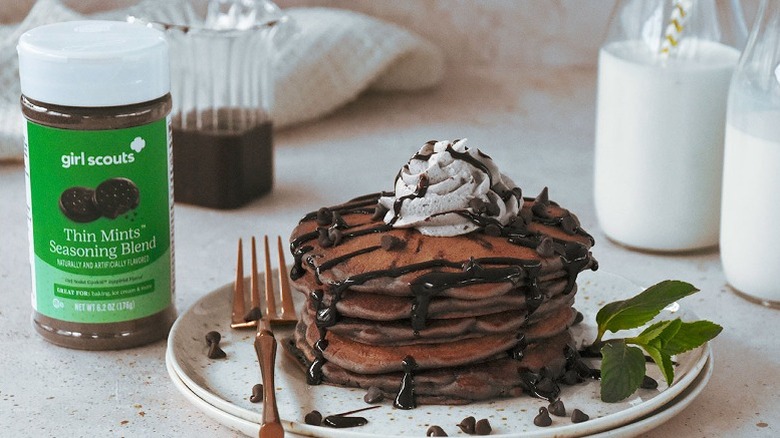 B&G Foods
The Girl Scouts of the USA use only two bakers for all Girl Scout Cookie baking, ABC Bakers and Little Brownie Bakers, so this new collaboration with B&G is notable for the organization. While the cookies will remain seasonally available, B&G plans to distribute and sell the Thin Mints Seasoning Blend year-round. The recipe consists of "dark cocoa, mint flavor, and fine cookie crumbles that combine to perfectly emulate the flavor of the popular Thin Mints cookie." B&G recommends using the seasoning sprinkles on everything from brownies and pancakes to hot chocolate and oatmeal.
While you can only buy the blend at Sam's Club for now, B&G plans to broaden its distribution later in the spring. Though it has not announced which retailers and regions it will expand to, it will likely become more accessible in a few months.