Taco Bell Is Bringing Back The Volcano Menu
etorres/Shutterstock
Die-hard fans of Taco Bell can rejoice and be ready to get their spice on, as its menu is about to get even hotter. For those who have answered the gong of the bell for some time, you may remember the limited-time Volcano Menu which made an appearance back in 2008. It featured a wide variety of spicy options such as the Volcano Nachos featuring jalapenos and Lava Sauce, which was a tongue-sizzling take on their nacho cheese sauce. The face-reddening menu was also highlighted with the Volcano Taco, which contained Taco Bell's signature seasoned beef, lettuce, and Lava Sauce, all contained within a special red taco shell, as well as the Volcano Double Beef Burrito which was stuffed with a heaping helping of ground beef, Lava Sauce, Mexican rice, a layer of crispy red strips, sour cream, and shredded cheese in a tortilla wrap.
But like all flashy things that burn bright, the spark didn't last forever as the Volcano Menu sizzled out in 2013, leaving fans with stinging tongues and empty bellies. However, in a saving grace in these dark times, Taco Bell has recently rekindled the interest in its fanbase with little teasers that had folks on the edge of their seats with anticipation. And it all started with a simple update of their social platforms' pictures.
Here's how Taco Bell revealed the return of the Volcano Menu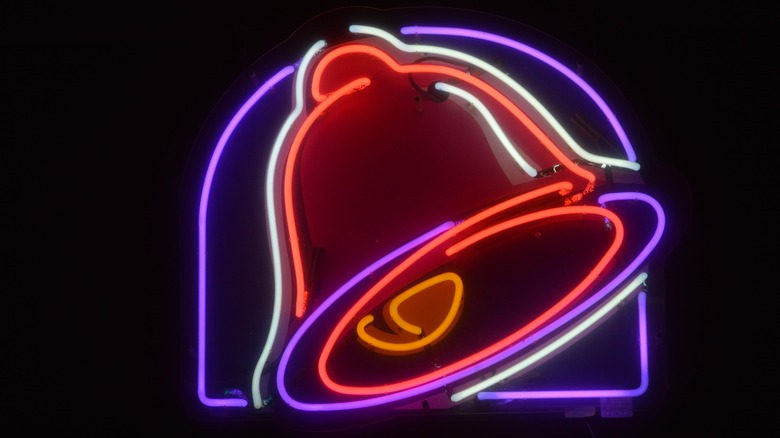 Around the World Photos/Shutterstock
Taco Bell tweeted a cryptic message to its 2 million followers which read, "We're just a social media manager who doesn't have the power to bring back menu items." This had fans reaching out with suggestions of what should return with comments ranging from, "I'm just a man who needs the caramel apple empanada back like I need oxygen," to, "Ok but pass it along, bring back the Doubledilla." Then, just one day later, Taco Bell changed the profile picture on its Twitter, Facebook, and Instagram pages to feature a steaming volcano with a simple all-caps font reading "Volcano Menu." With just weeks until April Fool's Day, was this little tease a terribly timed joke, or a real reveal of the comeback every taco fan has been waiting for?
Finally, a moment of truth, as the popular franchise responded over Twitter by saying, "Sike 🌋Volcano Menu is coming back." Although the exact details have not been revealed as to what spicy menu items are to be expected from the re-release of this steaming new menu news, taco lovers should keep their eyes peeled if they want to indulge in some hot cravings. Taco Bell did mention in another tweet that it will be "available later this year, at participating US Taco Bell locations for a limited time only, while supplies last." So although the experience may be short-lived, you can at least feel the burn one last time.