The Taco Bell Mexican Pizza Crossover That's A Pure Masterpiece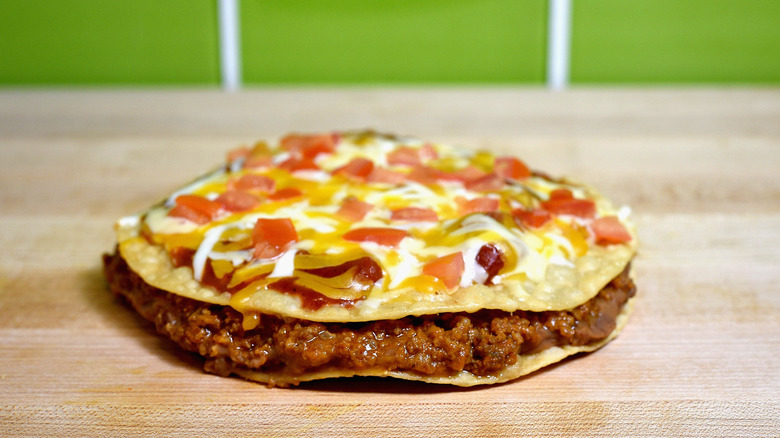 Joshua Blanchard/Getty Images
Of all the major fast food outlets, Taco Bell is perhaps the most well known for its ambitious crossovers and mashups. Not only is it a mashup in its own right by serving Tex-Mex food, but as the birthplace of the Doritos Locos Taco, the brand arguably popularized the trend of leveling up fast food by combining it with other fast food. Taco Bell still sells a Quesarito, which is basically a burrito wrapped in a quesadilla, and is also no stranger to secret menu items: One popular option is the Superman Burrito (made by adding potatoes, crispy tortilla strips, sour cream and guac to a Cheesy Double Beef Burrito or another similar option), and some locations will even let you add chili to your burrito for a replica of the original Chili Cheese Burrito/Chilito.
Now Taco Bell is taking things up a notch by combining another two of its most popular items together to build a new creation for fans to enjoy. This time, it involves the fan favorite Mexican Pizza and the simple but effective Cheesy Roll-up.
What is the crossover?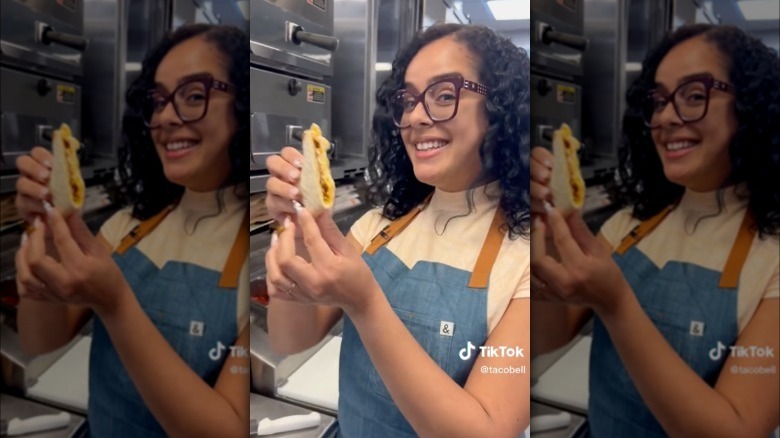 In a video posted to the brand's official TikTok account, Taco Bell workers demonstrate how to make the "crossover we didn't know we needed." They tell fans to go to Taco Bell and order a Mexican Pizza, as well as a Cheesy Roll-up on the side. "Then you'll open up the Cheesy Roll-up a little bit, place the Mexican Pizza inside and then fold it in half," they explain. The branch's test kitchen manager then tries the pizza/taco creation (which technically only fits half a Mexican Pizza per roll-up) and is thoroughly impressed.
People in the comments suggested other ways to improve on the hack. "It'd be better with the chipotle chicken wrap," one user suggested. "Then dip it in nacho cheese," another person commented. Others took to the comments section to request the return of long discontinued items from the brand, such as the Double Decker Taco Supreme and the Meximelt. Luckily for Meximelt fans, this is another creation you can (sort of) easily recreate: Just ask for a Cheesy Roll-up and add beef, tomatoes, and onions, since pico de gallo is no longer available as an add-on option.