16 Classic San Francisco Foods You Need To Try Before You Die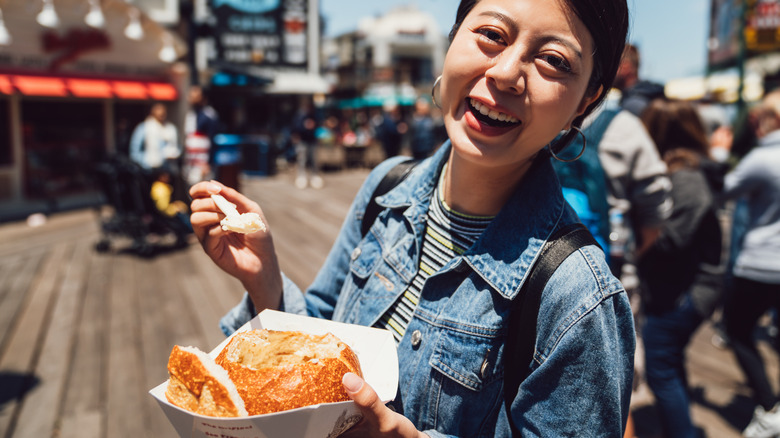 Primagefactory/Getty Images
Founded by the Spanish on June 29, 1776, San Francisco is one of the oldest cities in California. And in the 21st century, it is also one of the most populous and diverse. The very first Chinatown in the United States was established in San Francisco in 1848, and the country's oldest Japantown joined it in 1906. Little Italy (also known as North Beach) also popped up around this time.
Each of these communities has left its indelible marks on the city. This is perhaps seen most obviously in San Francisco's vast culinary landscape. Every meal of the day, from breakfast through dessert, contains at least one iconic San Franciscan dish — many have even become part of the greater American foodscape. Others are found only in San Francisco. Sit back and strap in as we take you on a delicious whirlwind tour of world cuisines packed into the just 46 square miles that make up the City by the Bay.
Mission burrito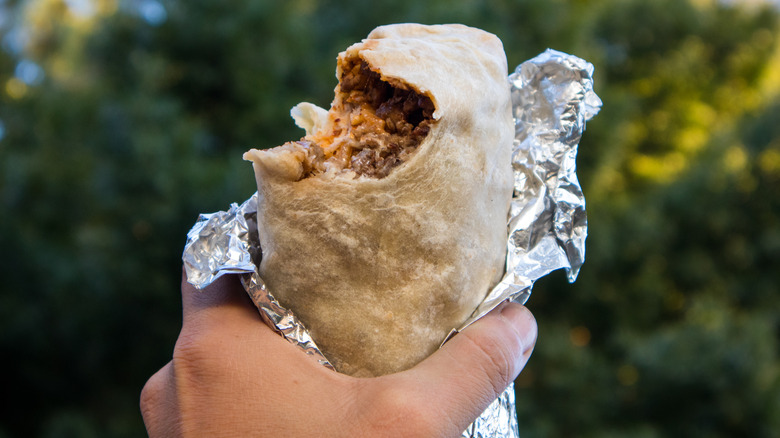 xhico/Shutterstock
Because San Francisco was first founded as a presidio and a mission, it is appropriate that we begin our journey in the Mission District. The burrito style (which means "little donkey" in English) was not invented in San Francisco's Mission District, but many would argue that it was perfected there.
The Mission burrito, often referred to as either the Mission-style burrito or the San Francisco burrito, is basically a handheld meal. Or, as Calvin Trillin put it in The New Yorker, "two or three perfect rolled-up meals." There is rice, often meat, and a countless variety of sites to choose from, all wrapped up in a large wheat flour tortilla. They are usually quite large, like what you might order from fast-casual restaurant chain Chipotle, whose founder Steve Ells took the idea from his days working in San Francisco restaurants (per NPR). Burritos are much beloved by the city, so you can't miss out on having one here.
Secret Breakfast ice cream
Compared to many of the other items on this list, ice creamery Humphry Slocombe (named after the lead characters Mr. Humphries and Mrs. Slocombe in the British sitcom "Are You Being Served?") is relatively new to the city. But that hasn't stopped its unique flavors from becoming local favorites.
According to one enthusiastic reviewer on Tripadvisor, the "Secret Breakfast Sundae is a must!!" The breakfast part of this ice cream flavor is crunchy cornflake cookies, and the secret, we assume, is the bourbon syrup. The reviewer continued, "It is something that all adults who like ice cream and bourbon should try!!"
Ice Cream Geek claimed that Secret Breakfast is by far Humphry Slocombe's most popular flavor and is always kept on the menu. It can be difficult to mix alcohol with ice cream, let alone keep cornflakes crunchy, so Secret Breakfast is a real triumph. Even if you don't like bourbon, you should still give this singular scoop a try.
Cioppino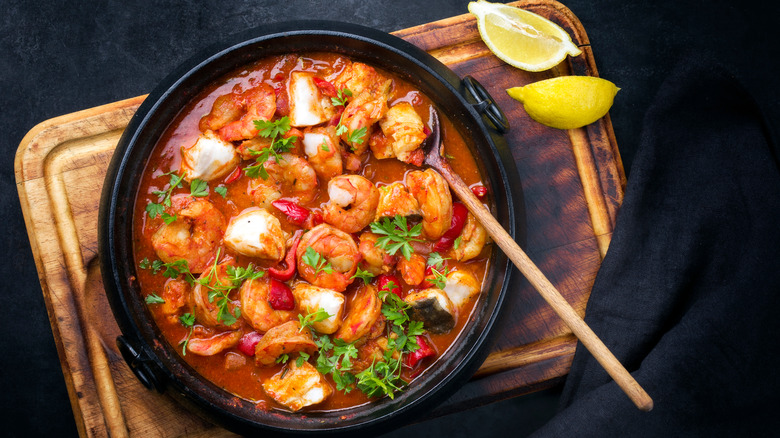 hlphoto/Shutterstock
San Francisco's North Beach neighborhood, which hasn't been a beach for several decades, is often called Little Italy because of the large number of Italian immigrants who settled there. The tri-color Italian flag is painted on lamp posts, and street names are translated into Italian, like Corso Cristoforo Colombo (Columbus Avenue).
According to Saveur, many of the Italins who settled in North Beach were from Genoa, Italy, which is known for its maritime trade. The immigrants brought this tradition, and their food, with them. Meaning "little soup" in Genoese, cioppino is a seafood and tomato stew unique to San Francisco and created in North Beach sometime between 1850 and 1880. Local station KQED said that a recipe for cioppino first appeared in a cookbook in 1906. Speaking of, after the tomato broth, just about anything goes when making cioppino. Fish, crabs, mussels, shrimp, and more are all fair game. And you can't forget the chili peppers, which mark this dish as Californian.
The Rebel Within
Yes, The Rebel Within is a song by Hank Williams III. But it's also a clever handheld breakfast from San Francisco pâtisserie Craftsman and Wolves located in the Mission District. However, you had better get there pretty early in the morning to grab one of these muffins. The pâtisserie is usually sold out by 10 a.m.
What makes this an all-in-one meal is the soft-boiled whole egg nestled within the pillowy muffin with asiago-cheese, green onion, and sausage mixture in the batter. Because the yolk is runny, you may actually want to eat The Rebel Within with a knife and fork rather than your fingers. William Werner, the chef-owner of Craftsman and Wolves, showed Localish how the muffins are made. The batter is piped into a muffin tin about halfway, then the soft-boiled egg is placed into the batter, and finally, more batter is piped around the egg so that it is completely covered, which prevents the egg from cooking further. He compared the runny yolk in the muffin to the gooey chocolate inside a molten chocolate cake. And it is an equally delightful surprise to consumers.
Crab Louie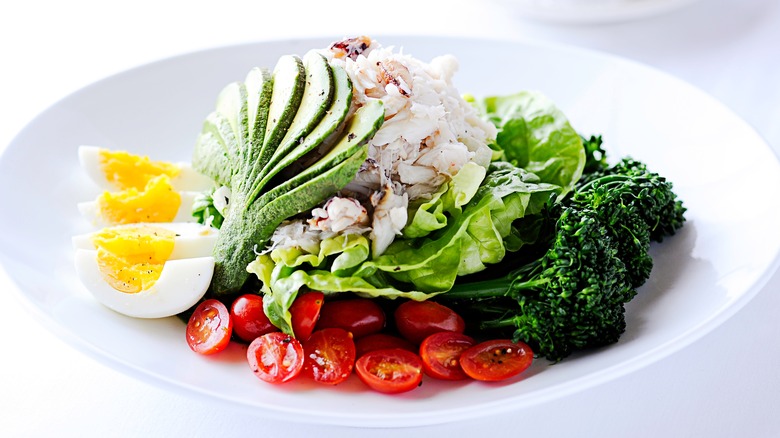 Image Source Trading Ltd/Shutterstock
The exact namesake and birthplace of the popular Crab Louie (sometimes spelled Louis) salad are up for debate. Was Louie the man who created the salad, or was it named for King Louis XIV of France? Its creation can be narrowed down to either Seattle or Spokane, Washington, or San Francisco, California. At least everyone agrees it was created on the West Coast. And it is a fact that Solari's Restaurant, located in San Francisco, had it on its menu in 1914. It was San Francisco's Palace Hotel, however, that made it famous in the mid-20th century using fresh, locally caught Dungeness crabs.
Crab Louie does bear a resemblance to the Cobb salad, another California invention. Both salads use lettuce, tomatoes, cucumbers, hard-boiled eggs, and a mayonnaise-based dressing. But the Cobb includes grilled chicken and bacon, while the Crab Louie uses crab as its meat — and that's real crab meat. For an authentic experience, imitation crab meat simply will not do.
Chicken Tetrazzini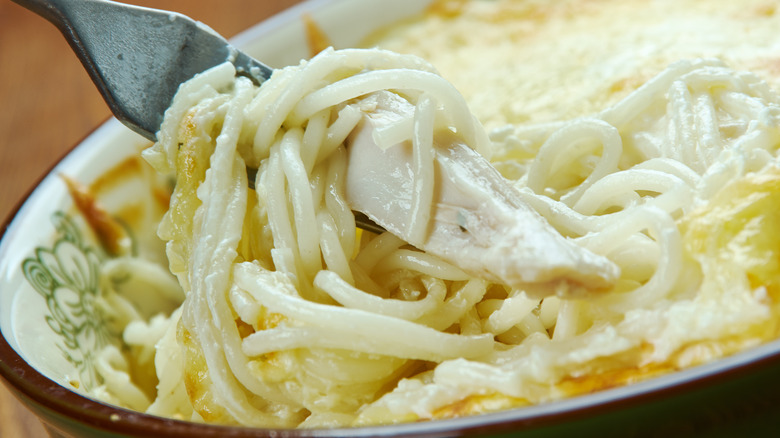 Fanfo/Shutterstock
Another popular San Franciscan dish, this one a casserole, also has debated origins. Both New York City and San Francisco have believable claims on chicken tetrazzini. It was named in honor of Luisa Tetrazzini, a celebrated Italian opera singer who toured the United States in the early 1900s, passing through both cities.
Chicken Tetrazzini, as well as its sibling turkey tetrazzini, is easy to assemble and versatile in its ingredients. This is what made it so popular in the early to the mid-20th century. At its core are cooked spaghetti noodles, a cream sauce (canned cream soups are great for this), vegetables such as chopped onions and green peas, chopped chicken or turkey meat, and a breadcrumb topping. An assortment of herbs and seasonings are added to taste for flavor. The ingredients are mixed together in a casserole dish before the breadcrumbs are added, and the tetrazzini is ready to be popped in the oven. Like other casseroles, tetrazzini is a terrific way of using up leftover chicken.
Celery Victor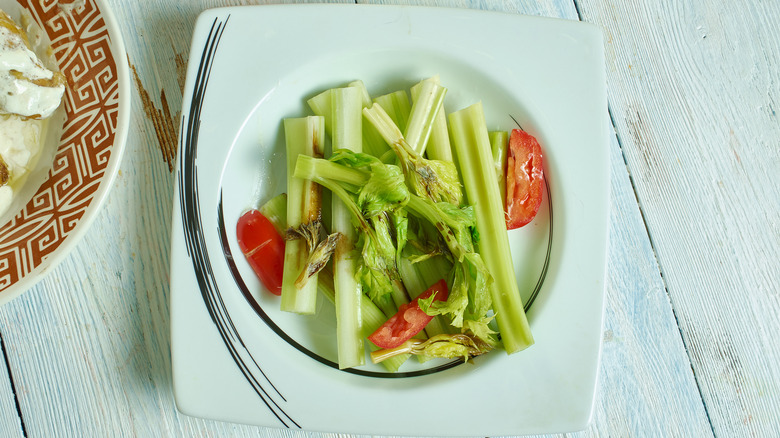 Fanfo/Shutterstock
Celery is a highly nutritious green vegetable that is hardly at the top of most people's favorites list. So it is interesting to see it take center stage in Celery Victor, a salad that some claim was created in 1910 at the St. Francis Hotel in San Francisco. Celery Victor was invented by chef Victor Hirtzler, a veritable celebrity in his day. The recipe was included in Hirtzler's book "The Hotel St. Francis Cook Book," which was published in 1919. It isn't structured like we are used to seeing recipes today, but the instructions are quite simple.
Six stalks of celery are boiled until soft in a soup stock made from chicken and veal bones, carrots, onions, bay leaves, parsley, salt, and whole pepper. The celery then marinates in the stock until cool. The celery is removed from the stock, plated, and seasoned with salt and pepper, chervil, and topped with a drizzle of white wine, tarragon, vinegar, and olive oil dressing.
It's-It ice cream sandwich
For much of the 20th century, San Francisco's Ocean Beach, located on the western edge of the peninsula, was home to an amusement park called Playland-at-the-Beach, or just Playland for short. The owner of the park, George Whitney, first sandwiched a scoop of vanilla ice cream between two cookies and dipped the whole thing in chocolate in 1928. The It's-It ice cream sandwich, as the combination came to be called, was an instant success.
Eventually, Playland closed and was torn down in 1972, but that wasn't the end of It's-It. Whitney sold the recipe to George Mavros, who set up his own shop to continue selling the unique treats. Mavros later sold the recipe to the Shamieh family, who continue to own the It's-It Ice Cream company today. It's-It still uses the original oatmeal cookie recipe, but the ice cream flavors have expanded to include chocolate, strawberry, mint, cappuccino, and pumpkin. The original vanilla is still the most popular flavor.
Baked goat cheese salad
It would seem that Californians really love their salads. The baked goat cheese salad is a more recent creation than the others on this list, however. It was first made by Alice Waters for the Chez Panisse Cafe in 1980.
Cheesemaker Laura Chenel called the salad, which uses sliced rounds of Laura Chenel goat cheese, a "modern classic" that is adored by chefs all across the U.S. Goat cheese is also known by its French name, chèvre. The reason that Laura Chenel's is the chèvre of choice is explained by Waters in Culture Magazine. "It was about finding a locally sourced farm-to-table product and, since I was a Francophile, a French-style cheese!" she said.
The salad is comprised of marinated and then battered cuts of goat cheese that are baked until golden and served on a bed of garden lettuce. The lettuce is tossed in vinaigrette, and the entire salad is served with croutons of sliced baguette.
Green Goddess dressing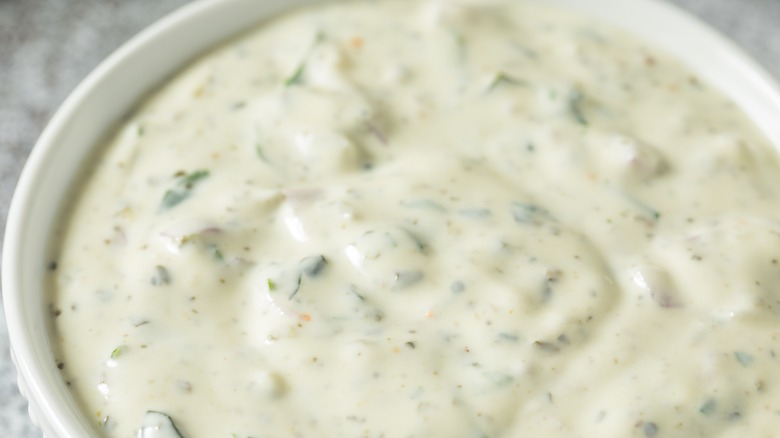 Brent Hofacker/Shutterstock
Obviously, a city that loves salads must have its own salad dressing. Enter the Green Goddess. Green Goddess was made for San Francisco's Palace Hotel in 1923. (The New York Times itself featured a Green Goddess recipe in 1948.) The name "The Green Goddess" came from a play of that same title that was running at the time. It was meant as a tribute to the play's star, famed actor and writer George Arliss.
SFGate reports that many versions of the Green Goddess have arisen over the ensuing century. The main ingredients that seem to be largely unchanged throughout are mayonnaise, vinegar, and anchovies. In some, recipes add sour cream. Others call for Worcestershire sauce. One recipe from 1949 comes with the wild footnote, "If it is for ladies only it might be better to reduce onions quite a bit as men like onions better than ladies do." The recipe printed in the New York Times doesn't use onions at all. Regardless of the recipe, we recommend drizzling on a bed of romaine lettuce.
Hangtown Fry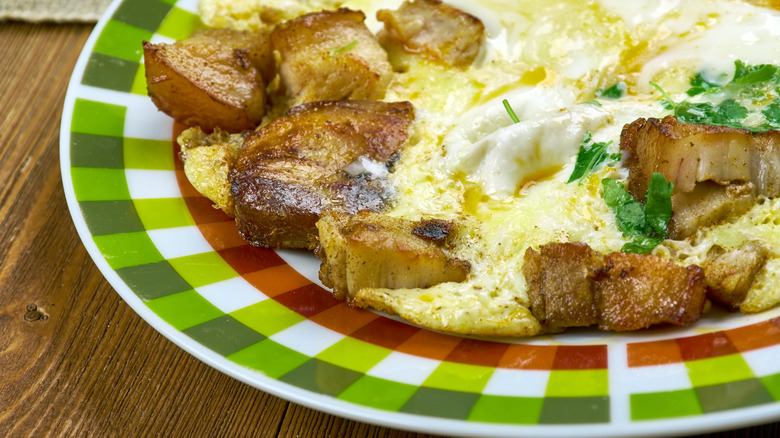 Fanfo/Shutterstock
It's true that the Hangtown Fry was first served in Placerville, California, which, according to KQED, was known as Hangtown during the Gold Rush days when it began life as a miners' camp. However, it is San Francisco that made the dish more widely available, and it's on the menus of multiple cafes and grills. There is no single recipe for the Hangtown Fry, which is a hearty omelet or frittata that always contains eggs, bacon, and oysters. Some recipes call for the oysters to be battered and fried, while others do not. One recipe we found calls for the oysters to still be alive when you begin cooking.
There are two main theories about the origin of the name. Either a local miner had struck it rich and barged into the El Dorado Hotel looking for the most expensive meal they could cook up, or a condemned man (the place was called Hangtown, after all) ordered it as his last meal, thinking that it would take a lot of time to put together. Placerville is roughly 130 miles from San Francisco, so the oysters would have had quite a journey back in the 1890s.
Joe's Special
If you thought adding oysters to eggs was odd, how about ground beef? Joe's Special is an egg scramble with garlic, spinach, and ground beef. Some sources claim it was invented at an Italian-American restaurant called New Joe's in the 1920s, but others report that it was a different restaurant, Original Joe's, located in the Tenderloin District, that made it famous and continues the tradition today.
Original Joe's butchers its own meat and grinds its own chuck, so you know right away that you are getting something special. The Joe's Special is seasoned with chopped onions, Italian seasoning blend, salt, and pepper, and topped with Parmesan cheese. You can make the Joe's Special at home, of course. James Oseland said in Saveur that he remembered his mother making it for dinner at least once a month when he was growing up, and he makes it himself once in a while as an adult, adding "there are few dishes so appealing and comforting to eat."
Clam chowder in a sourdough bread bowl
Jsita/Shutterstock
If you are looking for another classic San Francisco comfort food, look no further than a hearty serving of creamy clam chowder served in a sourdough bread bowl. While clam chowder bread bowls are available all over the City, especially at Pier 39, the original is found at Boudin, whose flagship store is located right next to the Bay on Fisherman's Wharf. Boudin's is the oldest continuously operating business in San Francisco, but more impressively, it uses a sourdough starter dating from the time of the California Gold Rush. That makes this mother dough around 175 years old.
As for the clam chowder, it most closely resembles New England clam chowder, which is white, thick, and creamy. Some restaurants will even add bacon for extra flavor. It also recommended using whole baby clams and fresh russet potatoes in order to achieve peak creaminess if you choose to make clam chowder yourself at home.
Dungeness crab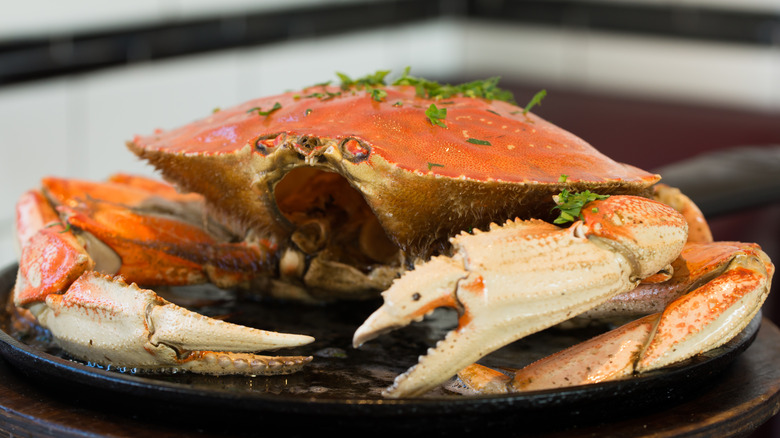 Kenishirotie/Shutterstock
You may have gathered that, between oysters with eggs and bowls of clam chowder, San Franciscans love their seafood. Allow us to now introduce you to the Dungeness crab, one of the region's most popular seafood. According to Fisherman's Wharf, due to increasing food shortages in the San Francisco Bay, as well as closer to shore on the ocean side, crabbers both commercial and recreational have been forced to boat further and further out to trap this sweet ocean treasure.
Crab season usually begins in the late fall to early winter, but, as explained by The Mercury News, due to the migration of humpback whales, the exact dates and what sort of traps are allowed when and where can shift every year. The 2022-2023 season opened late and was cut short so as to avoid whales becoming entangled in fishing lines. If you are a Dungeness crab fan, you needn't worry too much about this situation. Scientist Geoff Shester told The Mercury News, "We believe that with strong science, new gear technologies, and a collaborative approach that we can find the best solutions to keep fishermen on the water with whale-safe fishing methods."
Ghirardelli chocolate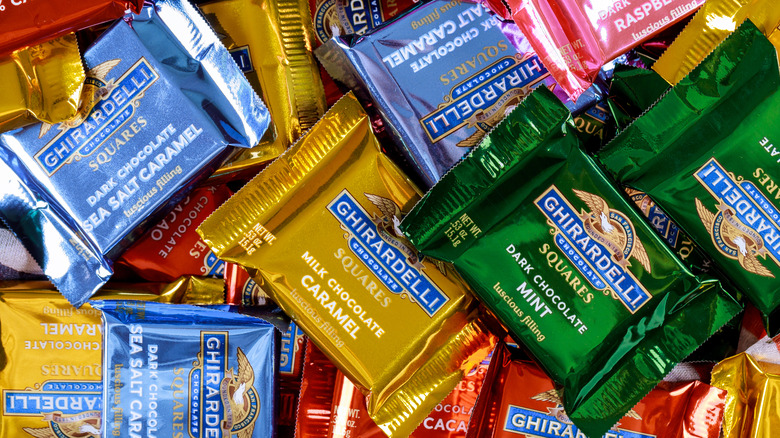 ungvar/Shutterstock
Every chocolate lover owes it to themselves to make a pilgrimage to San Francisco's Ghirardelli Square at least once in their lives. Founded by Domingo Ghirardelli in the mid-1800s, the Ghirardelli Chocolate Company has occupied Ghirardelli Square since 1893. Its iconic light bulb sign is visible for miles and has been shining for 100 years. The Square was declared an official city landmark in 1965 and was added to the National Register of Historic Places in 1982.
Besides the delectable squares of chocolate in a dizzying array of flavors, Ghirardelli is famous for its hot fudge sundae, which is available at the multiple ice cream parlors located in the Square. The sundae can be ordered "for here" or to go. We strongly recommend "for here" because it arrives in a fancy glass goblet that perfectly shows off the layers of vanilla ice cream, hot fudge, whipped cream, chopped almonds, and cherry on top. When the infamous fog isn't obscuring them, there are also some terrific views of the Golden Gate Bridge and Alcatraz and Angel islands that you can enjoy along with your chocolate bounty.
Prime rib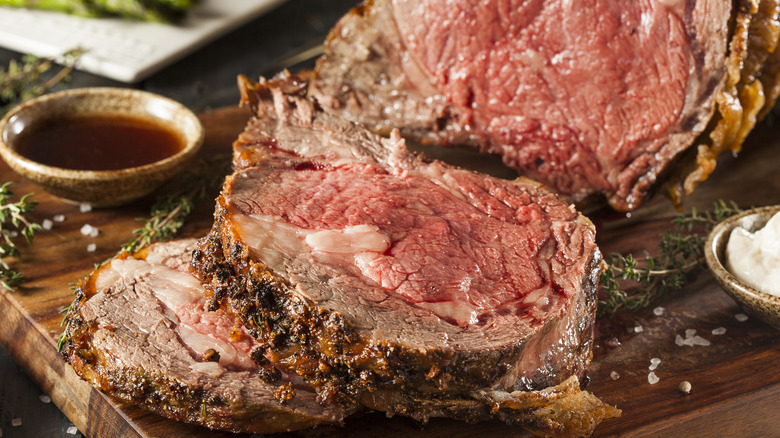 Bhofack2/Getty Images
For those who appreciate a good cut of beef, a trip to San Francisco's House of Prime Rib is a must. Its specially selected marbled beef ribs are aged for 21 days and carved right at the customers' tables to ensure the meat arrives fresh and hot. Owner Joe Betz told SFGate, "Prime rib is a comfort food." He added, "When you're in the business, and dealing with so many people, you have to like it and you become emotional." The House of Prime Rib strives to be a comfortable place for its patrons. So it is little surprise that the long-running restaurant has been a finalist for a James Beard Award in Outstanding Hospitality multiple years in a row (per SFGate and The Mercury News).
House of Prime Rib is a place you can bring your whole family. Betz's own children and grandchildren grew up dining at the restaurant. It also donates thousands of prime rib meals every Christmas Eve to those in need via Glide Memorial Church. The entire Betz family gets involved, serving the meals themselves alongside other volunteers. It's this kind of love and giving that makes House of Prime Rib — and Joe Betz — iconic.