The Biggest Mistake You Make When Slicing Fruit Is Actually A Knife Problem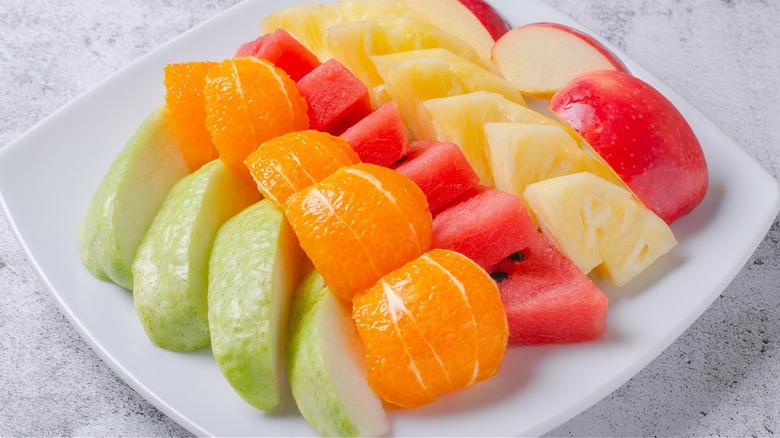 Adcharin Chitthammachuk/Shutterstock
We may receive a commission on purchases made from links.
Picture this: You're preparing a delicious fruit salad for your family. You reach for your trusty chef's knife to slice through a pineapple. But as you cut, the fruit is tearing into shreds, and you struggle to keep the blade steady. What's going on? You might be using the wrong knife. When it comes to prepping food, one knife doesn't rule them all.
Using a serrated knife to cut soft fruits like plums or peaches can cause the flesh to become bruised or torn, while using a large chef's knife to cut small fruits like strawberries can result in squished or mangled pieces. And it's a recipe for disaster if you use a paring knife to cut watermelon or cantaloupe. Paring knives have short blades designed for peeling and trimming fruits and vegetables — not sawing through tough-skinned fruits. You might use too much force and accidentally cut yourself if the knife slips. Ouch!
Don't settle for subpar slicing and dicing. Certain knives are designed to cut specific fruits.
How to choose the right knife for the right fruit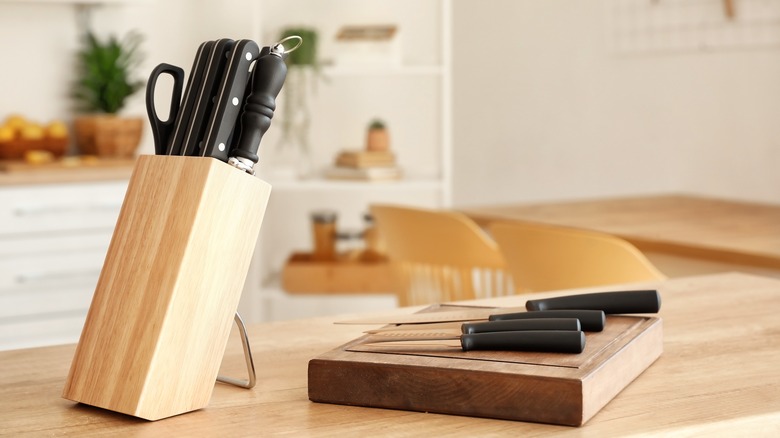 Pixel-Shot/Shutterstock
Shopping for a good set of kitchen knives won't break the bank. High-end knives can cost close to $100 or more, but there are also plenty of budget-friendly options like Amazon Basics 12-piece color-coded kitchen knife set, which comes in at under $20, and Farberware's 22-piece stainless steel knife set, which will only set you back $30. Both have the blades you need to cut fruit like a pro.
Remember that chef's knife you used to cut those strawberries? According to knife makers F.N. Sharp, you can use a utility or paring knife to get rid of those stems. A chef's knife works best when cutting peaches and removing the pits. And there's no need to break out a sledgehammer to get to that juicy watermelon — a chef's knife or a Santoku knife will do the job. Once you've mastered basic knife techniques, you can take your charcuterie board to the next level by making strawberry tulips using a paring knife or avocado roses and apple wings using a chef's knife.
As you're cutting, follow three important kitchen knife skills: Hold your knife with a "handshake grip" to easily maneuver the knife, protect your guiding hand from cuts by using a "bearclaw grip," and never slouch over your cutting board. By using the right kitchen tools and practicing good knife safety, you can take your cooking game to the next level and develop the confidence to tackle any recipe with ease.