Reddit Is Divided On An AITA Post About Giving Someone Your Aldi Cart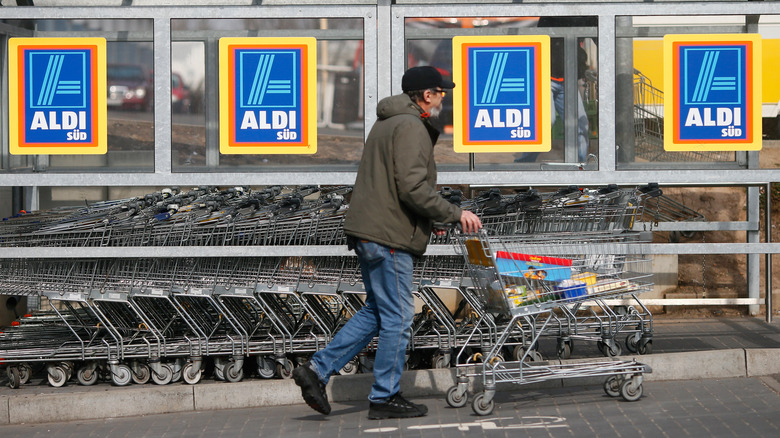 Ralph Orlowski/Getty Images
If you've never shopped at Aldi, one thing you should know is that the grocer charges 25 cents for using a cart. The charge is there to help cut labor costs, which, in turn, helps customers save money. You'll get your quarter back after returning your buggy to the corral, too – unless you pass it off to another shopper instead.
This exchange of cart quarters has become pretty common in the Aldi fandom, but, as a result, has also raised the question of whether or not the cart recipient owes two bits in return. Reddit user u/hashtag-the-meme appeared to think the answer is yes yet couldn't help but wonder if their opinion made them the bad guy in a recent Aldi cart tradeoff. To find out, they put it to members of r/AmITheA**hole, asking, "AITA – for not giving someone my cart at ALDI b/c they didn't have a quarter?"
The post explained that a family was seemingly waiting for the Redditor to turn over the shopping cart despite there being plenty of other ones available. Upon approaching them, the poster asked for a quarter in exchange. Spoiler alert: The family didn't take it too well, with the mom even "saying something unpleasant" to u/hashtag-the-meme. "Now, I know it's only a quarter, but still, I typically keep one in the car just for this purpose, especially because I don't tend to have change," the poster added. The situation divided Reddit.
Offering a quarter in exchange for someone's cart is 'Aldi etiquette'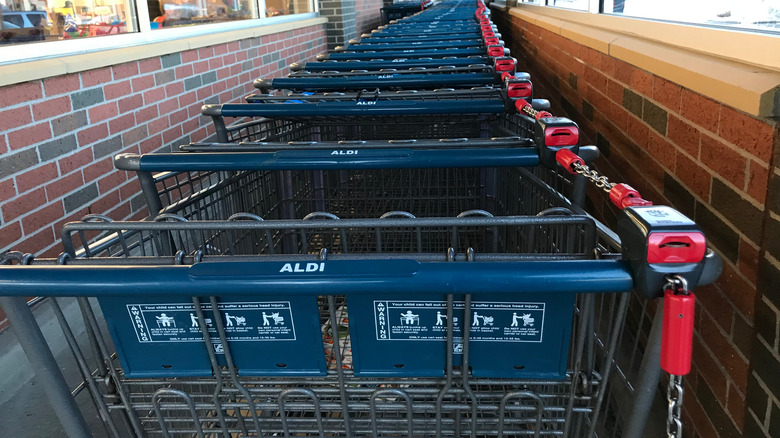 false/Shutterstock
People had a lot to say about u/hashtag-the-meme's recent Aldi cart experience. Some felt the quarter request was wrong, including u/Human-Routine244, who not only declared the original poster an a**hole but also advised them to "do a good deed occasionally." Reddit user u/princess4hire agreed, saying that "it's really ridiculous to be high & mighty over a quarter."
Everyone, of course, is entitled to their own opinion. However, shoppers are not entitled to someone else's cart quarter free of charge, according to the many people people who seemed to understand u/hashtag-the-meme's side of things. "NOBODY TAKES THE ALDI QUARTER. It is a blessed and sacred piece of change...NTA," u/Atris- said. Another user explained that it was a matter of having a quarter available for your next Aldi trip rather than the actual value of the coin itself. For many others, Reddit user u/DragonflyMon83 really seemed to hit the nail on the head. "NTA, not that much money but no one should feel entitled to it and be rude over it," they wrote in a comment that alone has been upvoted over 3,400 times.
According to The Kitchn, offering a quarter to someone giving you their cart is proper Aldi etiquette even if nine times out of 10, the shopper refuses the coin. Therefore, it shouldn't come as a surprise that our Reddit friend was ultimately deemed "not the a**hole" in their situation.