Topping Cold Brew With Bagel Schmear Is A Morning Power Move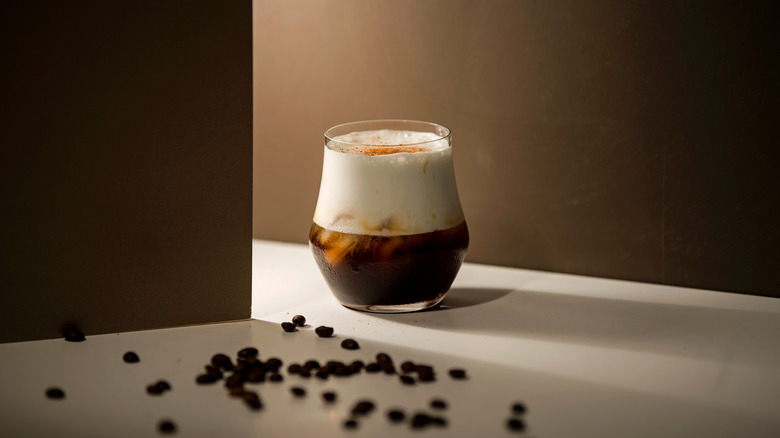 IN DIGITAL SA/Shutterstock
Whether you're picking up a Starbucks cold brew or using your own cold brew coffee recipe at home, there's something extra special about topping it off with some cold foam. Better yet, why start your morning with a regular cold foam-topped cold brew when you could start it with a cream cheese cold foam?
TikTok user Little Penguin Sweets shared their creation in August 2022, demonstrating how to make a cold brew coffee with cream cheese cold foam and Cocoa Puff-esque cereal topping. As if this wasn't already intriguing enough, the drink is actually a recreation of the Disney Galaxy's Edge Cold Brew Black Caf.
Naturally, those who viewed the TikTok were stunned by the drink, particularly the thick layer of cream cheese cold foam and the crunchy bits of cereal. Just think how they'd react to finding out there are other variations — both Disney-official and at-home recreations — of this creamy drink!
Other versions of the Disney cream cheese cold brew
As Little Penguin Sweets notes in the caption of their TikTok post, their video was only an attempt to recreate the Disney cold brew with cream cheese cold foam. They added in the comments that they wanted to make another one, suggesting they wanted to further experiment with the recipe, but nevertheless, other variations are available for those interested.
While cream cheese cold foam is already a unique aspect of this drink, Polka Dots & Pixie Dust suggests subbing in mascarpone for an even more exciting experience. You can also add a dash of vanilla to sweeten your drink up, as cold brew can be a little bitter for some.
What's more, Disney Parks also offer a spiked version of the drink, which uses Godiva chocolate liqueur. Thanks to the chocolate liqueur, this particular drink is a bit sweeter than the original, and definitely heavier on the chocolate. Don't get us wrong, though, we certainly aren't mad about more chocolate in our cream cheese cold brew.