A Slim Jim Hamburger Is A Real Creation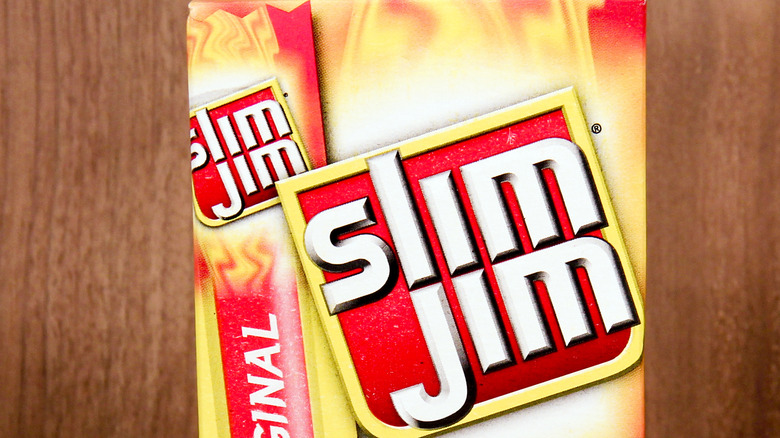 dcwcreations/Shutterstock
Slim Jim, your uncle's main food group and one of Middle America's favorite cured meat sticks. For a lot of folks, simply eating a Slim Jim is an act of bravery. But cooking with it, that's something else entirely. Let's not forget there's a whole variety of Slim Jims on the market, not just the "original." Who could forget the Monster Size Sonic Chili Cheese Coney Flavor, or the Hot AF flavor? Hungry at your local truck stop? Eat a Slim Jim!
With taglines like, "So bold, they should be banned," Slim Jim clearly doesn't do half measures and neither does the person who created our next culinary wonder, the Slim Jim Hamburger — yes, it's a thing. Greeted with such fanfare as, "Oh my god," and, "Why nobody in jail thought of this?" the TikTok creation is unique, to say the least. 
The concoction uses all the ingredients of a regular hamburger, lettuce, tomatoes, cheese, and onions, but instead, replaces the ground beef with blended Slim Jims. This burger may be one of a kind, but we'd wager that "bussin'" isn't the first word that comes to mind.
Convenience meat meets sandwich
One TikTok user who frequently shares food creations delivered this wonder to the platform, and in response to their Slim Jim burger's mixed reactions, said, "I'm proud of myself and appreciate all the support!" To their credit, there were multiple reactions to the burger that were a lot more favorable. One user said, "ngl it looks good AF," and another said, "I need that asap." The Slim Jim brand's official account even responded by saying, "Let's gooooooo."
The methods used here might not be on our list of tips for making perfect burgers. But the toasted bread reminds us of a patty melt, which we're fans of, and the Slim Jims were actually cooked in a pan, smash burger style, with cheese melted on top. As unorthodox as this burger might seem, perhaps we're too quick to judge a book by its cover. If we tried this for ourselves, we might be going "Oh, yeah!" just like the brand's timeless spokesperson, Randy Savage.