Aldi's New Products Are A Little Slice Of Spring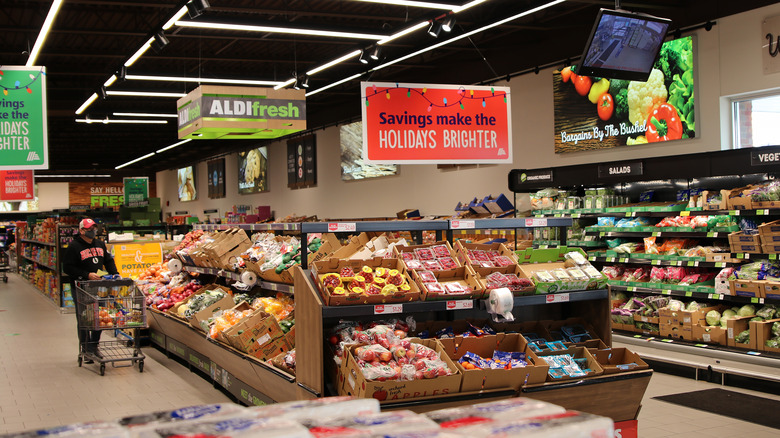 Eric Glenn/Shutterstock
As the weather warms up and flowers start to bloom, Aldi Finds — the limited-time, specialty products — are offering a taste of spring. Whether you are looking in the frozen foods section or strolling down the Aisle of Shame, you can discover some fresh new seasonal products. The only bad news is this current crop of Finds will only be there until they are sold out. If you want some, you've got to head over to the store now.
The current selection of fresh and fruity seasonal treats includes Strawberries & Cream Rose Cones (flower-shaped strawberry and cream flavored ice desserts in a cocoa waffle cone), Mooala organic banana milk, Chobani raspberry lemonade Greek yogurt, and a Bake Shop creme cake sampler. And if sweets are your jam, the store also currently has Sara Lee pound cake and Specially Selected Luxury Belgian Cookie gift boxes on the shelves.
A Mexican theme has also taken over this week. For a limited time, Aldi's will be offering Clancy's cinnamon churros, Tapatio mixed nuts, chicken, or steak fajita skillets, pork tamales, Tyson fresh beef street taco kits, Old El Paso hard & soft dinner kits, and even piñata sets.
German food is also arriving at Aldi this week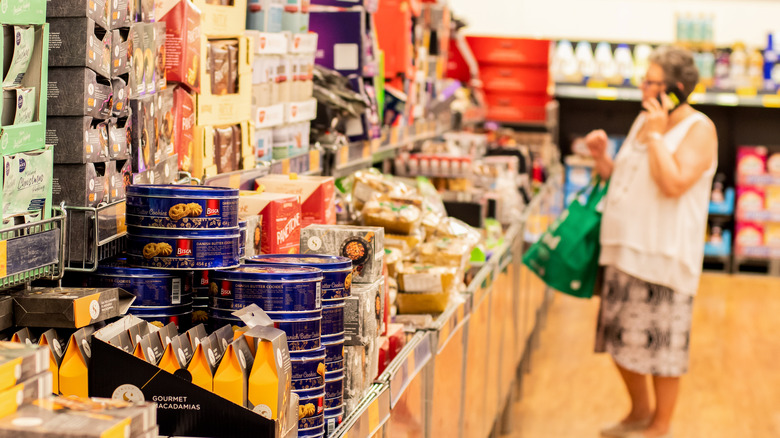 Daria Nipot/Shutterstock
Starting on Wednesday, May 3, Aldi Finds will have a German theme courtesy of Deutsche Kuche. If this is your go-to cuisine or you'd just like to expand your palate, now is the perfect time to stock up on traditional food items, such as German-style pickles, egg spaetzle, cheese spaetzle, garlic sage spaetzle, and pork schnitzel.
However, if you prefer sweet over savory, don't worry. Aldi has you covered with a variety of German desserts, as well. Some of the upcoming Finds include dark chocolate wafer rolls, apple strudel, Bienenstich indulgent cake, orange Jaffa Cakes, milk chocolate wafer rolls, Doppel Keks, and spritz cookies. And, of course, no German week could be complete without Bavarian soft pretzels.
And for the more adventurous foodie, you can try German-style red cabbage with apples, herring fillets, garlic cornichons, chili cornichons, artichoke, cheese strudel, and pickle cheese Schupfnudeln.