Chipotle's Ranch Dressing Hack Will Become Your New Go-To Sauce
There was already drama from TikTok accusing Chipotle of under-portioning its sauces, but Chipotle has continued to sweep the issue under the rug. Rather than acknowledge the situation, Chipotle posted a TikTok hack for customers to mix up their own "creamy salad dressing" using some of the chain's condiments.
According to a video, customers need only order a salad as usual and ask for sour cream and honey vinaigrette on the side. After receiving your condiments, add some of the vinaigrette to the sour cream, close the lid, shake the cup to combine, and voilà, you have Chipotle's "ranch" dressing. We think it has the potential to become a fan-favorite because, while it isn't exactly ranch, the combination of smoky chipotle peppers, sweet honey, and tangy sour cream sounds delightful. Ranch dressing is one of the most popular condiments in the United States, but it's not limited to salads anymore. Ranch-flavored snacks and seasoning blends are readily available in grocery stores. So, Chipotle's attempt to capitalize on its popularity with a DIY suggestion does make sense. 
However, as many TikTokers have pointed out, Chipotle frequently forgets to provide its customers with said condiments — even when asked. One user wrote that their local Chipotle has claimed to be out of honey vinaigrette because "they don't make enough." Perhaps one way to make customers happier would be to do as someone suggested and "make more" or, better yet, offer this dressing as a new menu item.   
TikTok is up in arms about Chipotle's ranch dressing hack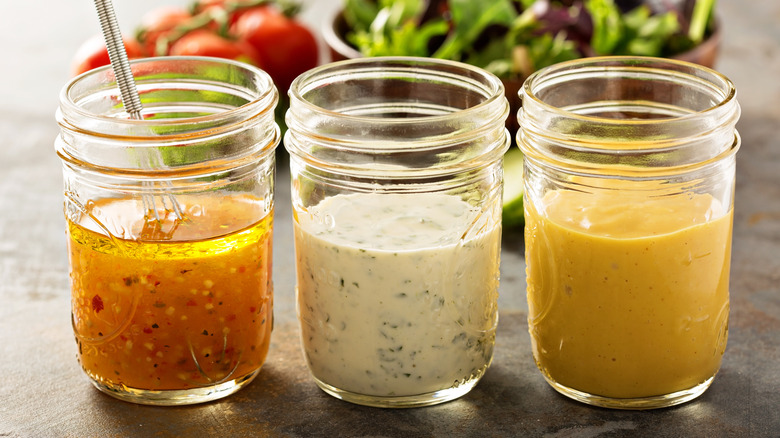 Elena Veselova/Shutterstock
Although Chipotle's TikTok video refers to its ranch dressing hack as being "super simple," for most customers, that couldn't be farther from the truth. Many people have commented that they often skip going to the chain altogether, as they can't add vinaigrette to their order using the mobile app.
Others complained that when they manage to get vinaigrette, the "workers act like giving us the vinaigrette comes out of their own paycheck." Still, another person raised the point that if Chipotle wants people to try its ranch dressing, the chain should offer a pre-made option. And really, why would Chipotle promote a hack using its vinaigrette when it already clutches at purse strings where condiments are concerned?
At the end of the day, you can still enjoy the chain's take on ranch either in stores when supplies are available or at home. Take the DIY concept a step further by making our copycat Chipotle honey vinaigrette recipe and add some sour cream to try the version Chipotle suggested in its TikTok video.