Dairy Queen's Peanut Butter Puppy Chow And Oreo Brookie Blizzards Review: A Pair Of Sweet Summery Treats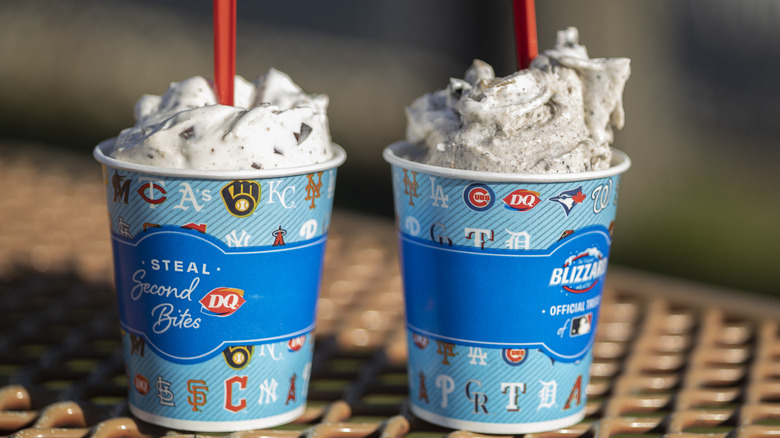 S.G. Howe/Mashed
Spring has sprung, and Dairy Queen's May Blizzards are here. Blizzards have been a summer staple for decades, and every month we are blessed with a new flavor or two as the limited edition flavor of the month. May's options are Oreo Brookie and Peanut Butter Puppy Chow. For those unfamiliar, a Brookie refers to the heavenly mashup of brownies and cookies, and puppy chow is a beloved Midwestern snack made with chocolate, crispy cereal, peanut butter, and powdered sugar.
The Blizzard flavor menu is extensive, with tons of classic mix-ins like candies and fruits, the occasional pop culture-themed option, varieties for the chocoholics, and of course a slew of secret Blizzard menu flavors. And even though Blizzards aren't technically ice cream (they don't have enough fat to be considered ice cream by the FDA's standards), we still consider Dairy Queen's sweet frozen treats one of the best things about the summer. So of course, we hit up our local DQ to give May's new flavors a try.
What's in the Oreo Brookie and Peanut Butter Puppy Chow Blizzards?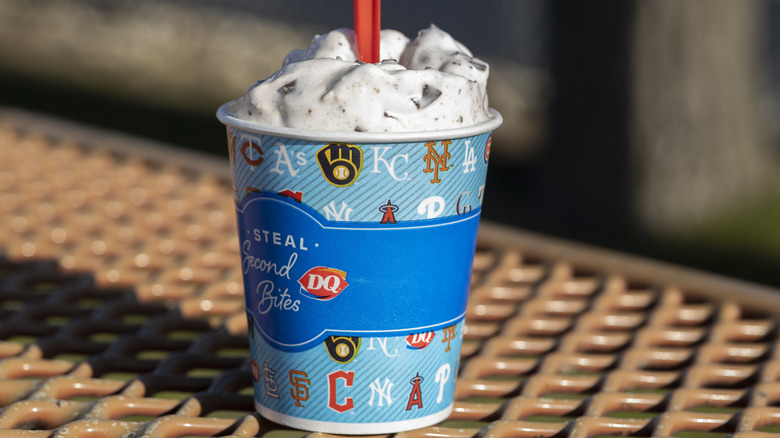 S.G. Howe/Mashed
Dairy Queen's Peanut Butter Puppy Chow Blizzard is a childhood dream come true for Midwesterners. According to Dairy Queen, this Blizzard is made with vanilla ice cream, chocolate chunks (which we found to be more like chocolate flakes), peanut butter puppy chow pieces (which is powdered sugar and rice cereal), and peanut butter. A full ingredient list is available from Dairy Queen. The Peanut Butter Puppy Chow Blizzard (pictured above) doesn't come with any toppings, but you could ask for some additional puppy chow pieces on top to really give this Blizzard some crunch.
And the Oreo Brookie Blizzard's ingredients are pretty self-explanatory — a whole lotta cookies — but more specifically, Dairy Queen says that this Blizzard is concocted with vanilla ice cream, crushed Oreo cookies, a Brookie base, and Brookie pieces (which are, again, brownie and cookie chunks). Unfortunately, we really couldn't find any information on what exactly the Brookie base is, but a full ingredient list for this Blizzard is available from Dairy Queen. And while there are no toppings on the Oreo Brookie, don't worry — there's plenty going on inside. 
How much do the Oreo Brookie and Peanut Butter Puppy Chow Blizzards cost?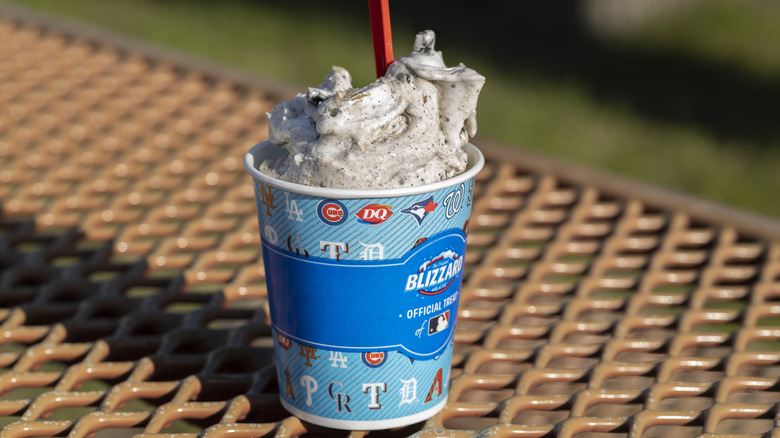 S.G. Howe/Mashed
Each Blizzard can be ordered in one of four sizes: mini, small, medium, or large. With the mini size you get about 6 ounces of ice cream, the small about 12 ounces, the medium 16 ounces, and the large 21 ounces. And each of this month's new flavors is the same cost, according to prices listed in the Dairy Queen mobile app. In the mini size, both the Peanut Butter Puppy Chow Blizzard and Oreo Brookie will cost $3.69. For a small blizzard, it'll be $4.79; for the medium, $5.69; and for a large, $6.39. 
The two new May flavors cost the same as other Blizzards on the Dairy Queen menu. The only Blizzards that will cost more are the Royal Blizzards, which start at $4.39 for a mini. The prices might vary by franchise, state, and whether you order at the physical location, through the Dairy Queen app, or through a food delivery/online menu service. 
How long are the Oreo Brookie and Peanut Butter Puppy Chow Blizzards available, and where?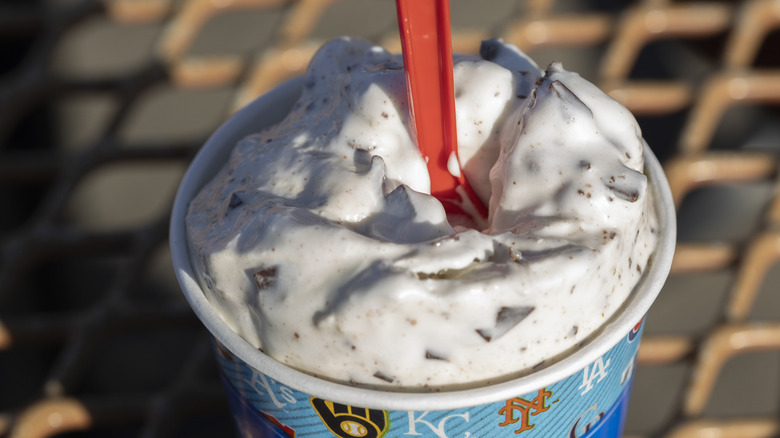 S.G. Howe/Mashed
Don't be worried that you only have until the end of this month to chow down on these two flavors. While Oreo Brookie and Peanut Butter Puppy Chow are currently being recognized as the flavors of the month, they are part of the summer Blizzard lineup — joining other fan favorites like Cotton Candy, S'mores, and Choco-dipped Strawberry — so they are here to stay for the season. Dairy Queen's summer flavors are reportedly available through the end of August, but your local Dairy Queen may continue to offer the flavors beyond that date until its supplies run out. 
Is your neighborhood DQ guaranteed to have these treats available? Dairy Queen says on the product listing for each Blizzard that they're only available at participating restaurants, and whether that includes your local DQ might vary based on franchise and seasonal opening dates (some Dairy Queens, especially those in the northern parts of the country, are considered "treat only" locations which open in the spring or early summer). 
How do the Oreo Brookie and Peanut Butter Puppy Chow Blizzards compare to other Blizzards?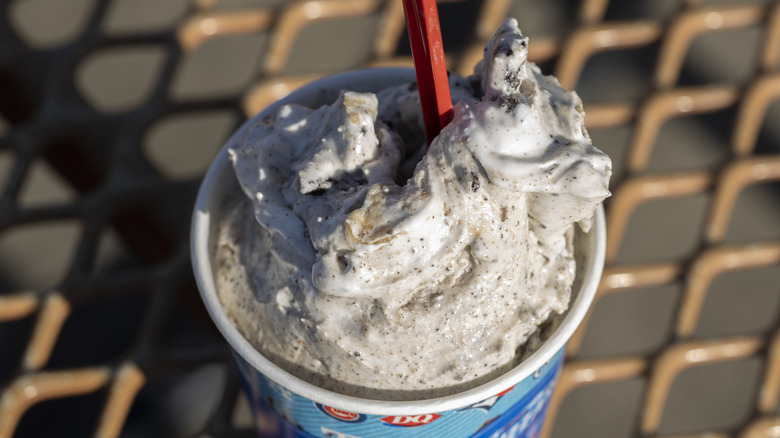 S.G. Howe/Mashed
With Dairy Queen's length Blizzard flavor list plus the secret menu, you can get just about anything your heart desires put into ice cream at this fast food chain. In fact, this month's Oreo Brookie flavor is not unlike the Cookie Jar Blizzard, a flavor of the month from way back in 2019, which fans keep alive by asking for a vanilla Blizzard with Oreo, cookie dough, and hot fudge. The added brownie component in this new flavor, though, takes things to a new level with a more intense chocolatey taste and chewy brownie texture. In our opinion, there are other Blizzards on the menu for the die-hard chocolate fans, but this is an excellent choice if you like tons of texture in your Blizzard.
There's nothing quite like the Peanut Butter Puppy Chow Blizzard on the regular Dairy Queen menu. The rice cereal used for this Blizzard seems to be introduced specifically for this flavor, so you won't get that crunchy texture from any other option. However, you may have tried to concoct a similar secret menu Blizzard before by asking for vanilla soft serve, peanut butter, fudge, and crushed-up graham cracker pieces.
Oreo Brookie and Peanut Butter Puppy Chow Blizzards nutrition facts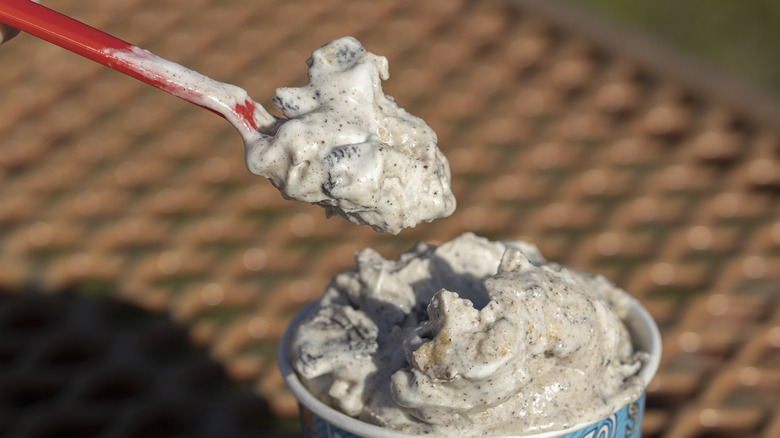 S.G. Howe/Mashed
The weather is warm and sunny, the snow is finally gone, and we can at long last enjoy some ice cream in the sunshine — so calories are the furthest thing from our minds when we order a Dairy Queen Blizzard. But we understand its importance, so let's run through the nutritional stats behind each of these blizzards, starting with Peanut Butter Puppy Chow. The mini size runs 400 calories, followed by 720, 1,010, and 1,360 for each size respectively. Besides calories, we will break down the nutrition details for the small sizes, since that's what we tested. The small PB Puppy Chow contains 32 grams of fat (18 grams of which are saturated fats), 97 grams in carbs, and 16 grams of protein. In total, the small also has 77 grams of sugar, plus 2 grams of fiber.
The Oreo Brookie Blizzard is a bit more calorie-intensive with 480 calories in the mini. That's followed by 860 in a small, 1,210 in a medium, and 1,590 in a large. There are 86 grams of sugar in a small Oreo Brookie, and 38 grams of total fat — 16 grams of which are saturated fats. In a small, this Blizzard also gives you 13 grams of protein and 116 grams of carbs.
So how do the Oreo Brookie and Peanut Butter Puppy Chow Blizzards taste?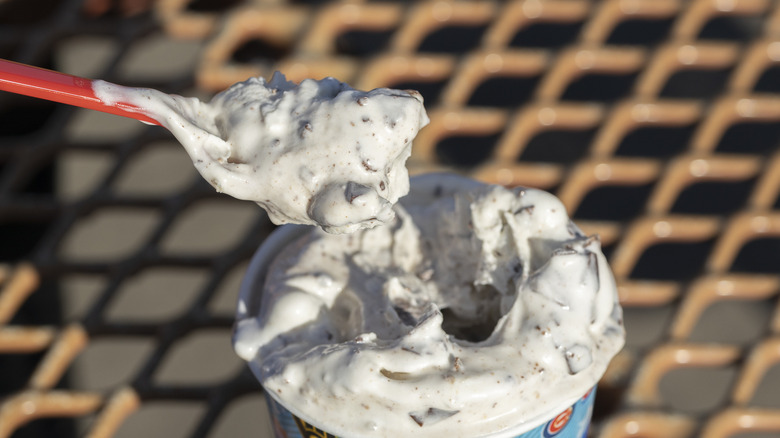 S.G. Howe/Mashed
Each of the May Blizzard flavors is sweet and indulgent, but we favored the Oreo Brookie — even though it was a very close race between the two. The Oreo Brookie is a great textural experience, with the chewy brownie and crunchy cookie. Dairy Queen is also incredibly generous with the fillings, so you're guaranteed to have some brookie in each bite. Plus, the Oreo pieces are just sort of crushed up in the blending so while you do get the Oreo taste, there aren't big chunks to make this Blizzard overwhelming. 
The Peanut Butter Puppy Chow Blizzard was nearly perfect. It needed more peanut butter to really embody the taste of this beloved snack. Next time, we will also ask for extra puppy chow pieces to get more of that crunchy rice cereal goodness. And lastly, we think this Blizzard would have been better made with a chocolate or fudge sauce rather than chocolate chunks. That would have ensured a consistent amount of chocolatey flavor in each bite — some bites were absent of chocolate, some were nothing but the fudge. While we had a slight preference for the Oreo Brookie over the PB Puppy Chow, we think they're both worthwhile treats for celebrating the warmer days ahead.