We Finally Know Why Olive Oil Prices Are Through The Roof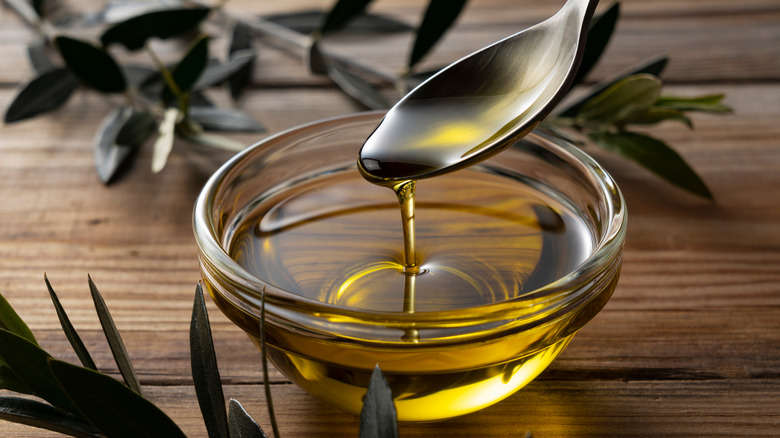 masa44/Shutterstock
Don't get us wrong: We have accepted that olive oil is expensive. For one, the oil or the olives to make it have to be imported from the Mediterranean coast, and transportation isn't cheap. Secondly, a single liter of olive oil uses between four and five kilos of olives (or between 8.8 and 11 pounds). Beyond that, olive trees are typically farmed on hills and are finicky crops to harvest. Therefore, each olive has to be hand-picked. As a result, labor wages are added to the overall cost of olive oil production.
However, the situation recently worsened, with olive oil-producing regions in Spain reporting droughts. In an interview with CNBC, oilseeds and vegetable oils analyst Kyle Holland explained that, due to a "severely dry growing period for much of the Mediterranean." Holland stated this impact was particularly felt in Spain, where the olive oil crop dropped to "around 630,000 metric tonnes, down from the usual 1.4 to 1.5 million metric tonnes harvest." With Spain's harvest weighing in at less than half its typical weight, demand — and prices — are skyrocketing. 
Olive oil prices are at a historic high
William.Photo/Shutterstock
As of March 2023, a metric ton of olive oil reached a price of $5,989, compared to $4,398 in March 2022 and $3,933 in March 2021. Per CNBC, this is the most that olive oil has cost in 26 years. In December 1996, prices soared as high as $6,241 per metric ton.
Metric tons aside, bottles of olive oil have also seen price hikes by as much as 60% in 2022, thanks to what BBC has claimed is Europe's worst drought in 500 years. For instance, one of the best olive oils that won't break the bank, Kirkland Signature Extra Virgin Italian Olive Oil, has increased in price by $7 over the last four years. In 2019, the price of a 2-liter bottle was about $14.87. In 2023, that bottle costs $21.99.
Granted, there's more to point fingers at than the drought in Spain. The war in Ukraine, inflation, and other food shortages have led people to lean more heavily on olive oil. But regardless of prices, you should always avoid buying cheap olive oil, as the poorer quality is not worth the pennies saved.