A New York Bar Known For Its Draft Cocktails Is Crowned Best Bar In North America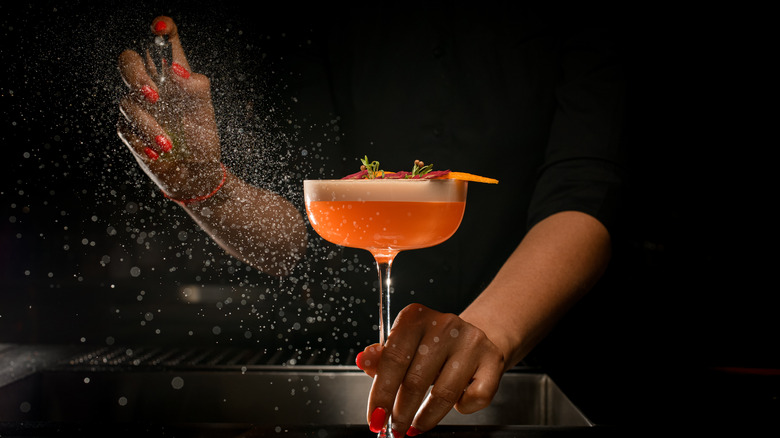 Maksym Fesenko/Shutterstock
Everyone has a favorite local bar. Whether it's to grab a beer after a long shift, meet up with friends, or even have a quick bite to eat, bars are integral fixtures of a community. In the U.S. alone, there are roughly 68,000 bars or nightclubs, so if you're looking for a drink you shouldn't have to go far. Classic bar food like wings, French fries, and burgers are also options if you're feeling peckish. However, not all bars are alike, in fact, the 50 Best Bars in North America event, sponsored by Perrier, just crowned THE Best Bar in America.
Hailing from the Lower East Side of Manhattan, Double Chicken Please has received the distinguished honor of being named The Best Bar in North America. Located at 115 Allen Street, the establishment opened in 2020, after being a roving pop-up, with owners GN Chan and Faye Chen creating a unique drinking and dining experience that is split between the Front Room and Back Room of the bar. There are over 20 cocktails on the menu between both parts of the restaurant. Taptails are the cocktails available at the Front Room, one of which, the number five, is made with whiskey, orange, oolong honey, and logan, which sounds interesting. The drinks in the Back Room are a bit different, like the playfully named Cold Pizza. Despite their inventive cocktails, it wasn't just booze that won them the Best Bar in America and the 49 other bars were no pushovers, either.
At the front of the pack
The competition was tough. Coming in second place was Handshake Speakeasy, winning The Best Bar in Mexico. Themed like an actual 1920s speakeasy, the bar also offers vintage spirits to fit the vibe. Third was Katana Kitten, also located in NYC. This Japan-inspired bar has five different highballs on the menu to choose from, along with five signature cocktails. But, as we said, it wasn't just alcohol that got Chan and Chen's bar to number one, with a name like Double Chicken Please, we're not surprised they have a whole host of chicken sandwich offerings.
From the simplicity of their Hot Honey chicken sandwich all the way to their spicy Mochi Donut Chicken sandwich, there seem to be all kinds of things being done to chicken on the menu. Not to mention some small plates like Popcorn Chicken and Koji Cucumbers. We'd love to try Double Chicken Please for ourselves, but we get the feeling it might be a little tougher now; being named The Best Bar in North America may make it trickier to get a table.