To Get Out Of A Cocktail Rut, Look To The Classics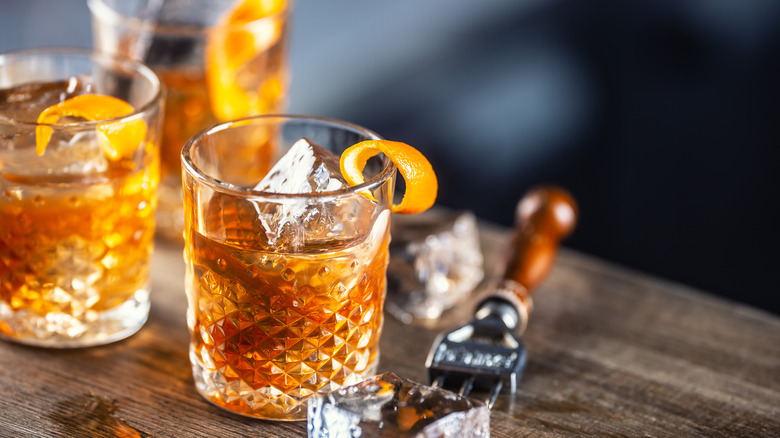 Marian Weyo/Shutterstock
Sometimes it's too easy to just get into the habit of pouring your favorite spirit into a highball glass, adding seltzer and a slice of lime, and stopping there. This can make a drink feel drab and, well, just not that fun. Trying out new cocktails can be intimidating, and frankly, there are a lot of bad recipes out there as well. Take the brightly-colored Blue Lagoon or the plain wild mayo-laden Tapeworm Shot for instance. To give your cocktail game a refresh and a revamp without getting lost in the sauce (pun intended), consider adding a new twist to an old classic. 
If it isn't broke, don't fix it, right? Well, that's one way to limit your enjoyment of some of the most balanced and beloved cocktails. We're talking about margaritas, martinis, and gin and tonics. Consider changing one standard ingredient for a new and exciting experience. Swap out the plain simple syrup for a herb-infused mix, use a flavored spirit instead of the plain one, or get creative with your garnish game. 
You could try a "reverse" Old Fashioned, like this TikToker did, which calls for two ounces of Angostura Aromatic Bitters and just half an ounce of rye whisky syrup. Alternatively, you can go wild and create a Funyun-infused gin Gibson by adding the popular snack into the mix. However, when tweaking classics, there are certain rules you should follow. 
How to experiment with classic cocktails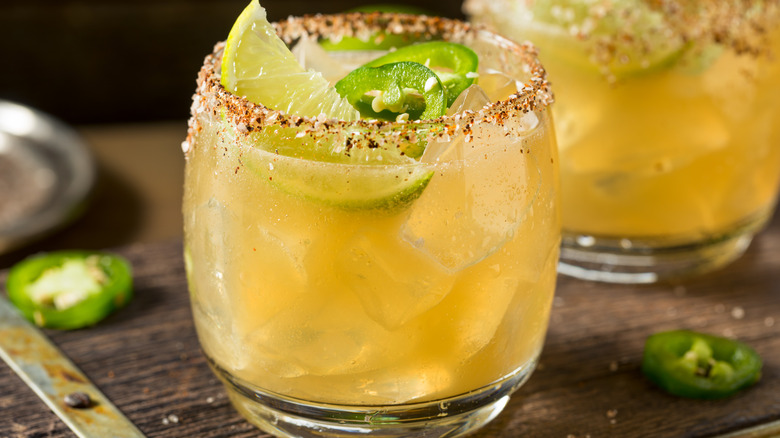 Brent Hofacker/Shutterstock
It can be hard to develop your own recipes for cocktails, but the important thing is keeping the flavor profile in harmony because that is what separates cocktails from lackluster mixed drinks. A perfectly balanced cocktail needs a mixture of several elements. You should consider sweetness versus bitterness as well as both temperature and texture, according to Diageo Bar Academy. Likewise, the strength of the liquor plays an important role as well. So for any swaps you make, be sure to add something else that will compensate for the flavor loss. 
For instance, instead of using the sweet and sour mix in your next margarita, try using a bit of hibiscus powder as it offers a tart but floral note, as well as a stunning pink hue. Consider infusing your spirits with a flavor. Mint-infused white rum would make for an extra flavorful mojito, or cooking down orange juice into a simple syrup could add brightness to an Old Fashioned. For the truly adventurous, swap the brine in your dirty martini for a chicken boullion and mirepoix gin mix.
But when you're switching things up, try to keep the experimentation limited to just one part of the drink, like the spirit, ratios, or flavored syrup. Otherwise, you can end up with a spine-chilling concoction known as a jelly bean martini that included several substitutions, like orange liqueur, whipped cream-flavored vodka, and the truly shocking addition of creme de cacao.