Gordon Ramsay's Kitchen Nightmares Is Returning. Here's What We Know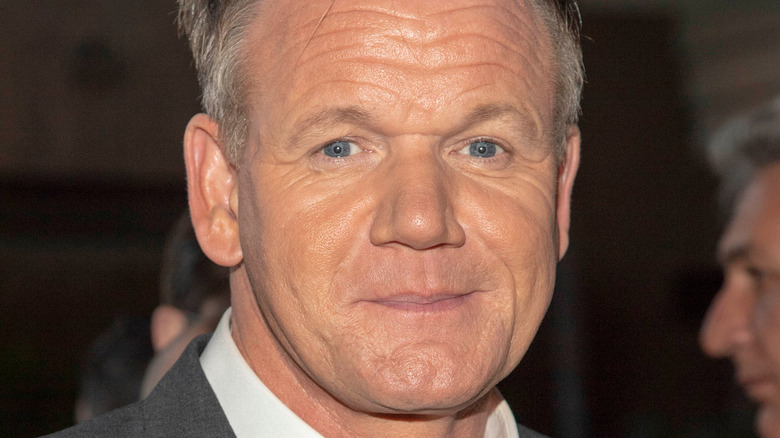 Eugene Powers/Shutterstock
For seven years, we received stomach-churning, flabbergasting, and sometimes hysterical footage from Gordon Ramsay's Fox series "Kitchen Nightmares." From 2007-2014, Ramsay would visit struggling restaurants and tried to revive them by giving them some, shall we say, constructive criticism. But as the fiery chef would later explain to New York Daily News, the criticism he received about the show caused him to walk away from "Kitchen Nightmares" – a decision Ramsay regretted. Now the show is returning to our screens after a nearly 10-year absence.
Fox has yet to announce an official release date for the rebooted series, but "Kitchen Nightmares" was announced in their fall lineup for 2023. And while information is limited, we expect that the show will follow the same premise as previously, with Ramsay visiting restaurants across the United States and unearthing the skeletons in their closets, or rather, the rats in their walk-ins. The problems that Ramsay has been known to encounter in these establishments can range from tired menus, family disputes, terrible management, and yes, pesty creatures in filthy kitchens. And of course, Ramsay has dealt with these issues with a comedically rageful attitude.
The timing of the return is interesting
Could the "Kitchen Nightmares" announcement indicate that Fox sees an unscripted Gordon Ramsay show as a safe bet in a moment when scripted TV is uncertain? The Writers Guild of America went on strike this month, and networks may try to pad their schedules with reality television much as they did in 2007 and 2008 in response to a writers' strike. Ramsay already hosts several other Fox reality series – "Hell's Kitchen," "MasterChef," and "Next Level Chef" so to say that Fox's schedule is already heavy with Ramsay-laden content is an understatement.
The show also comes at an interesting time in which many people question traditions in restaurant kitchens that are viewed as toxic and domineering, especially when it comes to head chefs like Ramsay. René Redzepi, the previously untouchable head chef of the critically acclaimed restaurant Noma, has come under fire for his treatment of interns and accusations of abusive and downright ridiculous standards for his kitchen staff. Ramsay has long been known for his expletive-loaded rants and insults, so it remains unclear if people will still have a soft spot for the yelling and chaos that are hallmarks of the original "Kitchen Nightmares" run.