Mashed's Exclusive Survey Uncovered Our Readers' Favorite Appetizer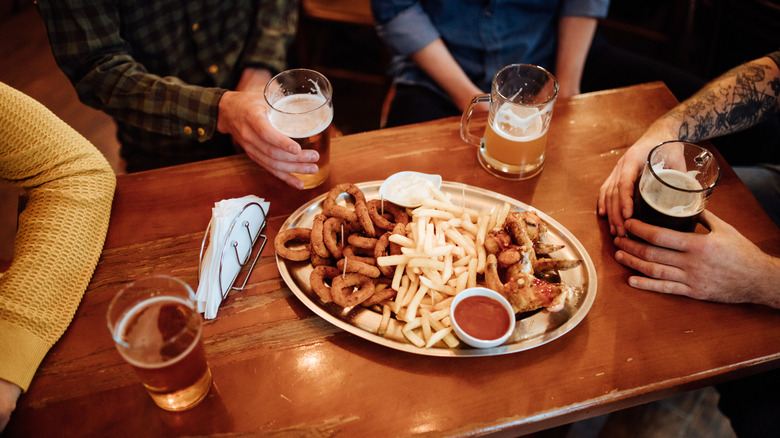 Anchiy/Getty Images
When it comes to appetizers and snacks, bars have plenty to offer. Buffalo Wild Wings, for instance, offers chips and guac, fried pickles, cheese curds, tater tots, and queso, among a dozen other snacks. Because there are so many to choose from, we asked more than 19,000 Mashed readers to share their favorite bar appetizer.
According to the survey, chicken wings are a landslide favorite, which isn't at all surprising when you consider that Americans consume more than 1.4 billion wings on Super Bowl Sunday alone. Wings received 37% of the votes, followed by nachos with 20%. Mozzarella sticks rounded out the top three, receiving 18% of the votes. French fries and onion rings brought up the rear, with 13% and 12%, respectively.
Given that chicken wings are so overwhelmingly popular with Mashed readers, it only makes sense that we look at some of the best wings in the U.S., as well as some of the creative ways you can enjoy them.
Wings boast a variety like no other appetizer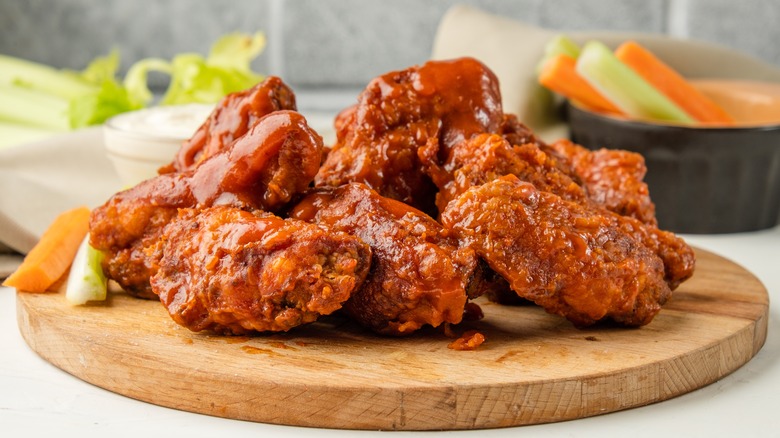 Axel Mel/Shutterstock
As readers pointed out in the survey's comment section, the main selling point for wings is their versatility. Wings can be ordered bone-in or boneless, though boneless wings are arguably just chicken nuggets with a tendency to dry out during cooking. What's more, wings come with countless sauces and seasonings. You can enjoy a lemon-pepper wings recipe, a honey garlic wings recipe, or even an authentic Nashville hot wings recipe.
Of course, depending where you go for wings, you can find even more variety. Not only does each region of the U.S. have a unique take on wings, but each restaurant or bar has its own specialties. Hat Yai in Oregon, for example, serves its fried wings with sticky rice, a spicy curry, and roti flatbread. New York's Wingnutz, on the other hand, gets its fame for its bleu cheese sauce and sweet mild sauce. Even better, wings don't have to be just an appetizer -– you can totally have them as an entrée instead. The more wings, the merrier.