Minnesota Sushi Is Having A Moment Thanks To HBO's Somebody Somewhere
After only one season, HBO's "Somebody Somewhere" achieved the American Film Institute's (AFI) designation of "Television Program of the Year." This accomplishment is exciting enough on its own, but Midwestern viewers and foodies alike may be more intrigued by a dish the TV show featured: Minnesota sushi.
This unique appetizer has racked up 13.2 billion views on TikTok alone, but as TikTok user That Midwestern Mom points out, Minnesota sushi isn't actually sushi. Rather, as the dish's other name -– "ham pickle roll ups" -– suggests, Minnesota sushi is a snack combining deli ham, dill pickles, and cream cheese. Unlike the process of preparing homemade sushi, which calls for a bamboo mat or some other way to roll your ingredients together, Minnesota sushi is easy to assemble. Simply spread cream cheese on a slice of ham, wrap it around a dill pickle, and slice into sushi-esque pieces. What's more, Minnesota sushi is just as easy to customize as any other kind of sushi.
Popular twists on the Minnesota sushi appetizer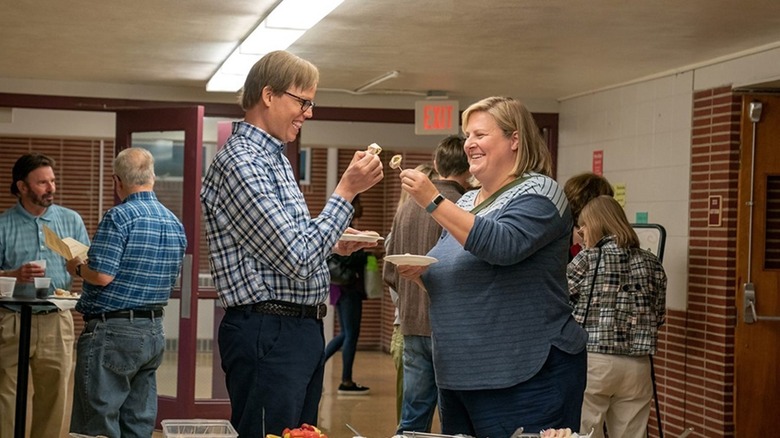 HBO
Just as real sushi is customizable, with sushi rolls for people who don't like raw fish, Minnesota sushi is also versatile in its ingredients. The three core ingredients usually stay the same, but some people add ranch dressing mix or pimentos to the cream cheese before spreading it on the ham. Others might swap out deli ham for salami, bologna, or corned beef.
However, the Minnesota sushi recipes don't stop there. One chef shared with WDIO his favorite way to prepare the appetizer, which involves substituting slices of gouda for cream cheese, and adding a dash of Dijon mustard. On the other end of the spectrum, Cheap Recipe Blog recommends wrapping Minnesota sushi in egg roll wrappers, then deep-frying for a Midwest egg roll like no other. Regardless of any additions you might make, one thing remains the same: Minnesota sushi is a tried and true Midwestern treat, and perfectly representative of the culture.