French Onion Pasta Is The Epitome Of Comfort Food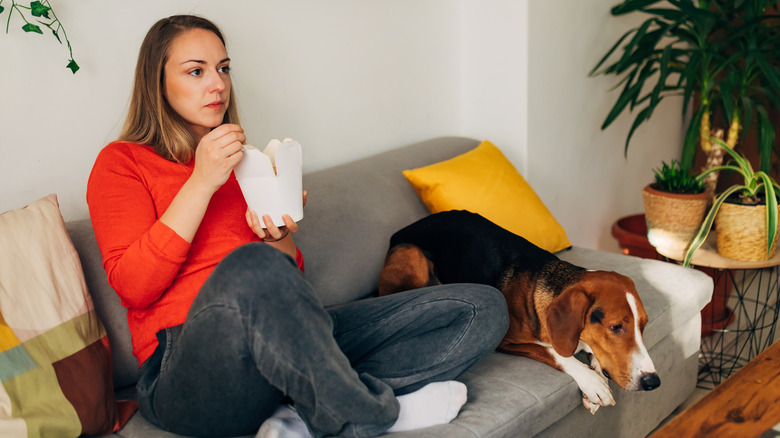 Kosamtu/Getty Images
There's something about a good comforting meal that not only satiates your appetite but soothes your soul as well. Comfort foods can mean different things to different people. Whether the first bite transports you back to your childhood, a special memory, or just helps you to wind down, good food has the unique ability to create joy. There is actually a whole science behind comfort foods and why they are able to bring so much delight. It seems that when you ingest carbohydrates it drives up the dose of the mood-boosting chemical known as serotonin, according to the New York Times. Even folks who particularly enjoy sweet treats will get an added brain boost when they enjoy those sinfully delicious snacks.
However, if your comforting food blanket is activated by savory meals then there is nothing better than a big bowl of French onion pasta. For those unfamiliar with the popular recipe, Tik Tok creator @cozycravings posted a mouth-watering step-by-step video of how to make this hot delicious bowl of happiness. Let's really dive into why this meal might just be the ultimate comfort food and how you can make it at home, tonight.
Here's why a bowl of French onion pasta induces all the feels
Creamy, hearty, and loaded with flavor and of course carbs, a steaming bowl of French onion pasta is sure to help you snuggle up on the couch for an evening of good vibes. A popular combination of the classic ingredients of a French onion soup merged with tummy-warming rigatoni noodles, this meal has all the elements sure to send your serotonin levels through the roof. In their enticing Tik Tok video, @cozycravings first add a little oil and butter to a pot, then three whole white onions. After caramelizing the onions until they're a lovely golden brown, she adds garlic, and thyme, and then deglazes them with white wine. Finally, a little Worshchester sauce is added for flavoring, and rigatoni noodles are cooked along with some heavy cream and a handful of gruyere cheese.
This is possibly the best comforting meal as it combines the mood-boosting elements of carbohydrates from the pasta and nourishing ingredients from the onions and garlic. Also, there is just something about the act of eating a warm home-cooked meal that's enough to settle you down in the coziness of your own safe space. These calorie-rich meals can also serve as a quick and inexpensive dopamine hit, which induces joy and pleasure, as per Live Science. The next time you need a pick-me-up and want to melt into your couch with a warm meal, try a plate of French onion pasta.