Popeyes Store Forced To Close Amid Disturbing Claims From Teenage Employees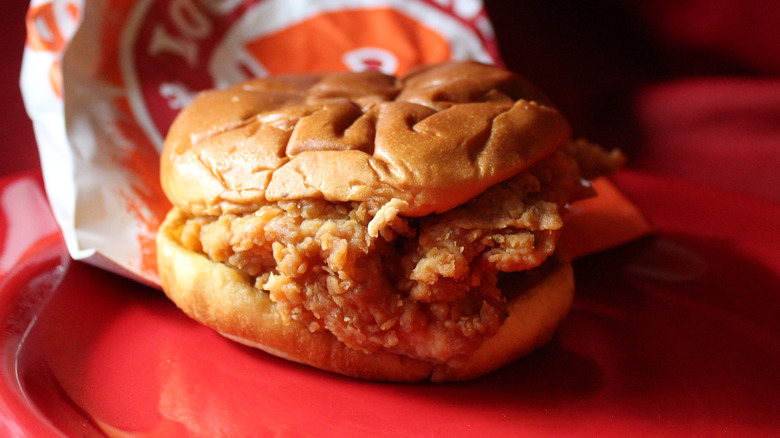 KDC-1/Shutterstock
Just weeks after the Department of Labor penalized McDonald's franchisees for employing children illegally, another big name in fast food faces allegations about its treatment of young workers. A Popeyes location in Oakland, California, closed its doors on Thursday, May 18, due to complaints of child labor violations and unsafe working conditions. Teenaged employees filed a report with the California Labor Commissioner and the California Division of Occupational Safety and Health (CalOSHA) alleging excessive work hours and shifts on school days that were restricted by California law, among other workplace irregularities.
According to at least one of the affected teens, they've been asked to work late at night during the school week, placing a strain on their academic performance. In addition, the complaint contains claims of wage theft, sexual remarks directed at young employees, and a denial of overtime pay and rest breaks during shifts.
Per California labor laws, workers who are between 16 and 17 years old cannot work more than four hours per day when school is in session. The limits are even stricter for those aged 13 to 15. According to employees, a 13-year-old worker clocked 40-hour weeks with shifts lasting until midnight on school nights, in violation of state restrictions. Workers also claimed the franchisee failed to request work permits when hiring teenage employees.
Response by Popeyes and employees
In response to the reported violations, protesters took to the sidewalks outside the Oakland store's location at 7007 International Boulevard. Popeyes employees went on strike, speaking out about their complaints, excessive work schedules, and resulting struggles to meet school performance standards.
Safety issues have been flagged by employees since at least February 2023, when a video surfaced on Twitter reportedly depicting a fight between a staff member and a customer. The official Popeyes Twitter account responded at the time with a statement expressing horror over the depicted event, noting a zero-tolerance policy "for violence of any kind in [Popeyes] restaurants."
In light of the current complaint by teenage employees, the corporate office of Popeyes responded with an immediate store closure and a statement reported by Kron 4: "Based on the allegations made this morning by team members at a restaurant owned by one of our franchisees, we have immediately shut down his restaurant and have started a swift investigation. We will not tolerate any violation of employment laws and if any of these allegations prove true, we will take action against this franchisee."