People Are Rightfully Confused About Buc-Ee's Not Having Indoor Seating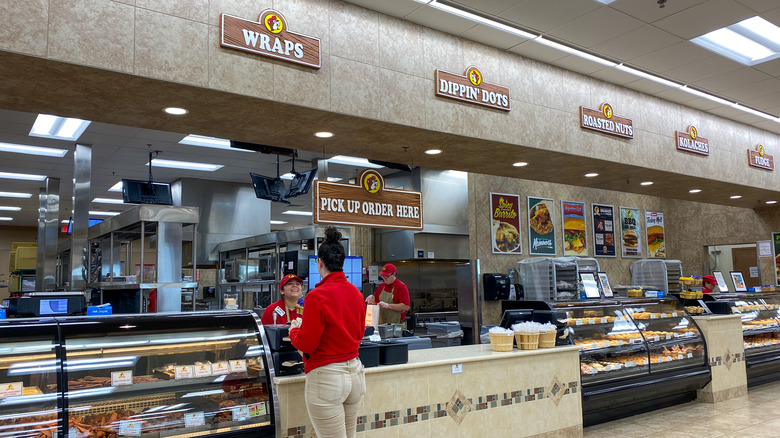 Joni Hanebutt/Shutterstock
There are many reasons people love Buc-ee's, but there's no denying all the hot food options, like the tacos, burritos, and smoked meats, helped made it popular. Although, it seems like Buc-ee's has almost anything you need to get through your road trip, there's one thing it lacks — indoor seating. A shopper noticed the void and posted about her hopes for the future on Reddit: "Maybe Buc-ee's will add some indoor seating, too."
After all, the chain is practically a restaurant and grocery store, when you consider all the available food options offered. Plus, plenty of other gas stations in the country do offer full-service restaurants, like certain TravelCenters of America, Iowa 80, and the original Joe's Kansas City Bar-B-Que. So, why doesn't Buc-ee's? Many Redditors were in favor of Buc-ee's adding indoor seating, pointing out they don't want to have to eat in their cars. One user wrote, "As a local who enjoys their sandwiches, yeah, it would be nice to be able to sit and eat there." 
There are many possible reasons that Buc-ee's doesn't offer indoor seating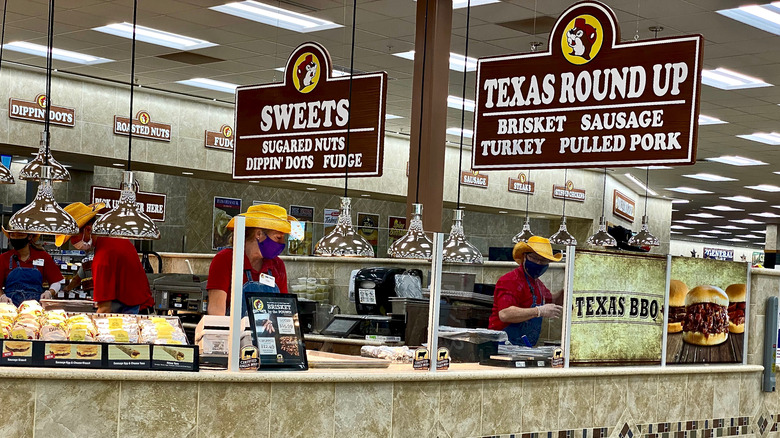 EWY Media/Shutterstock
So why doesn't Buc-ee's have indoor seating? The answer hasn't been shared publicly by the company, but it might stem from the fact that so many locations receive a lot of fast-moving foot traffic, which wouldn't be ideal for a full-service restaurant. According to a study in December 2022, one Buc-ee's in Georgia saw more than 7,300 cars per day. Meanwhile, personal accounts from both visitors and employees on Tripadvisor and Glassdoor describe the gas station chain as "crowded on the weekends" and "always busy."
Additionally, some Redditors believe that it is a strategic move on Buc-ee's part to not offer indoor seating. Since no one is sitting, they're likely shopping for food or other supplies. As one commenter wrote, "They want you to shop, not sit." Another Redditor believed having indoor seating would just be a waste of space. Having indoor seating at a Buc-ee's can definitely be advantageous, but will we ever see it at any location? Time will tell.