The Little Mermaid Happy Meal Has Us Rushing To McDonald's For The Toys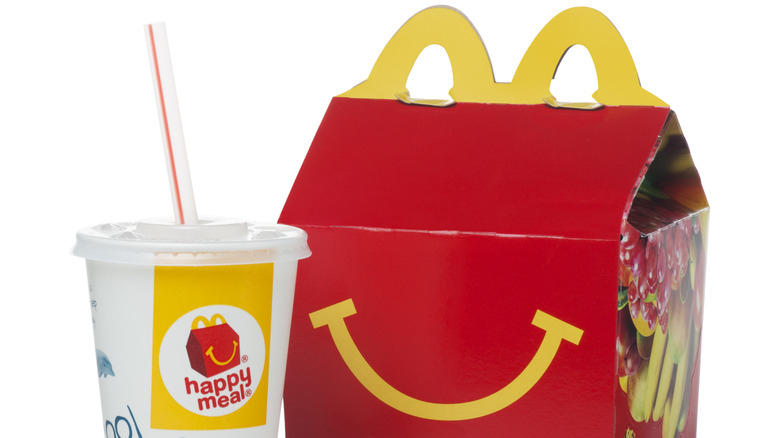 Skodonnell/Getty Images
For many Millennials and Gen-Z'ers, it's been a long time since they've heard the siren song of the McDonald's Happy Meal toys. The new McDonald's "The Little Mermaid" toys, released in honor of the upcoming 2023 live-action movie, may change this interest. The plastic toy line includes a mermaid toy designed after the movie's star, Halle Bailey, Melissa McCarthy's Ursula, sea-dwelling and landlubbing critters, and other beloved film characters. 
The toys were announced in a press release on May 24 in anticipation of the movie's theatrical release, set for May 26, and are only available as long as supplies last. Jennifer "JJ" Healen, the Vice President of U.S. Marketing, Brand, Content, and Culture at McDonald's, said these toys are an opportunity. "Even more fans can see themselves reflected in profound possibility and feel encouraged to dream big and make waves," said Healen. 
Bailey stars as Ariel in "The Little Mermaid," marking the first time the character has been portrayed by a Black actress. Disney's history with Black representation has also been limited in the past: 2009's "The Princess and the Frog" introduced Disney's first Black princess, Tiana, and Brandy played Cinderella in the 1997 made-for-TV film. Black and brown dolls are also underrepresented in the toy market, so the new Ariel toy creates greater representation for young children of color. 
McDonald's Little Mermaid toys may be some of its last
It is important to note these toys appear to be hard plastic, reminiscent of 90s McDonald's Happy Meal toys. In 2021, McDonald's pledged to phase out hard plastic toys by 2025, instead opting for soft or paper-based toys and books. Therefore, "The Little Mermaid" toy line may be the last of its kind to grace the Golden Arches' Happy Meal boxes. 
While some Happy Meal toy releases gather attention and make their way into collectors' inventories, the majority of them are played with by children for only moments before being broken, forgotten, or discarded. Not providing plastic toys is meant to reduce McDonald's contribution to non-recyclable landfill waste and work as a public relations measure. McDonald's has been scrutinized for years for the astonishing amount of greenhouse gas it's responsible for producing each year, but the majority of that comes from cattle and beef consumption. Plastic — and Happy Meal toys alone — are only one small part of McDonald's environmental and sustainability issues. However, "The Little Mermaid" line of Happy Meal toys highlights the company's effort to embrace diversity and inclusion.