All We Want To Do Is Play Tetris On A McDonald's Chicken Nugget-Shaped Device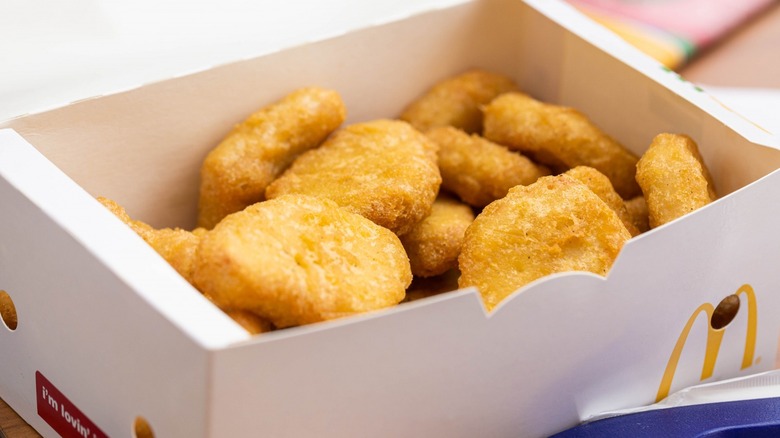 rzoze19/Shutterstock
It's been 40 years since Chicken McNuggets first appeared on a menu, and McDonald's locations in China are celebrating this anniversary by selling special nugget-shaped hand-held game consoles. The special promotion is a throwback to the retro Game Boy devices and plays a black-and-white version of the classic Tetris game. For the moment it seems as though the units are only available in China and are selling for 30 Chinese Yuan which is about $4.24 USD.
The nugget-like gaming device is sold in a colorful cloth carrying case emblazoned with cartoon illustrations of chickens, nuggets, and the McDonald's logo. In an unboxing video by SuiBianChiChiChi on YouTube, they shared that once you open the little box containing the game — which is meant to replicate the actual container McNuggets are kept in — it is revealed that you also get a pack of little stickers which are in celebration of International Children's Day. The console itself is quite thick and has all the shapes and grooves resembling McDonald's signature McNuggets. The promo seems likely to spark deep feelings of nostalgia for fans of both retro games and the Golden Arches, as well as drum up hunger pangs for a few boxes of the signature meal.
How does the McDonald's nugget-like game system actually play?
Visual aesthetics aside, you're probably wondering how legit the game is and whether or not it plays well. Complete with up, down, left, and right arrow buttons as well as a convenient thumb button on the bottom-right nook of the nugget, the game looks well-designed to fit neatly into the palms of your hands. In an initial play-through by SuiBianChiChiChi, the game starts with the classic 8-bit graphics that those who played the game in the late '80s and early '90s may remember all too well. After the initial "Tetris" title slowly crawls horizontally across the screen you are put right into the classic Tetris game that seems to play just like the original.
The only difference is that you will notice the McDonald's "M" in the bottom right corner. This begs the question of whether this is just a McDonald's knock-off of the game or whether they had legitimate rights to the Tetris game. To confirm that the major fast food brand was not being cheeky and risking a possible lawsuit, the official Tetris Twitter account tweeted about the release with the caption "What happens when #Tetris meets a Chicken McNugget? Exclusively available at McDonald's in China for a limited time, fans can play Tetris on a Chicken McNugget game device!" If you are desperate for a piece of the action but don't live in China, units are selling on eBay starting at $32 USD.