The Ninja Creami Is Churning Out Viral Ice Cream Recipes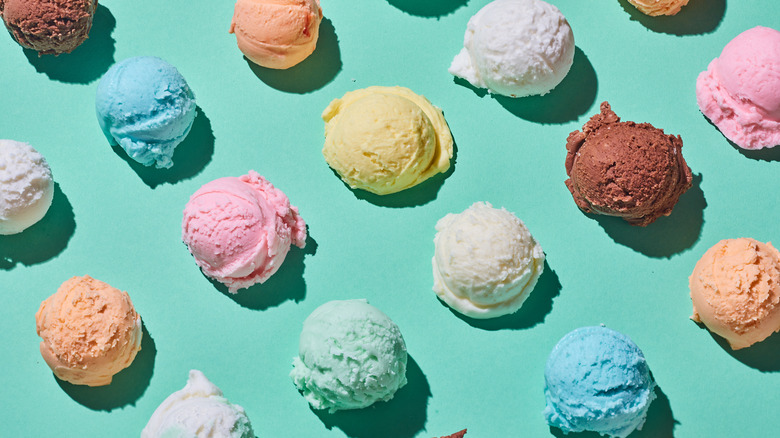 Foodandstyle/Getty Images
While many of us enjoy eating ice cream at home, not all of us enjoy making ice cream from scratch. Fortunately, there are now plenty of kitchen appliances on the market designed for making creamy desserts. The Ninja Creami, for instance, can whip up not only ice cream in a matter of minutes but also treats like froyo, slushes, and gelato.
Naturally, the internet is all over this appliance, and the deluxe version is currently out of stock. That said, social platforms like TikTok are still chock full of creative recipes to try with the Ninja Creami Deluxe — or, for that matter, any ice cream maker.
One popular TikTok recipe only requires a can of peaches, ideally in heavy syrup, as the syrup enhances the taste and texture of the dessert. All you have to do is load the peaches and syrup into one of the machine's mixing cups, tap the "sorbet" button, and wait for the magic. No more blending and boiling ingredients.
More fun recipes to try with the Ninja Creami
If peach sorbet isn't your cup of tea, no worries. The possibilities for frozen treats are endless. Rather than load a can of peaches and syrup into your Ninja Creami, as demonstrated in Olivia Aly's TikTok, you can use other canned fruits like pineapple, nectarines, or plums to make a sorbet of your choosing.
For a yummy drink reminiscent of a Starbucks frappuccino, you can try a Salted Caramel Creamiccino. Per Ninja Test Kitchen, add your favorite coffee, caramel sauce, and half-and-half to a Creami cup, then mix, freeze, and let the machine do the rest.
As for an easy ice cream recipe, one TikTok user shared her favorite berry cheesecake ice cream. She starts with fresh berries, which she mashes with sugar, syrup, and heavy cream before taking the mixture to the Ninja Creami. After one pulse cycle, she adds cheesecake bites from Target (Which should be in your freezer right now) and then pulses again. Top with more cheesecake bites, and enjoy!