Ways Your Caterer Is Ripping You Off At Your Wedding
Shutterstock
If you've looked forward to your wedding your entire life, you may have dreamed how the day would go many times. However, we feel pretty comfortable in guessing you never dreamed about how the planning process would really go.
After all, who needs that kind of stress in their dreams?
Unfortunately, a high level of stress just goes with planning for a wedding, especially when it comes to selecting the food and the caterer. Few people have experience with planning an event where they'll feed dozens or hundreds people before they do it for their own wedding, and few will ever go through this process again. Not surprisingly, this lack of experience leads to stress. You want to pick foods everyone will love, but you don't want the caterer to take advantage of your inexperience and rip you off — unfortunately, that happens more than you might think. Here's how:
Insisting on providing everything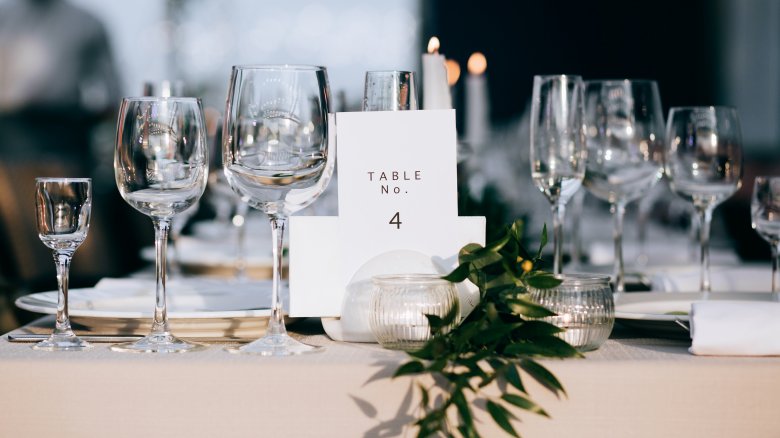 Shutterstock
As consumers, we learn to look for all-inclusive deals because they're cheaper. That's why warehouse clubs and resort vacations are such a big deal, right?
With wedding catering though, the all-inclusive model isn't always the cheapest. For example, according to Meg Keene, founder of A Practical Wedding, using the caterer for the food while bringing your own alcohol to the reception can save you a lot of money versus paying the caterer's marked-up alcohol prices. Fox News says renting your own tables and chairs can save a lot too.
However, some caterers won't take a job unless they can provide everything from food to tableware to chairs to booze. The reason? They may be showing you a reasonable price on food, but they badly gouge you on everything else. When accepting bids, ask the caterer to break out the individual costs for everything to gain a realistic picture.
Giving you portion sizes appropriate for a 2-year-old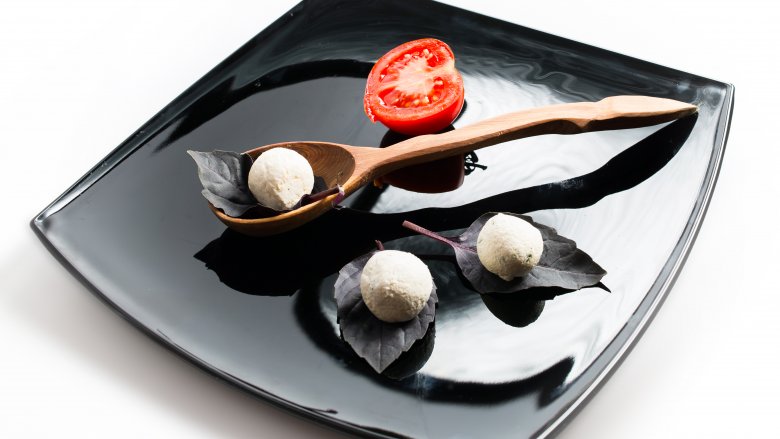 Shutterstock
Tiny food is a popular cooking fad right now, according to The Atlantic. So if you're looking for burgers the size of quarters for your wedding, more power to you.
But if you actually want to feed your guests a meal they'll remember eating, tiny food that someone could inhale almost by accident isn't going to cut it. You want real, adult-sized portions, especially considering what you're paying the caterer.
Some caterers may try to save money on their end by cutting portion sizes down. So although the caterer may say their meal will feed 100 people, at normal portion sizes, the capacity may be more like 75.
Alyssa Nagler, Manager of Caterer Content at ezCater, says the best way to ensure you'll have proper portions is to ask for serving sizes. Entree dishes should be 4-6 ounces per serving, while side dishes should be about 4 ounces per person, for example. As an added bit of advice, Nagler says hearty food like Mexican- or Italian-style won't need as many side dishes per person, while barbecue ribs or pulled pork may need at least three side dishes.
Ask the caterer to tell you how much food they provide per person in weight. (And if you want to bring a scale to make sure you're receiving what you were promised, we won't judge.)
Hiring experienced wait staff ... who really aren't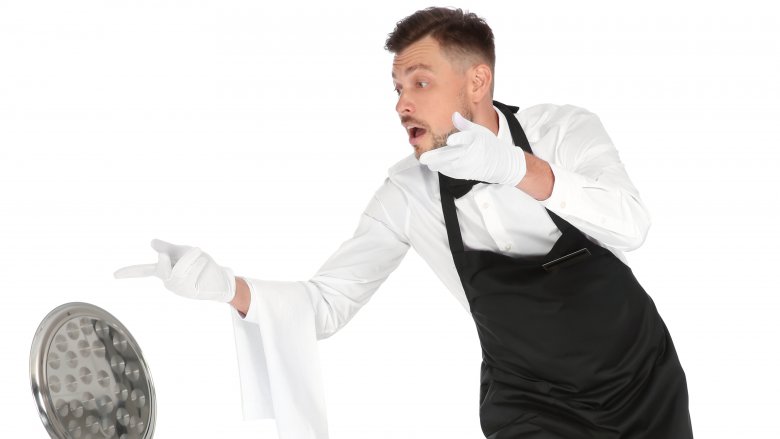 Shutterstock
Most caterers will take care of the serving staff for you, and most brides and grooms are grateful. 
However, when the caterer promises you "experienced" servers — and charges you accordingly on the bill — you expect something more than a couple of 16-year-olds who spend most of the night looking at their phones.
Without question, waiting tables is hard work. But if the caterer is promising excellent service for your wedding reception, you should expect it.
It's more important to have experienced wait staff when your wedding meal will include meal choices that will be served at the table, versus a buffet style where the wait staff primarily will be bussing tables. As The Guardian says, inexperienced waiters will make mistakes, such as insisting that a guest who ordered a vegan meal should eat the meal option with meat.
If your caterer is providing the waitstaff for your wedding, you're better off asking what kind of experience they have before your big day arrives. It may be an awkward question, but the problems they cause on your wedding might be worse.
Not disclosing hidden costs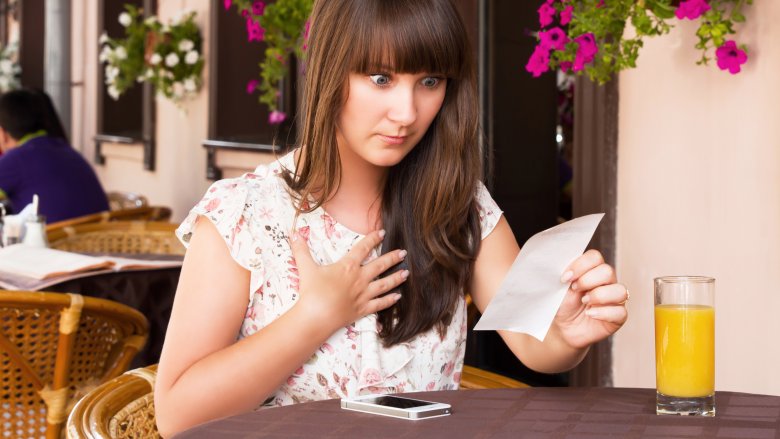 Shutterstock
Hidden costs may be the most frustrating aspect of a wedding reception. No couple wants surprises on the bill when they're already struggling to stretch a tight budget. Some caterers will use hidden costs as a way to outbid others vying for your business. Then, after winning the job, the hidden costs are introduced — and you're being ripped off.
Some areas where caterers commonly try to hide costs, according to Fox News and Brides, include sales taxes, corkage fees, alcohol permit fees, cake cutting fees, and transportation charges.
When you receive catering bids, make sure everything is included and broken out on every proposal. Ask about any potential extra charges, and emphasize that you can't afford any hidden fees. And if you still aren't sure if you trust what the caterer is saying, keep reading... it's time to talk contracts.
Not giving you a detailed contract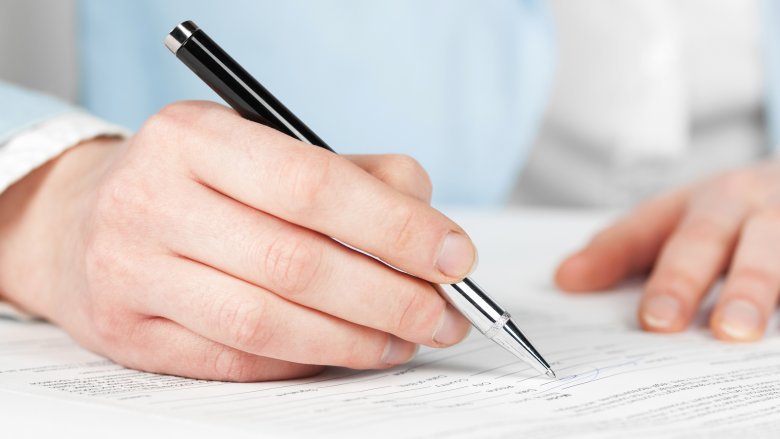 Shutterstock
If you're the kind of person who prefers a handshake to a contract, you may want to suspend that policy during the wedding planning process. The only sure way to protect yourself against a caterer ripping you off is through a signed contract. If the thought of a contract makes you sweat, fear not — a catering contract for your wedding should be in simple language.
According to The Knot, the contract should always include things like the menu, the number of courses, the type of service, the number of people who will be eating, proof of insurance and permits, and all costs spelled out individually. (And we mean all costs; don't forget to ask the caterer about some of the hidden costs we mentioned previously.)
If you're only working off a verbal agreement, the caterer easily could hand you a final bill that's much higher than the quoted price — and you'll have little recourse without a contract.
Also, as Brides explains, understand that if you deviate from the contract by adding more guests or changing the menu after signing it, you will pay more — but those fees should also be laid out in (you guessed it!) the contract.
Making gratuities part of the bill without telling you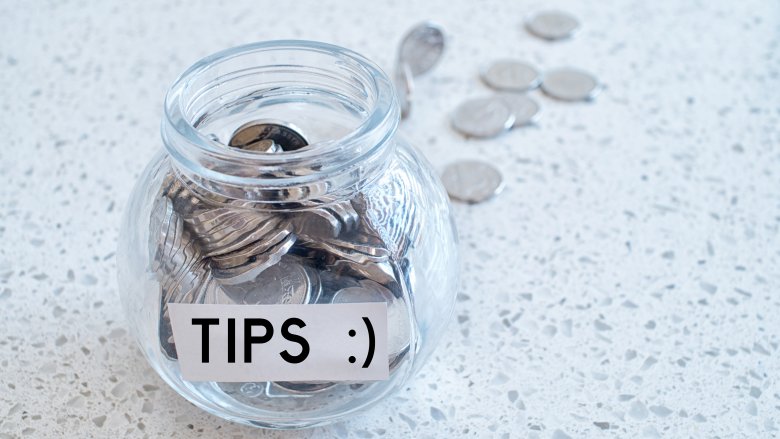 Shutterstock
When most people eat at a restaurant, they base the amount of the tip the server receives on the quality of the service provided — it's not usually like that a wedding.
Many caterers will put a standard gratuity fee or service charge onto the bill. There's nothing wrong with this, as long as the caterer is up front about it. But if the caterer doesn't disclose this ahead of time (especially if the fees are astronomically high) — regardless of the quality or experience of the wait staff — you're getting ripped off.
What's even worse, according to wedding designer Karen Bussen, is sometimes that service fee doesn't even go to the waitstaff — meaning you have to fork over even more money for their tips.
To avoid getting ripped off, always ask upfront if mandatory gratuity fees are part of the catering bill, as well as how much they are, according to Offbeat Bride. Then double-check that those fees will be distributed to the waitstaff — an unexpected tip to an entire waitstaff could put a huge damper on your honeymoon fund.
Serving frozen food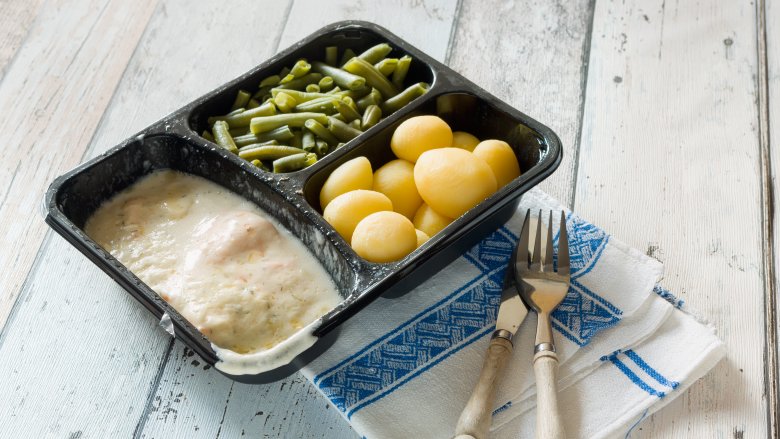 Shutterstock
Every couple wants the wedding day to feel unique and special, and the catered food is a big part of that. So after you spend hours poring over menus and selecting amazing and unique foods, the last thing you want to discover is that the caterer's "special" sauce is the same stuff you buy by the gallon at your local warehouse club. 
You have just been ripped off.
Fox News says an Indiana caterer who was well known to specialize in sweet-and-sour meatballs was eventually discovered to be buying them pre-made from a restaurant supplier, so even experienced caterers will cut corners occasionally.
Rouge Catering told The Baltimore Sun the best way to avoid this pitfall is by asking for your food to be prepared or cooked on-site. It also doesn't hurt to ask for a tasting or a reference from a recent customer — just for your piece of mind.
Letting you think you're saving with a buffet — even if you're not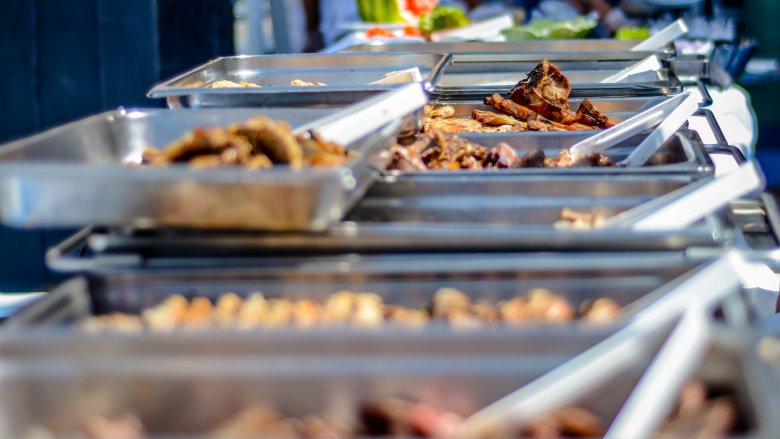 Shutterstock
For a couple with a tight wedding budget, having a buffet-style meal seems like a good idea. After all, if the caterer doesn't have to hire extra people, your overall bill should be smaller, right?
But caterers still might rip you off in this instance. For example, they'll still hire people to bus tables or make sure the buffet trays are well-stocked. Unfortunately, there's a good chance they'll charge you the same rate they would for servers to bring food to the tables.
If you're concerned about this, ask the caterer specifically what you'd be charged for table servers versus waitstaff at buffet.
Some caterers will use the excuse of a buffet style to produce extra food — after all, they say, some guests will want extra helpings — and charge you more, according to event planner Alyssa Brown. Even if you're doing a buffet style versus a served meal, make sure the caterer is providing a certain amount of food per person. Wedding guests shouldn't have an expectation of going back for seconds — unless you want them to.
Not showing up in person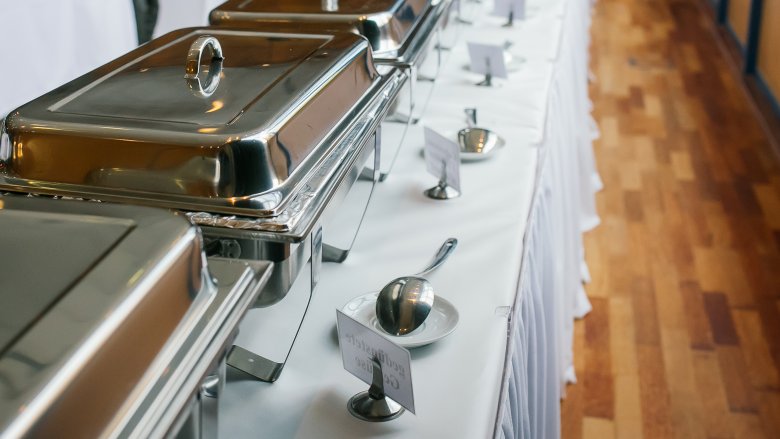 Shutterstock
As you've probably figured out by now, wedding caterers are expensive. So you probably just kind of expect that, for such a high price, the caterer will be on-hand to oversee everything.
Unfortunately, this isn't always the case. A really busy catering service may be supplying food for multiple events on the same day, so the owner of the business may be elsewhere.
When a caterer doesn't show up in person, it just feels like you're being ripped off. You may want them to be at the wedding reception to make sure things run smoothly, especially since they're the person you've been communicating with leading up to the big day. If so, make sure this is clear at the time you're hiring the caterer. You may even want in to be in the contract.
If the caterer routinely uses assistants to oversee things on-site, rather than being there in person, you should demand to meet the assistant ahead of time — and definitely touch base with them before your wedding day to make sure you're both on the same page.
Charging you a markup because it's a wedding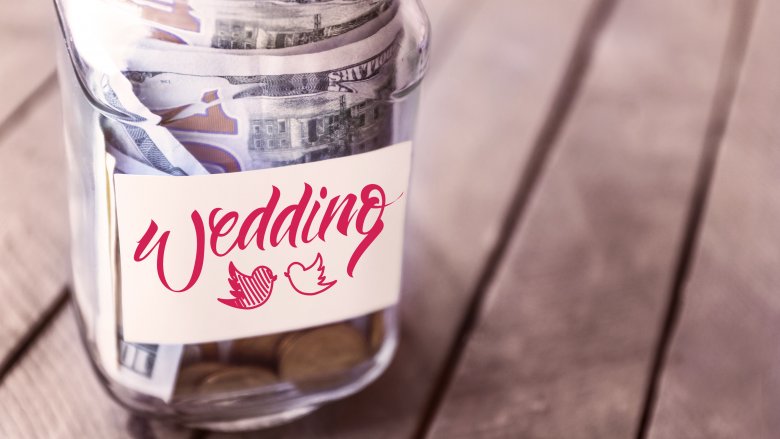 Shutterstock
There's a reason the song, "We're in the Money" runs through the heads of some caterers when a couple planning a wedding comes to meet them. According to Consumer Reports, some caterers will charge more for a wedding than they charge for another type of event, even when providing an identical service.
We must mention that many caterers don't follow this practice. In fact, Consumer Reports found it to be about 28 percent. But if you're concerned that you're caterer does overcharge for weddings and is ripping you off, do your homework — and maybe don't mention that the event is a wedding when you initially ask for bids.
If you find through your research that you're being ripped off, Time suggests letting the caterer know that you're on to them, then ask for the caterer to do better on the price. Being direct and negotiating often works better than you'd expect.