The Discontinued McDonald's Sauce That Sold For Almost $10,000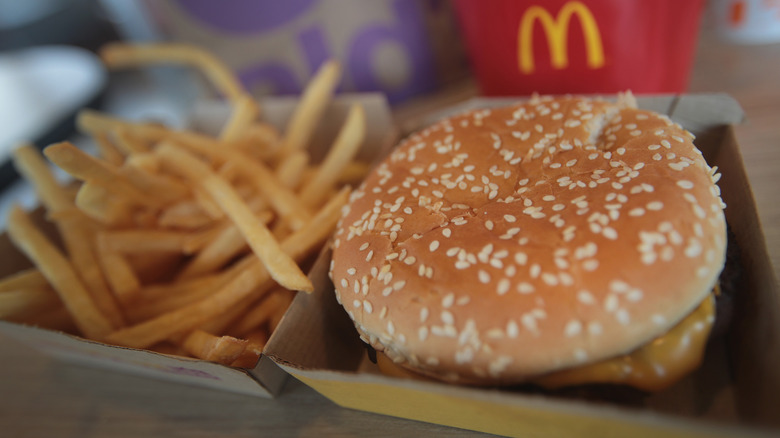 Scott Olson/Getty Images
Your old Beanie Baby collection may not be worth much, but that doesn't mean that every '90s craze is valueless. According to CBS News, one man became nearly $10,000 richer in 2012 after selling a rare, discontinued condiment on eBay from a saucy, pre-Y2K collab between McDonald's and NBA superstar Michael Jordan. We don't know about you, but we'd certainly call that a slam dunk.
The 20-year-old sauce was from when the basketball player teamed up with Mickey D's for the short-lived McJordan Special, which was sold at more than 800 restaurants in Alabama, Tennessee, North Carolina, and South Carolina, and the Chicago area from 1991 to 1992. The celeb-backed meal featured the McJordan Burger: a quarter-pounder topped with bacon, cheese, onions, pickles, mustard, and barbecue sauce, the latter of which is what former McDonald's owner-operator Mort Bank had an unopened gallon jug of on hand.
Described as "the rarest of rare Michael Jordan and McDonald's collectible," Bank told ESPN that he initially posted the sauce as an auction item with a minimum bid of $10,000, though nobody ever met his price. However, with the help of the "Buy It Now" button and a few viral news stories, he eventually secured — and accepted — an offer of $9,995.
"If I had known it was going to be red hot on the internet, I might have done it differently, but $10,000 for barbecue sauce is pretty good," the seller said, and we're sure many others can agree.
McJordan BBQ sauce isn't the only condiment that can make you money
We don't expect too many people to have gallon-sized jugs of McJordan barbecue sauce from McDonald's in their pantries. However, if you happen to have a condiment drawer in your kitchen that you haven't cleaned out since before the turn of a century, there's a possibility that you may be sitting on your own stash of liquid gold.
For example, if you happen to have a pack of McDonald's Szechuan Sauce from the restaurant's 1998 promotion of the Disney movie "Mulan," you could be looking at a five-figure payday similar to Bank's. In 2017, Time Magazine reported that a packet of the 30-plus-year-old dipping sauce sold on eBay for $14,700. Meanwhile, containers of the sauce's "Rick and Morty"-themed re-releases from 2018 and 2022 have also been sold on eBay, though not for nearly as much dough.
Even if you've only recently started collecting condiment packets like Pokemon cards, there's still a chance you could make some money off of your sauce stash. According to The Takeout, Heinz recently released a limited-edition Saucemerica Packet Collection that includes 50 different designs, one for every state in the Union. Packets come in a variety of colors and feature artwork depicting the food item that each state is known best for, and by uploading photos of your collection to the Saucemerica website, you have the potential to earn several prizes, and even $100,000.