Cereal-Flavored Milk Is Made Easier With One Steep-Able Kitchen Staple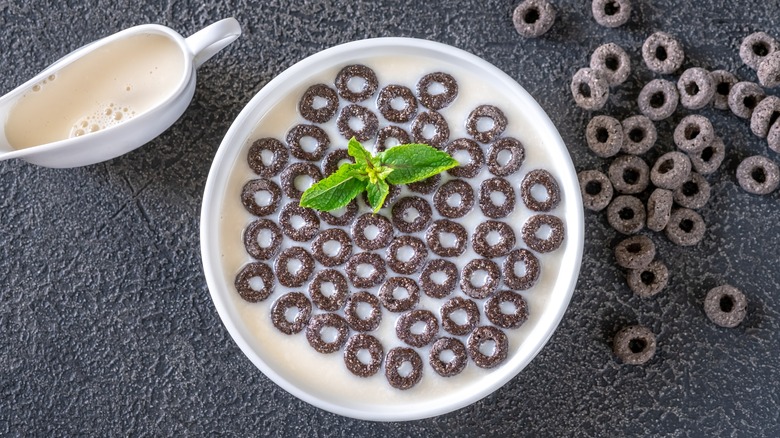 Alexander Prokopenko/Shutterstock
Sugary cereal was one of many people's favorite foods as children. And let's be honest — many adults still love a bowl of crunchy-sweet cereal for a late-night snack (there's even a reason cereal might taste better to you at night). For many, the real delight isn't in eating the cereal but in sipping the cereal-flavored milk that's left in the bowl. TikTok user @liamslunchbox has shared an easier and more shareable way to make flavorful cereal milk. Once you try it, you'll be able to cereal-ify all of your favorite treats.
There are two key steps to making cereal milk at home. First, you'll want to blend up the cereal of your choice in a blender or food processor. This increases the surface area of the cereal, allowing it to infuse into the milk more quickly. Then, you'll pour the blended cereal into a disposable tea filter bag (for optimal flavor, ditch traditional tea bags and buy pyramid bags instead for a quicker infusion of flavor). The cereal-filled tea bag can then be dunked in milk. It will infuse warm or hot milk (dairy or non-dairy) with cereal flavor faster than cold milk. Then, you can use the warm cereal milk as needed, or let it chill in the refrigerator until cold.
What to do with cereal milk
There are a lot of reasons to save your cereal milk or make it from scratch. The problem with using the cereal milk at the bottom of your bowl is that you've double-dipped your spoon in it multiple times, making it unsuitable for sharing. And don't forget the soggy remains of bits of cereal interfering with the creamy texture. With cereal milk made using a disposable tea bag, you can transform the flavored liquid into all sorts of delights.
Milk Bar pastry chef Christina Tosi made cereal milk famous with recipes like cereal milk panna cotta and cereal milk ice cream. Cereal milk can be added to coffee and lattes. And it could be fun to coordinate cereal milk with cookie flavors as a fun party treat. Think chocolate chip cookies served with chilled Cookie Crisp cereal milk, snickerdoodles served with Cinnamon Toast Crunch cereal milk, or Oreos served with Oreo O's cereal milk — the options are endless. With a few boxes of your favorite cereal on hand and a stack of disposable pyramid tea bags ready to fill, you'll soon be able to add cereal milk to anything your heart desires. Or simply sip it on its own for a Proustian return to childhood mornings.