The McDonald's Salted Yogurt Drink We Wish Was In America
For foodies, one of the most exciting parts of traveling around the globe is getting to sample an array of new flavors and cuisines. And as odd as it sounds, trying local dishes may even start with a visit to see what the local McDonald's is like in other countries by trying one of the many regional classics that don't exist on the chain's American menu. 
When TikToker @girlvsglobe had a layover in sunny Istanbul, Turkey, she treated us all to a sneak peek of the delicious McDonald's items available only to those in the country. Among one of the most unique items on the menu was a drink called ayran, which she described as a "salted yoghurt drink."
While the drink may seem exotic to American diners, ayran is a beverage that has been enjoyed for over 3000 years and is incredibly well known in Turkey, as well as in much of the Balkans and Central Asia. It's made from just yogurt, water, and salt, and is enjoyed cold. McDonald's claims that the fermented beverage can help with digestion, meaning it could be a good choice to sip on with your Big Mac. Ayran is available alongside other more common McDonald's beverages, like soda and coffee.
How to enjoy the national drink of Turkey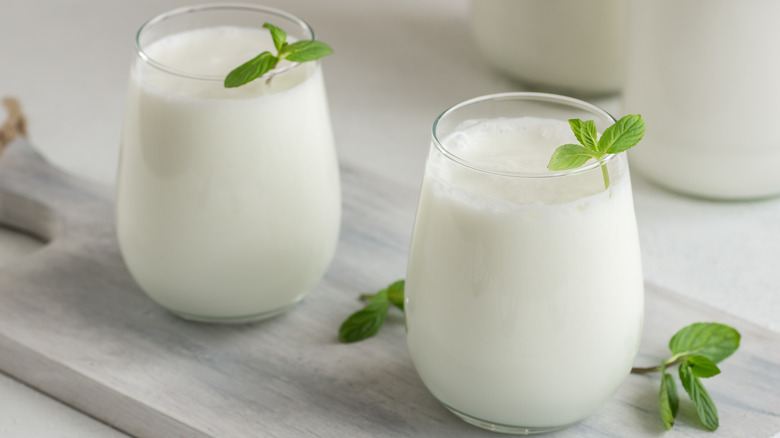 Mescioglu/Getty Images
While the idea of drinking a glass of yogurt with your meal might seem unusual, fans of the drink have taken to Reddit to express their approval of the Balkan beverage. One user called the drink "iconic af" which definitely rings true, as Ayran was declared the national drink of Turkey in 2013. However, other users shared that it might take some getting used to for those who don't hail from the country.
If you've already washed down your McDonald's Chicken McNuggets with the chain's version of the classic Turkish drink and want to try it alongside a more traditional meal, you can opt to pair it with any Turkish cooked meats or börek pastry. Ayran is also known to go well with spicy foods, as it can help take the edge off when you've bitten off a few more chilies than you can handle. With this in mind, ayran would probably also pair well with a Spicy McCrispy — if the yogurt drink is ever brought to the American McDonald's market.