South Park Restaurant Casa Bonita Is Dropping Tipping Due To Customer Confusion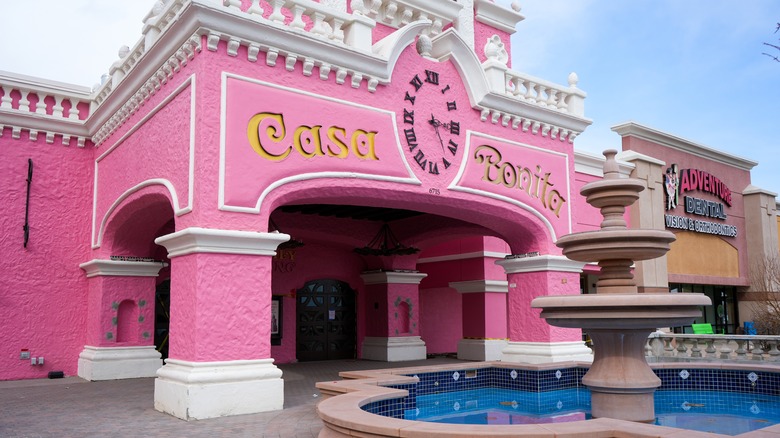 Jamilya Khalilulina/Shutterstock
It's been three years since Denver's historical landmark Casa Bonita closed after getting hit hard by the COVID-19 pandemic, and fans have been waiting with anticipation for "South Park" creators Trey Parker and Matt Stone to reopen the beloved pink palace. There ended up being more issues than the pair realized after they purchased the Casa Bonita Restaurant in 2021 out of a sense of nostalgia. "We could have rebuilt this twice as big, for half as much money, but we spent so much restoring it, like a piece of art," Stone told The New York Times, referencing the more than $40 million they spent to renovate it.
But with the restaurant's opening in June 2023, another problem was discovered. "During our soft-opening nights, we found that guests simply weren't tipping," Casita Bonita's management wrote to KDVR. "We believe that's due to our unconventional, pre-pay ticketing system." To solve customer confusion the restaurant offered a simple solution: Raise the hourly rate for servers and bartenders to a livable wage of $30 an hour, and make Casa Bonita a no-tipping restaurant. While the solution takes care of the math for customers, it also causes some apprehension for employees.
Some employees claim they're missing out on hundreds of dollars
The $30 an-hour wage puts the servers and bartenders of Casa Bonita on par with many other lines of work in the Denver area, such as insurance sales agents and librarians, according to KDVR. While $62,000 a year is considered a solid wage, some employees aren't thrilled about it. According to Axios, one employee shared documents that conveyed that — without tips — they're making hundreds of dollars less per shift than what management originally told them they'd be making.
The tipping vs no-tipping argument has been going on for some time, and while Casa Bonita isn't the first to implement a no-tipping policy, it's still a hot-button topic. CNN's Nathaniel Meyersohn reported that more and more Americans are feeling "tipping fatigue" due to the ubiquity of tip jars popping up everywhere at a time when people are already struggling with inflation.
According to the U.S. Bureau of Labor Statistics, the average wage of 700 different positions in the Denver-Aurora-Lakewood area of Colorado was about $26 an hour in May 2022. While not everyone is happy with the no-tipping decision, Casa Bonita believes the majority of its employees are. "Of our 256 employees, 93 were a part of the shift and a total of 2 were unhappy about it," the restaurant's management told KDVR.