How Rumple Minze Went From A Playboy Ad To A Bartending Meme
Rumple Minze Peppermint Schnapps has had a mixed reputation among spirit enthusiasts. Part of Rumple Minze's notoriety lies in its association with prank-related consumption. Its strong flavor and high alcohol content have led to it being served as a joke or a dare at parties or gatherings. While some genuinely enjoy its intense taste, others find it amusingly disgusting. It's sometimes even served as an "initiation shot" for new bartenders. How did Rumple Minze fall from being the most popular schnapps among Americans to a joke? Here is our fair and balanced history of Rumple Minze, exploring its unique characteristics, serving suggestions, and the divided opinions that make it a subject of both love and laughter.
Produced in Germany since the 1950s, Rumple Minze came to the United States in the '80s, making a huge splash with its print advertising campaign depicting a scantily-clad female warrior riding a polar bear. Though consumer interest in schnapps was ballooning at the time, with popular drinks like the Fuzzy Navel and Sex on the Beach, some point to Rumple Minze's advertising partnership with Playboy magazine as the key to its stateside success. 
Before the Rumple Minze ad campaign, schnapps had a reputation as a feminine drink in the United States. By highlighting the strength of Rumple Minze (it is 100 proof or 50% ABV) and posting its ads in men's magazines like Playboy, Rumple Minze was able to break through the stereotypes surrounding schnapps and gain wider appeal among male drinkers.
How to drink Rumple Minze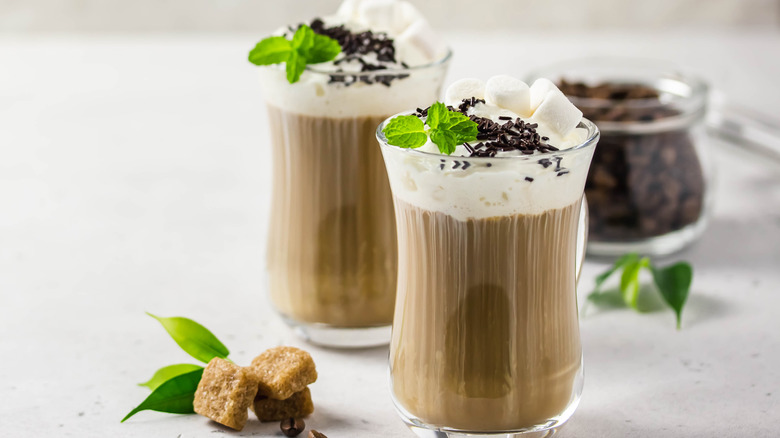 Irina Rostokina/Shutterstock
Rumple Minze Peppermint Schnapps is intense, delivering a powerful and invigorating punch of real peppermint flavor. The high alcohol content ensures a strong and heady drinking experience. Upon tasting, one is greeted with a burst of cool and refreshing peppermint, accompanied by a subtle sweetness that lingers on the palate.
While Rumple Minze is enjoyable to some on its own, its versatility shines when used in cocktails and mixed drinks. It's an excellent schnapps for adding a delightful peppermint twist to classic recipes such as hot chocolate or coffee. The addition of Rumple Minze elevates these beverages, providing a unique flavor that enhances the overall drinking experience.
Rumple Minze encourages imaginative mixology, allowing for the creation of classic and innovative cocktails. From popular favorites like the Peppermint Patty or Candy Cane Martini to experimental concoctions designed by adventurous mixologists, the intense peppermint notes of Rumple Minze blend well with other spirits for endless mixology possibilities.