Joanna Gaines' Chicken Lasagna Is An Alfredo Lover's Paradise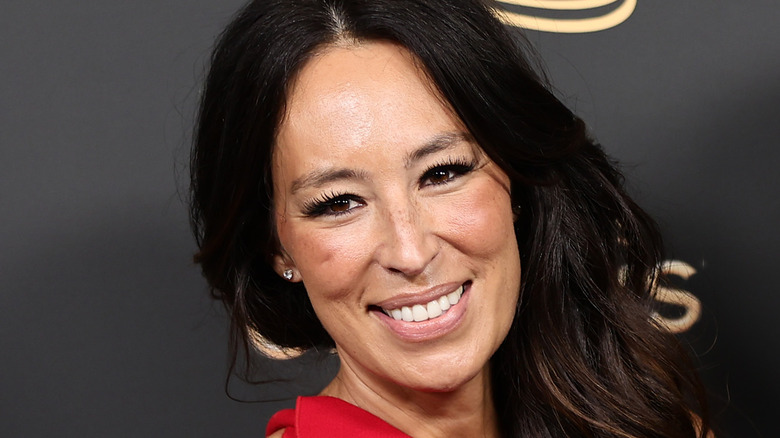 Matt Winkelmeyer/Getty Images
Anytime a parent finds a flavor their kids like, they'll put it in as many combinations as possible to get the kids to eat at least something. Joanna Gaines is the same. Citing her daughters' preference for white chicken pizza, she put the flavors into a lasagna and it looks so good for anyone who loves chicken Alfredo.
Showing off her skills learned from her new cooking show on Instagram, Gaines has her mise en place all set to go. The sauce follows a pretty standard Alfredo recipe using heavy cream and parmesan, and cream cheese to boost the creaminess. Layer with shredded chicken, baby spinach, and more parmesan cheese, then bake 30 minutes covered, and another 20 uncovered to get the cheese crispy and bubbly. The results are gooey, creamy, and exactly what you would expect from an Alfredo-based lasagna. If you're an Alfredo fan, you can't miss out. The recipe is featured in Gaines' new cookbook "Magnolia Table Vol. 3," which collects some of Gaines' favorite recipes.
Alfredo lasagna is easy to make, but a few tricks can guarantee great results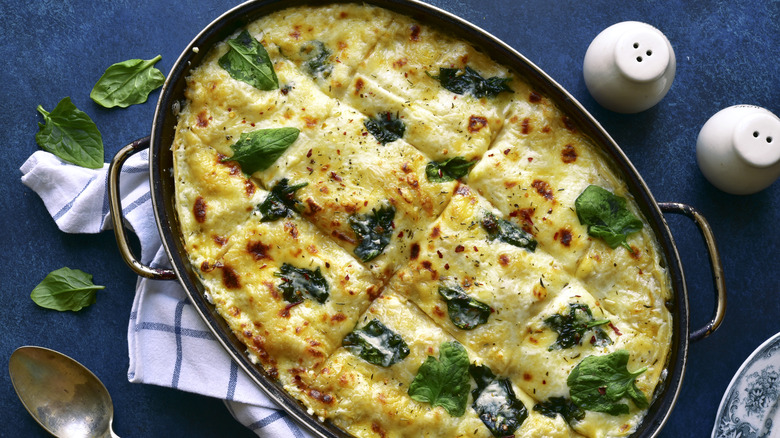 Lilechka75/Getty Images
Making Alfredo sauce from scratch is easy and delicious, but there are some mistakes you might make with your Alfredo sauce. When it comes time to add your cheese, take your pan off the heat. If you don't, you run the risk of your cheese seizing or becoming stringy instead of transforming into a smooth, creamy sauce. High heat also increases the chances of your sauce curdling or breaking. If that happens, remove your pan from the heat immediately. You can either put the pan in an ice bath, or add an ice cube or two to the sauce and whisk. If all else fails, you might have to start over.
If you're going to use your homemade Alfredo sauce to attempt Gaines' recipe, there are a few easy ways to avoid the mistakes everyone makes when making lasagna. Pay attention to your layers and don't forget the sauce gets added first, followed by a layer of noodles, then cheese, veggies or meat, and then sauce again. Avoid soupiness by making sure your noodles are properly drained. You can also sauté the spinach and pre-cook the chicken — any water released into the lasagna will give you soupy lasagna. And of course, don't forget to finish your lasagna uncovered in the oven to crisp up the top and let it rest for about 20 minutes before digging in.