Taco Bell's Secret Menu Drink Tropical Skies Gives Mountain Dew A Fruity Boost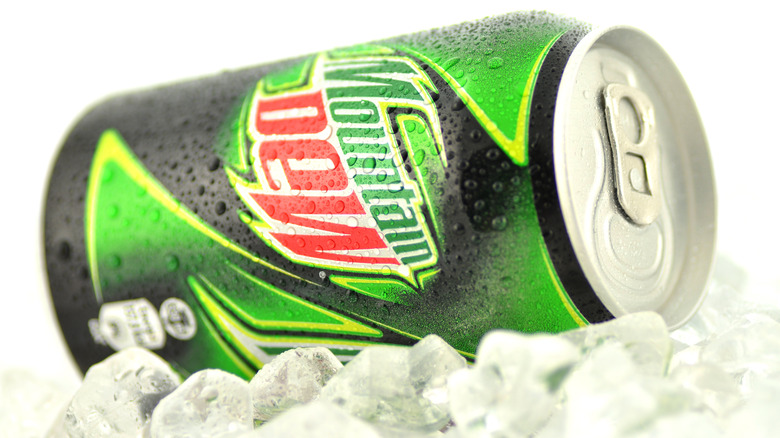 Darios44/Getty Images
Mountain Dew is known for its myriad of complex flavors, including such classics as Code Red, Pitch Black, and of course, Baja Blast. With so many flavors of the citrus soda to choose from, it's surprising to learn that TikTok users have been hard at work constructing their own fan-made variants.
According to a TikTok video shared by a known fast food hack expert, a secret menu soda can be made at Taco Bell, using a combination of Mountain Dew Baja Blast, strawberry lemonade, and Starry lemon-lime soda. The resulting beverage has been colloquially referred to as "Tropical Skies" and is said to pack a powerful punch, with a watermelon-forward flavor profile, which left the video's creator stating "That was the most delicious drink I've ever had in my life, please try it."
With hundreds of comments recommending other variants and possible flavor-mixing opportunities, this may be the fast food hack that just keeps giving. Here's how to make the soda for yourself.
How can you get the Tropical Skies soda?
Due to the amateur mixology required to concoct the fruity beverage, you probably won't have much luck ordering one at the drive-thru. In order to craft the drink, according to the video's instructions, you'll have to start by showing up at a Taco Bell location near you and going inside to order. Most Taco Bells will allow you to pour your own drink from the soda machine, providing you with endless opportunities to mix and match your preferred sodas into a Frankenstein's monster of deliciousness.
To craft the Tropical Skies soda, begin by filling your cup about halfway with Mountain Dew Baja Blast, then add one-quarter of strawberry lemonade, and complete with another quarter of Starry. With over 30 flavors of Mountain Dew to choose from, there's likely something for every soda lover you know. In fact, the brand is constantly adding new additions to the growing list of flavor profiles, meaning something like Tropical Skies could soon be bottled and ordered to serve if enough soda drinkers show interest in the secret menu product.
In the meantime, fans are content with putting their own spin on Mountain Dew. For instance, one Redditor suggested combining normal Mountain Dew with blue Powerade for a discount Baja Blast. The sky's the limit!