Coors Light Wants To Keep You And Your Beer Cool With Its Limited Soccer Scarf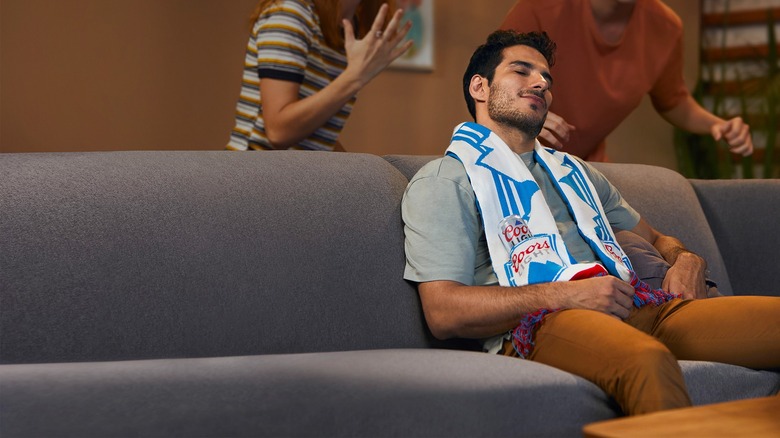 Coors Light
Summer is here, and with it comes sunny days, intense heat, and soccer. Fans across North America are gearing up for the Leagues Cup, an ambitious new tournament that will combine all teams from both the Major League Soccer and the Liga MX club in a month-long showdown between all 47 teams.
You don't have to be Ted Lasso to appreciate a good game of soccer (or football, as they call it across the pond), but if the game itself isn't enough to make you a fan, Coors Light is also appealing to the accessory lovers out there with its newest limited edition soccer scarf. The popular light beer company coined the term "Fanxiety," which they defined in a press release as "the tension die hard soccer fans experience when watching their favorite teams take to the field in over 90-minutes of nonstop action." During a particularly close game, you may find yourself needing more than one beer to ease your nerves.
With Coors Light's continued promise to bring soccer fans a more immersive experience while enjoying their boozy beverage, the company has invented some of its coolest merch yet, literally: a scarf that actually keeps you cool. The exclusive accessory features two beer pockets and the phrase "made to chill" stitched across the back. When the game is neck-and-neck, the Coors Light Chill Fanxiety scarf may very well help yours stay relaxed.
This scarf was made to ease all your worries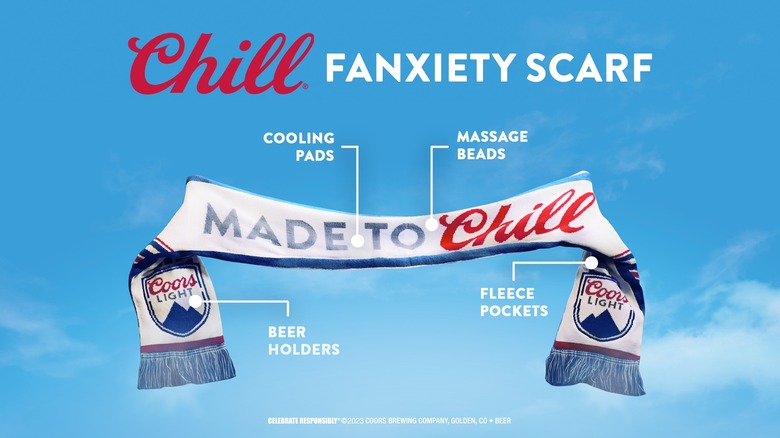 Coors Light
Sports fans are no stranger to merchandise, often adorning their favorite player's jersey or a hat with their team logo. But soccer lovers have a unique accessory that allows them to rock their team's colors even in the chilliest weather: scarves. Since the 1930s, soccer fans have been wearing team scarves to show off their team spirit while staying warm against the windy chill in England. Across the pond, however, the North American teams play through the summerwith little need for scarves. Luckily, Coors Light has found a way to wear the iconic adornment even during those blistering summer matches.
The Coors Light Chill Fanxiety scarf promises to keep you "chill" rather than warm, so you can relax, rep your favorite team, and hold two cans of Coors without breaking a sweat. According to the company's press release, the scarf is made with cooling technology designed to keep you chill while watching your team battle for the win, as well as a built-in neck massager and two beer pockets. That way, you won't have to worry about where your beer is or how warm it's getting as you watch every moment of your favorite game.
To get your hands on this exclusive scarf, you'll need to act fast. Only 22 per day are sold on the Coors Light Shop for $30 each, and you only have until August 2 to nab one.