How An April Fools' Joke Turned Into A Real Pickle-Flavored Wine Cocktail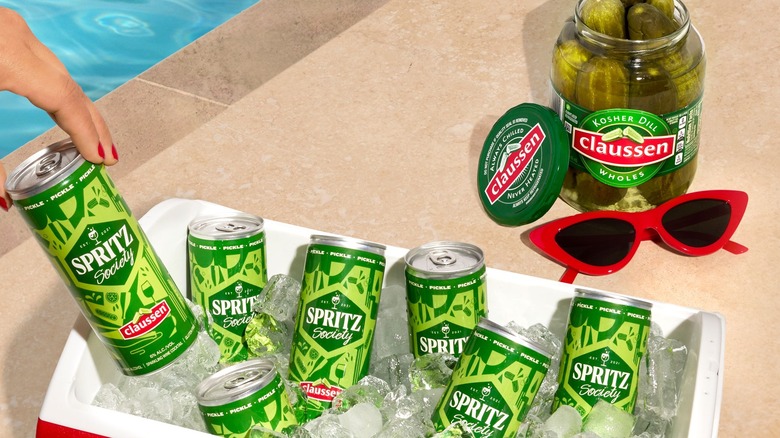 Claussen/Spritz Society
It seems like everything is pickle-flavored these days, so news of a pickle-flavored wine cocktail hardly comes as a surprise. On the heels of pickle-flavored hard seltzer, it's even expected. Still, Spritz Society, a company that produces sparkling wine cocktails, wasn't expecting an influx of positive responses to its pickle-themed April Fool's prank. On April Fool's Day in 2022, Spritz Society announced it would add a pickle-flavored drink to its lineup. The company may have expected disgust from its followers, but the then-fictitious flavor was actually a hit. Customers were excited by the notion of a pickle wine cocktail, demanding Spritz Society add it to its lineup. 
One year later, the company is doing just that. In a press release sent to Mashed, the organization announced that it's teaming up with pickle brand Claussen to create the briny cocktail. The new drink launches this summer, and it's pitched as the perfect concoction for barbecues and poolside gatherings. Spritz Society Pickle by Claussen comes in 8.4-ounce cans containing 6% ABV and 120 calories. The cocktail consists of white wine and a pickle flavor.
Where to get the pickle-flavored wine cocktail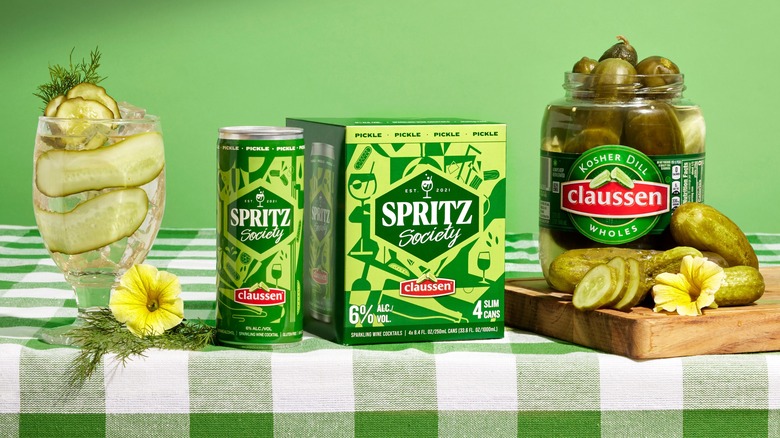 Claussen/Spritz Society
Brine lovers will want to get their hands on Spritz Society's new beverage, and it's already available to order. Pickle by Claussen came out on July 18, but it's only available on the Spritz Society's website. Customers must order two four-packs to try the new flavor, and this will run them around $50. It's not a bad deal for eight cans of wine cocktails, but consumers need to move quickly to snag their drinks. The pickle-flavored wine cocktail is only available for a limited time. 
In response to the news, several people took to Reddit to express their surprise at the prank becoming an actual product. One person wrote, "They did this as an April Fools joke. It doesn't sound like a good idea at all." While not everyone thinks it is a good idea, pickle wine already has its fans as well. One Redditor insists that pickles are having a cultural moment. Meanwhile, one person wrote on TikTok, "The way I'm excited and sad at the same time because I know I'll be obsessed and won't be able to recreate the magic when it's gone."
Spritz Society's other flavors are sold at select retailers across Texas, California, Florida, New York, Tennessee, Massachusetts, Illinois, Alabama, and Georgia. Sadly, these stores won't be carrying the new pickle flavor as of now — though anyone looking for a more mainstream flavor, like peach or blood orange, can find them in person.