Aldi's Laughing Cow Copycat Is A Delicious Way To Save Money
Aldi is the ideal grocery store for those shopping on a budget, and several items from its lineup offer alternatives to mainstream food products. Such offerings include Happy Farm Spreadable Cheese Wedges, which can easily stand in for Laughing Cow Cheese Wedges. Laughing Cow costs more than $3 for a 5.4-ounce package at chains like ShopRite and Kroger, but many customers cough up the money for the convenient, low-calorie snack. With the same sized package of Happy Farm Spreadable Cheese Wedges going for slightly less at Aldi (though this will very by store location), shoppers can save a few bucks by purchasing this copycat.
It's no surprise the store sells a stand-in for this particular item, as Aldi is known for its cheap cheese selection. This is because the majority of its cheeses — and products in general — utilize private labels, which means that Aldi can outsource the manufacturing of its products to other companies while selling it under its own name. This practice is how the grocery giant can sell cheese at super low prices, as the store has control over its supply chain.
Laughing Cow Cheese Wedges are priced higher than their Aldi counterparts because it's a popular brand name. Fortunately, swapping the more expensive product for Aldi's Happy Farm alternative doesn't seem to sacrifice quality or taste.
Is Aldi's Laughing Cow copycat any good?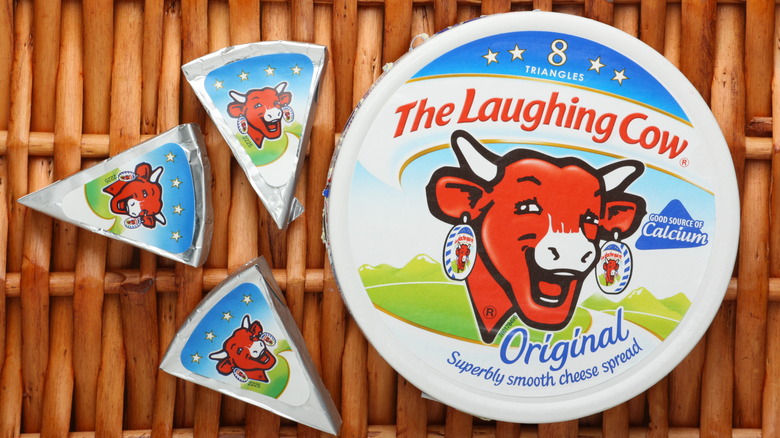 Thinglass/Shutterstock
Before customers rush out to purchase Aldi's Laughing Cow copycat, they'll probably want to know if it's as good as the brand name product. Judging by online reactions to Happy Farms Spreadable Cheese Wedges, they're just as delicious and versatile as the original. Aldi's cheese wedges currently come in multiple flavors, including Original, Pepper Jack, and Garlic & Herb. The Garlic & Herb seems to be a favorite, with multiple shoppers singing its praise.
As one Reddit user put it, "Love them. I've tried the Garlic & Herb (my fave), Pepper Jack, and Plain. Love them all. I use the Plain on my toast as cream cheese and add whatever jam I want on it. Delish!" Another echoed this sentiment, writing, "I love them, especially the garlic herb kind!"
Like many of Aldi's items that have a cult following, the Happy Farm Spreadable Cheese Wedges have a positive reputation online. And even if they never accumulate that level of hype, it's hard to argue with their price.