Why Costco Stores Continue To Get Larger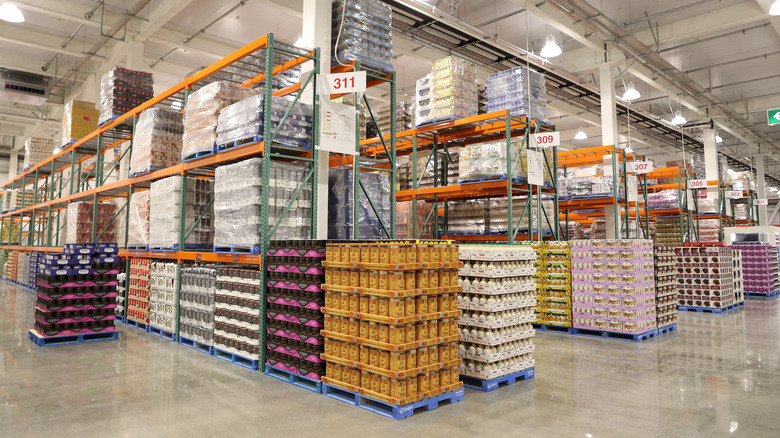 Phil Walter/Getty Images
Whether you're in the market for three dozen eggs, an entire tub of batteries, or a giant inflatable kiddie pool, Costco has got you covered. The warehouse grocery store has just about everything that its 123 million club members may need when they visit one of the 584 stores across the United States (Per Zippia).
According to last year's Costco fiscal sales, the wholesale corporation reported an increase of 8.1% in the first quarter, 6.5% in the second, and an additional 1.9% by the third quarter. Forbes reported, "It is likely the company's fourth quarter will have an increase of about 2%. Many of the early stores of Costco must be increased in size to be able to satisfy customer demand." In the last few years, consumer spending saw an increased desire to buy in bulk — Winsight Grocery Business reported that buying larger quantities of essential items helps consumers feel like they are getting a better bang for their buck while saving time with fewer trips to smaller grocery stores.
As popularity continues to expand, so do Costco's stores themselves. In order to make room for all that toilet paper and Kirkland brand shampoo, Costco is planning to build one of its largest stores yet, with almost 23 acres of land dedicated to the retailer's warehouse, parking lot, and gas pumps. At 241,000 square feet, this warehouse would be the new biggest Costco in the world, beating out the 235,000 square-foot Costco in Salt Lake City, Utah.
Costco's layout is anything but random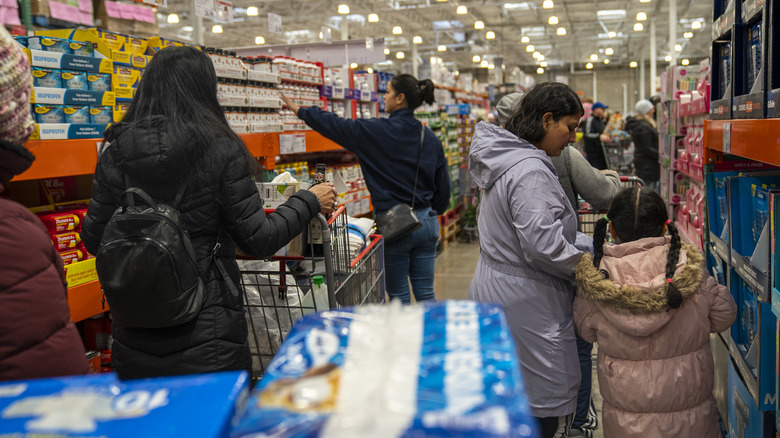 Robert Nickelsberg/Getty Images
For the modern consumer with a budget and the need to buy in bulk, Costco is the ideal store to grab all the essentials and splurge on a few things that probably weren't on your grocery list. Costco is known for its ability to lure members in with attractive savings and exciting products that make you feel like you've saved a ton of money, even though you walk out having spent nearly $500. But for the modern shopper, the reward of buying in bulk at a low price point outweighs the lengthy receipt, especially when your shopping experience was so pleasant.
Costco's growing layout serves more than one purpose: with growing demand, more space will allow the retailer to welcome in more customers at a time, but it will also allow for an increasingly confusing layout. Costco often moves its merchandise around and does not promise any particular item's availability at any given time. This concept is known to the wholesaler as the "treasure hunt atmosphere." According to their website, "You never know the kind of incredible deals you'll find from one visit to the next!" The retailer uses buyer urgency and surprise finds to its advantage, encouraging shoppers to snag a good find before it's relocated or removed from shelves. With the expansion of Costco layouts, this will make for an even larger (and slightly more hectic) treasure hunt, and we have to admit, we are excited!