Eggs Florentine Is A Fancy Breakfast Draped With Creamy Sauce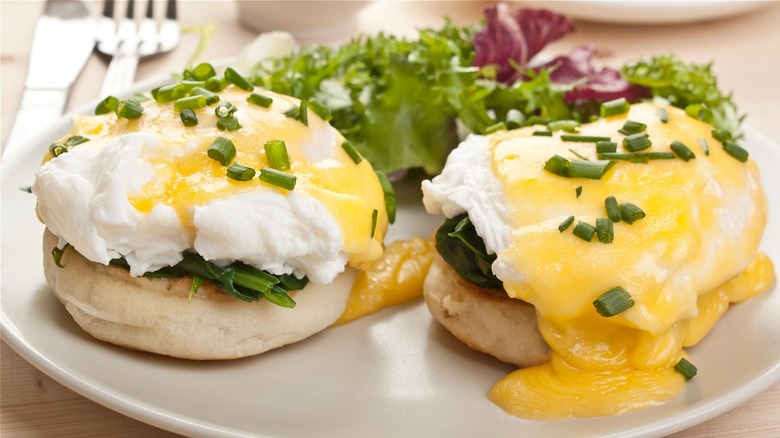 Olga Nayashkova/Shutterstock
Eggs are versatile ingredients. While they can be blanched, boiled, fried, or scrambled, they can also be used in more complex breakfast dishes. Take eggs Florentine for instance, a staple at any trendy brunch spot that's worth its butter. Sure, a simple sunnyside egg would please a hungry customer, but no one can deny that eggs Florentine doesn't class up your plate a bit. 
Slathered in either Mornay or hollandaise sauce, a basic eggs Florentine features eggs, spinach, and sometimes bread, all served as an open-faced sandwich. While it sometimes gets confused with eggs Benedict, you shouldn't make that same mistake. The meal is its own distinct culinary entry thanks to its mixture of eggs and spinach. In fact, if you remove the green stuff, then you can't call it an eggs Florentine at all. Spinach isn't just inherently tied to its name, but also its history. While you may think the dish originated in Florence, Italy, we actually have France to thank.
A French tradition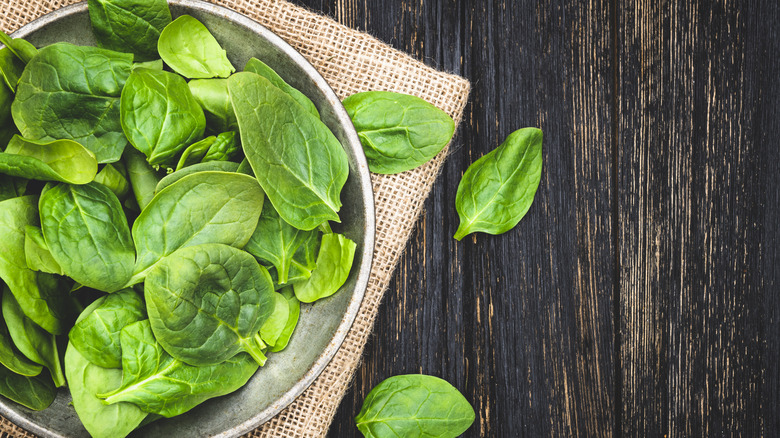 Rouzes/Getty Images
Not only does eggs Florentine have a French connection, but the dish's origins are actually royal as well. Diners can thank the then-Queen of France, Catherine de Medici, for inspiring the dish back in the 1500s. De Medici was a noblewoman of French and Italian descent, orphaned and raised in Florence. During this time, she fell in culinary love with spinach, which was popular in Renaissance Italy but not so much in France. 
The queen-to-be refused to let her marriage to Prince Henry II and subsequent move to France stifle her diet. De Medici not only brought spinach to the country but also trained chefs, who could fix her an assortment of meals. In France, the queen became associated with the vegetable and its influence spread throughout. When a dish included spinach, it became known as "à la Florentine" in honor of de Medici's home city. Various dishes started to use the term as a result, including quiche Florentine and, of course, eggs Florentine. 
What ingredients make an eggs Florentine?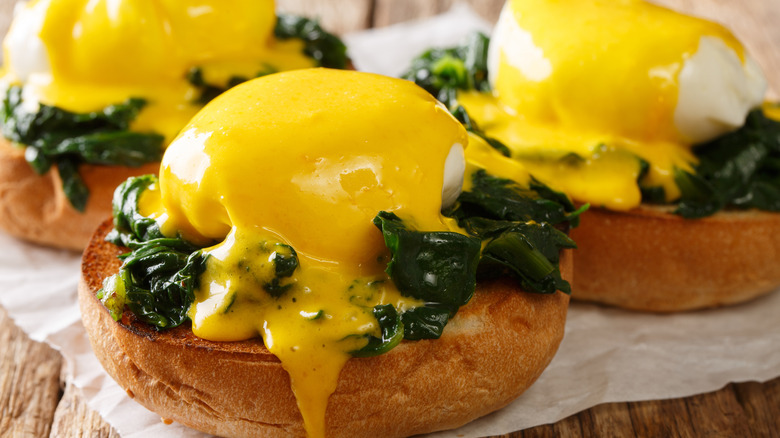 AS Foodstudio/Shutterstock
While spinach, bread, and eggs are primary components of a Florentine, the meal does allow a certain degree of customization. Traditionally, Mornay sauce is used for the dish, but in recent years, hollandaise sauce has become a favorite as well, hence the occasional confusion between eggs Florentine and eggs Benedict. Mornay is a cheese sauce that combines flour with Parmesan and Gruyère for a rich creamy blend. It's basically fondue heaven for your eggs. Meanwhile, hollandaise sauce is made from egg yolks and lemon, giving it a tangier edge. Which sauce you end up going with boils down mostly to personal tastes, but traditionalists might scrunch their noses at the latter on a Florentine. 
As for the eggs, they're typically served poached with the yoke runny, but they can be cooked in various ways. Some recipes call for scrambled eggs with spinach mixed into the egg. The spices and herbs you use also boil down to your own preference, but you can incorporate paprika and garlic to make things a bit spicier. 
Likewise, some may interpret the lack of meat to mean that eggs Florentine is a vegetarian dish. On the contrary, you can add smoked salmon or ham for a savory brunch or incorporate other veggies like avocados and tomatoes to brighten up the dish. Just remember the difference between eggs Florentine and its variations.
Eggs Florentine vs eggs Benedict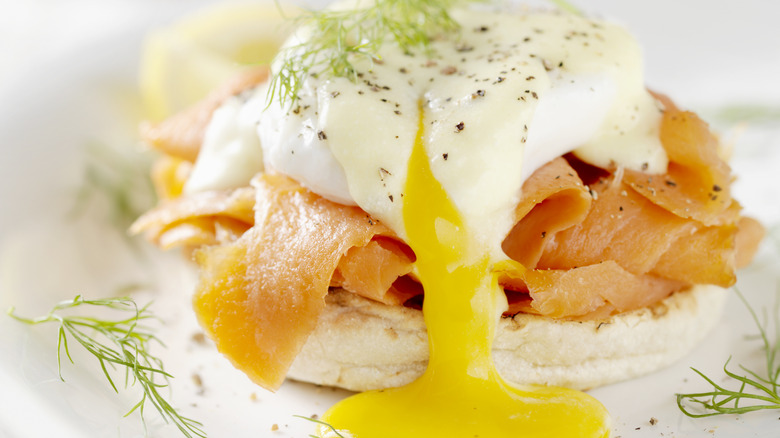 Lauripatterson/Getty Images
Let's settle the classic eggs Florentine vs eggs Benedict debate once and for all. An eggs Benedict features poached eggs on an English muffin, doused in hollandaise sauce, and served with Canadian bacon. Unlike an eggs Florentine, both the choices of bread and meat are central to an egg Benedict's identity, so you can't swap a muffin for toast and still call it a true Benedict. On the contrary, bread isn't even a necessary component of a Florentine (although it is often incorporated). You could serve eggs Florentine on just a bed of buttered spinach to cut the carbs. 
Outside of Florentine and Benedict, there are other variations on this meal. Think of them as different notes on the same theme. For instance, eggs royale, which ditches the Canadian bacon for smoked salmon, has become popular in Australia, Canada and New Zealand. Meanwhile, eggs Sardou, like the Florentine, incorporates spinach into its recipe, but it also includes anchovies and artichokes, all served on a muffin. It's a popular favorite in New Orleans. Finally, if you want something a little bit fishy, consider biting into an eggs Neptune, which mixes in crab meat in the place of either spinach or Canadian bacon. 
In comparison to these other egg dishes, eggs Florentine seems simple by design, but that's part of the dish's charm. It oozes eloquence and even allows you to incorporate some veggies in your breakfast or brunch.