Irish Cream Exists For A Very American Reason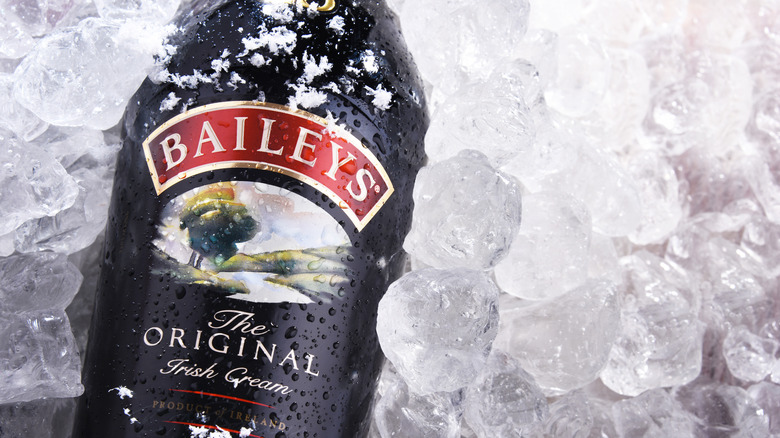 monticello/Shutterstock
Americans love the holidays, especially the delicious foods that we only get to eat when the season rolls around. One creation that Americans love and associate with the winter holidays (and St. Patrick's Day) is Irish cream. Irish cream was created as an alcoholic beverage and is a major hit worldwide, not just in the United States. While the liqueur can be enjoyed in many forms, you may recognize its flavors in other products like coffee or baked goods.
You might think that Irish cream was invented in Ireland. However, the iconic Baileys Original Irish Cream was conceived in Essex, a county in England. Gilbeys, a gin distillery founded in 1857, had become part of the International Distillers & Vintners (IDV) by the 1970s and was tasked with creating a new product inspired by Ireland. David Gluckman and Hugh Seymour-Davies had the initial idea for this new product, which combined Irish whiskey, cream, and drinking chocolate. This recipe became the Baileys Irish Cream we know and love.
Today, Baileys Irish Cream is made with cream from Irish dairies and Irish whiskey. It has notes of chocolate and vanilla flavoring. There are endless uses for Baileys. Their official website recommends pouring it over ice or baking it into cakes. You can also make variations of the original Irish coffee cocktail or use it to make a Mudslide.
How do Americans drink Irish cream?
Baileys was created with the hope of appealing to an American audience, and that goal was definitely accomplished. While Americans may not be drinking it daily, we've adopted the core flavors of the beverage into other drinks to help us celebrate the holidays. 
The most popular use of Baileys flavors has been in seasonal Irish cream coffee offerings at chains like Starbucks and Dunkin'. At Starbucks, the flavor was first introduced as the Irish Cream Cold Brew. The Irish Cream Cold Brew, available only during the holiday season, consists of Starbucks cold brew and Irish cream syrup over ice, topped with vanilla sweet cream foam and cocoa powder. Starbucks rolls out its Irish cream with the rest of its winter holiday offerings, such as peppermint mocha and chestnut praline. 
To celebrate St. Patrick's Day — a uniquely Americanized holiday —  Dunkin' brings out its Irish cream flavor. It is extremely popular. Dunkin's Irish cream includes cream, vanilla, and alcohol-free Irish whiskey flavoring and can be added to any of its hot, iced, or frozen coffee drinks, as well as to its espresso-based options.