The Starbucks Secret Menu Frappuccino With Cookie Dough Energy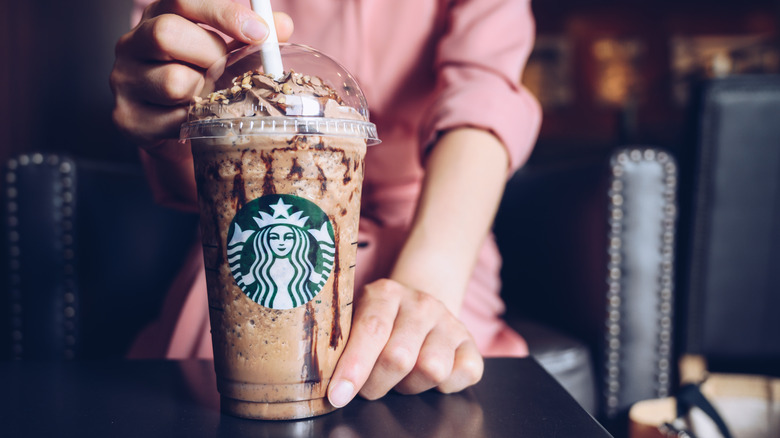 Boyloso/Shutterstock
Sure, Starbucks has plenty of drinks on its regular menu, but the chain also has a large catalog of secret menu items you need to know about. One such little-known item is the cookie dough frappuccino, perfect for any Starbucks fan who also loves a good cookie. Note that this is not the same as the Starbucks Chocolate Cookie Crumble Creme Frappuccino, which uses frappuccino chips and mocha sauce.
To order your own cookie dough frappuccino, start off with a venti vanilla bean Frappuccino base, then add two pumps of dark caramel and three pumps of toffee syrup. Next, blend with four scoops of java chips. Last but not least, top this Starbucks Frappuccino off with whipped cream and, of course, cookie crumbles.
As is the case with many drinks created and/or popularized online, TikTok users had an overwhelmingly positive response to the cookie dough Frappuccino. One person rated it a 10 out of 10, while others simply confirmed they had tried the drink and enjoyed it.
Alternative ways to order a cookie dough frappuccino at Starbucks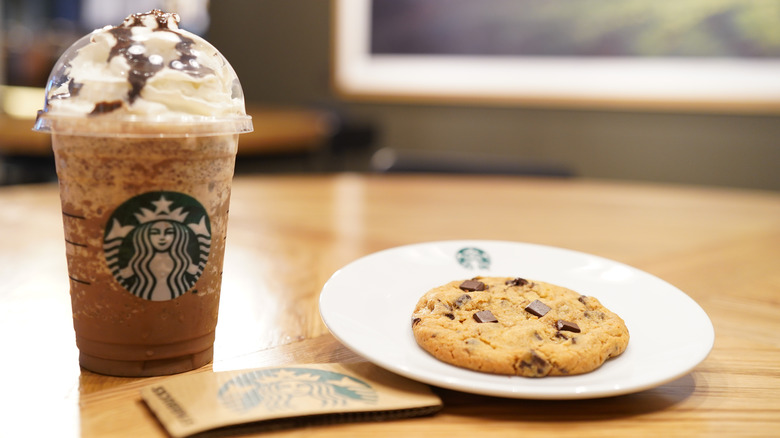 Prachana Thong-on/Shutterstock
Although most people who have tried this Starbucks secret menu cookie dough Frappuccino seem to have liked it, a few TikTok users offered changes to the recipe. Several people, for instance, said they would like the drink more if it didn't have toffee.
Fortunately for anyone who isn't a big toffee fan, there's another way to order a cookie dough frappuccino at Starbucks. Instead of starting with a vanilla bean frappuccino, start with a Cinnamon Dolce Creme Frappuccino. Next, blend in mocha syrup and java chips. Finally, top it off with chocolate whipped cream and cookie crumbles. Now, that's taking a Starbucks mocha drink to a whole new level of yummy.
Between these two recipes, you have options to go the vanilla bean route or the cinnamon-and-chocolate route, but you can also experiment with different combinations of Frappuccino bases and syrups. Ultimately, the phrase 'cookie dough frappuccino' is so ambiguous, you could even create a drink inspired by our best pumpkin snickerdoodles recipe.