Aldi's Cotton Candy Grapes Have Us Rushing To The Freezer Section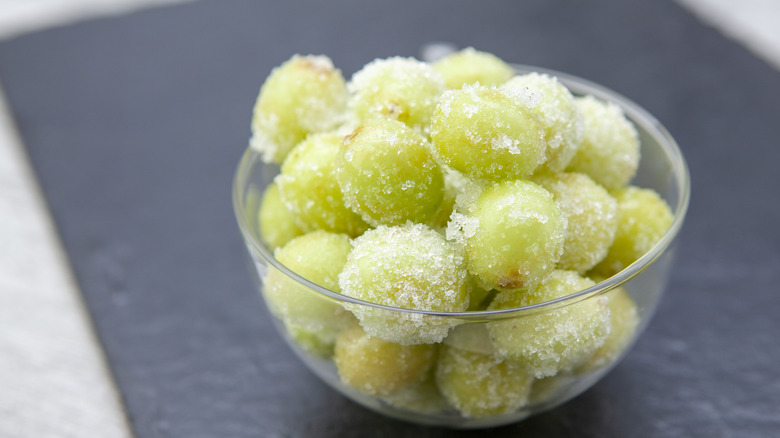 Peter Carruthers/Getty Images
Whether due to marketing stunts or a burgeoning appreciation for the art of farming, it's been exciting to see new varieties of grapes popping up in grocery stores over the last few years. Where there once were only green and red seedless "table grapes," now you can find packages labeled with names like Jelly Berries, Autumncrisp, Sweet Globe, and Cotton Candy grapes. 
Cotton Candy grapes were the original break-out star of the table grapes industry and quickly went viral. However, they are anything but old news. This year, Aldi is putting a new spin on Cotton Candy grapes by stashing bags of them in the freezer section instead of with the rest of its fresh produce. Aldi's Frozen Cotton Candy Snack Grapes are literally just that — frozen grapes. Starting August 23, you'll be able to pick up a 16 oz bag for $3.99. 
For those who might wonder what one does with a bag of frozen grapes, you're in luck: We've got a few ideas. You can eat these frozen grapes as-is for a frosty summer treat, add them to smoothies and frozen cocktails, or use them as ice cubes in lemonade, fruit punch, or sangria. 
Why frozen grapes are perfect for snacking
Why are frozen grapes such a tasty snack? For one thing, grapes are naturally high in sugar. Per WebMD, 1 cup contains about 23 grams of naturally occurring sweetness compared to 7 grams per cup of strawberries and 8 grams per cup of raspberries. Sugar also helps lower the freezing point of the water inside grapes, so they don't freeze solid like ice cubes. Instead, when frozen, they get firm and frosty — but remain totally chewable. 
Frozen grapes got a big boost in popularity after recipes for frozen Cotton Candy grapes soared on TikTok. However, other recipes that put this unique snack front and center have circulated online for years. You might also see them served as a snack at spas.
Aldi's Frozen Cotton Candy Snack Grapes will only be available for a limited time, but we have good news. If you can still find fresh Cotton Candy grapes in stores, you can make this product yourself by removing the grapes from the stems and popping them in the freezer until solid. Alternatively, put the whole bag in the freezer and save the de-stemming process for when the hunger pangs kick in. If you want to branch out with other types of seedless grapes, you can use any variety to make this frozen treat. Even if all you have handy are standard green grapes with no whimsical name, don't be afraid to stuff those in the freezer for snacking too.