A Gold Leaf-Encrusted McDonald's Burger Is The Epitome Of 'Bougie Broke'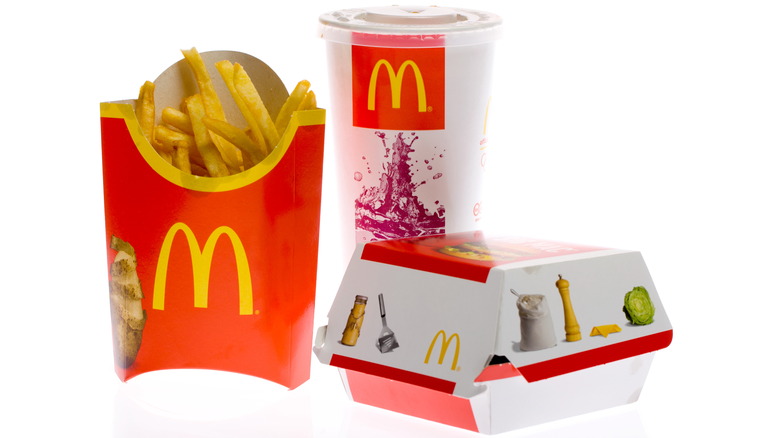 Choja/Getty Images
Some people take fast food hacks to a whole other level, like trying to make McDonald's cheeseburgers seem like fine dining level. We're not sure which is worse, this gold-encrusted value menu item or the hack that saw someone put gold leaf and pork liver on a Costco hotdog. Both diners tried to revel in excess for the clout or perhaps for the laughs and both seemed to be the epitome of bougie broke. 
For those not hip with the slang, bougie broke refers to living larger than your means on a small-scale budget. That is certainly one way to describe the elevated take on a McDonald's standard. In a TikTok dubbed the world's most expensive McDonald's burger, a TikToker isn't satisfied with a normal cheeseburger. Instead, they break out several pieces of Gold Leaf foil until they've completely wrapped both buns of the burger. 
While we doubt Gordon Ramsay would approve, they apparently enjoyed the burger, devouring it only in a couple of bites. However, it's worth noting that adding gold leaf to your food does little to actually change the taste. Gold leaf doesn't have any distinguishable taste and is included in food more for its opulent status than any culinary benefit. 
How expensive was the burger
However, the TikToker certainly appears to have accomplished their goal of entertaining their followers. Several TikTokers expressed a humorous response to the burger with one person writing, "Infinite gold burger glitch please" and another referring to the chef-turned-internet meme Nusret Gökçe, writing, "Bro became salt bae." This was in reference to the chef's use of gold leaves in his food. Meanwhile, another commenter wrote, "That burger went from 3 dollars to 3000 dollars."
That does beg the question of how much it would cost to transform your burger. Could everyone live the bougie-broke lifestyle? Edible gold is actually cheaper than you might think. That's because a bar of gold the size of a pack of gum could be pressed into an entire football field worth of gold leaves. On Amazon, you can buy a booklet of 25 gold sheets for about $25, but it's worth noting that the price could cost as much as around $50 elsewhere. Likewise, this is for genuine gold. Knockoff gold foil could cost as little as $7 for 100 sheets. So while edible gold can be expensive, it's usually due to buying in bulk. 
So that gold-encrusted McDonald's burger is actually cheaper than buying Wagyu ground beef. Not bad if you're trying to class up your meal on a budget. You can even throw some edible gold on those chicken nuggets if you'd like.