Best Hot Dog Restaurants In Chicago Ranked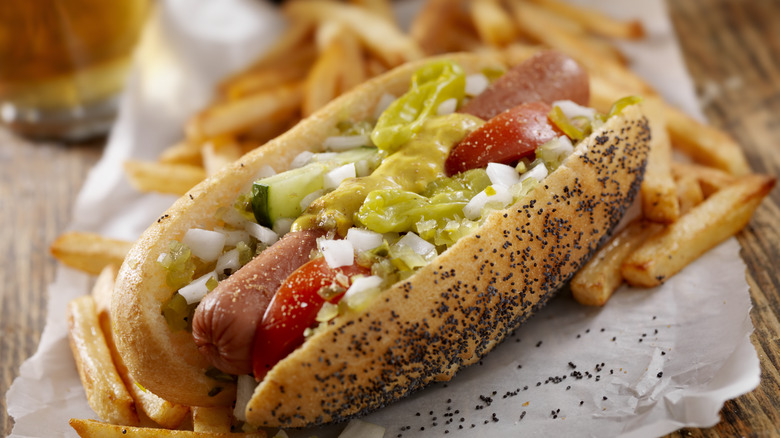 Lauripatterson/Getty Images
Paying a visit to the Windy City? Besides grabbing an order of deep dish pizza, you will likely want to score a good Chicago hot dog while you're in the area, right? Right! It's for that reason that we've decided to piece together a curated list of some of the best Chicago hot dogs you can find the next time you pay this popular city a visit.
For your convenience, we've ranked each hot dog restaurant from worst to best to make it easier for you to know which is top tier and which may be okay for less frequent visits. Either way, you should know that each packs its own pros and set of fans in the Windy City, even if the restaurant doesn't necessarily rank as the best of the best. So, where's the best place to grab a delicious hot dog in Chicago? Stay tuned. We'll answer that and more on where to find the best dogs in the Chicago area.
14. Byron's Hot Dogs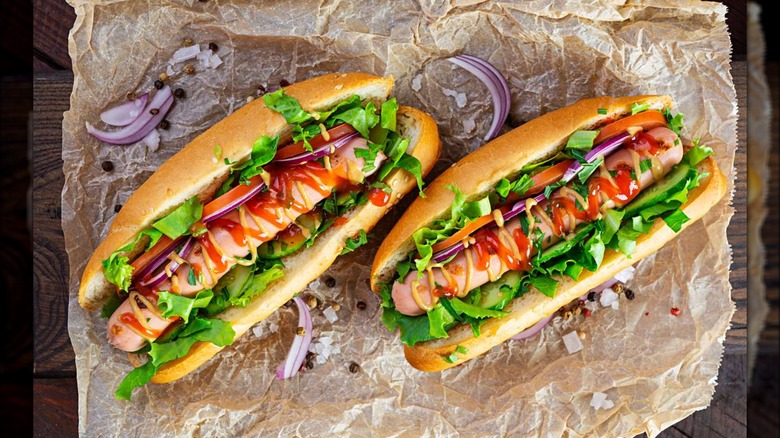 Byron's Hot Dogs
Open since 1975, Byron's Hot Dogs can be found in two locations on West Lawrence Avenue and West Irving Park Road, and is a self-proclaimed staple of the city. The restaurant's website features pictures of tasty-looking hot dogs topped with plenty of deliciousness, along with a photo of former President Barack Obama smiling gleefully with the owners. We suppose that's the reason we're so dumbfounded at the plethora of negative reviews that have surfaced for this seemingly charming and tasty hot dog joint. For such a popular place, the overwhelming opinion seems to be that the food here is largely underwhelming.
From complaints about the fries to complaints about the choice of dog toppings, everyone seems to have at least one negative thing to mention about Byron's Hot Dog joint. One reviewer states that the hot dogs there are "ok" at best, while another complains that the fries are soggy and cold. Still, others gripe at the restaurant's choice of toppings, balking at the use of ingredients like green peppers and lettuce on the dogs.
To top it all off, customers seem to be equally dismayed by the prices listed on the menu. For some, the price point is a little too high to be considered fully worth it. For these reasons, we've had to woefully rank Byron's Hot Dogs as the lowest on our list. But if you're hungry, you might still consider trying it. Who knows — you just might like it!
13. Dog House Grill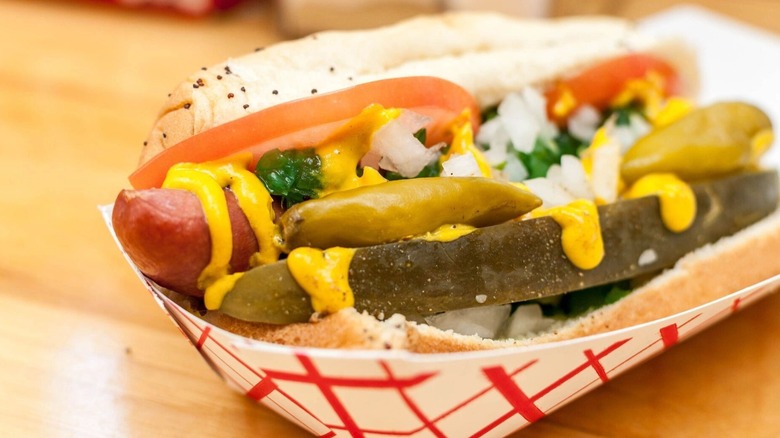 Dog House Grill
If you're in Old Town Chicago, you may have seen Dog House Grill and wanted to give it a go. Truth be told, this is an unassuming — and even unattractive — hot dog venue, but, as we all know, looks aren't everything when it comes to snagging good food. It's for this reason that we were intrigued to discover just what locals and tourists thought about the place despite its seemingly run-down appearance.
The consensus? Reviews are split. Dog House Grill has received a few complaints about the cheese fries, with some saying the cheese tastes artificial, and others even saying they witnessed workers microwaving them. As for the dogs, most say they're pretty delish, especially for those who come after hitting up the bars for a quick treat. People also seem to dig how affordably priced the restaurant is, and other folks love the fact that it offers several vegetarian options. As for us, we wish the website had an online menu so we could see what we're in for, but overall, this hot dog restaurant, though not the best, may fit the bill if you're looking for a quick and yummy way to get an affordably priced hot dog in Chicago.
12. Gold Coast Dogs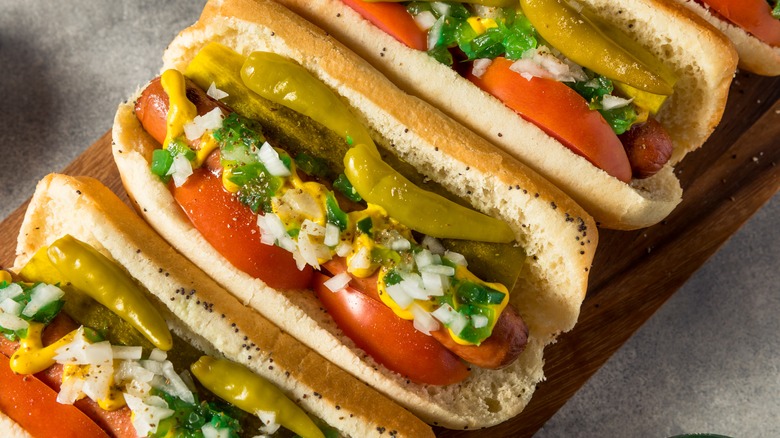 Brent Hofacker/Shutterstock
If you happen to find yourself at the O'Hare International Airport in Chicago, you may (or may not) wish to pay Gold Coast Hot Dogs a visit. After a deep dive into reviews for this airport-bound hot dog joint, we're convinced that this place has both its pros and cons that might just prove the restaurant to be the perfect pick for some, and a major flop for others.
So, what's the defining difference? From what we can tell, the pros of this Chicago hot dog restaurant are that the food comes up quickly, and the lines tend to move very fast. The pricing is decent, and let's not forget the utter convenience of having a hot dog restaurant already stashed inside the airport, especially when you're busy and on the go.
Now, for the cons. While most people agree that the food is indeed decent, many aren't feeling the fact that the Chicago dogs here come charred, which for some is a major taboo. Also, according to a couple of Yelp reviewers, the fries can come off a tad too salty. Either way, we're willing to admit that although this hot dog restaurant may have some drawbacks, the fact of the matter is that it is a quick, easy, and convenient way to enjoy a Chicago dog while you're bustling on your way to catch your night flight.
11. America's Dog and Burger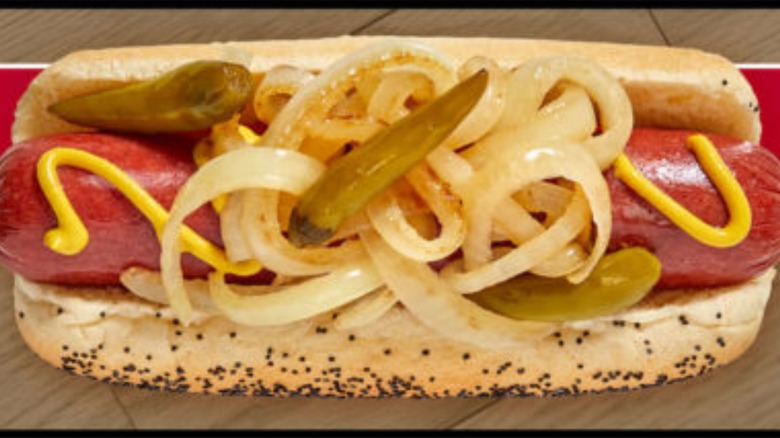 America's Dog and Burger
So many dogs, so little time! America's Dog and Burger restaurant may not always get glowing reviews, but if you're looking for interesting options to top your hot dog with, it certainly has you covered. Choose between a traditional Chicago-style link or an Atlanta dog peppered with bacon, fried jalapeños, and mustard all atop creamy coleslaw. It has it all! Regardless, despite its tantalizing options, some customers simply aren't impressed with the hot dog joint as a whole. Many are disappointed with the fries, and as for the taste of the hot dogs, some reviewers see them only as "meh" or "decent," especially when compared to other more popular spots in the area. 
Is America's Dog and Burger worth checking out? Probably. This is especially true if you're in the Navy Pier area. But if you're looking for the best of the best, keep reading. We've got other tempting hot dog options for you coming up.
10. Portillo's & Barnelli's Chicago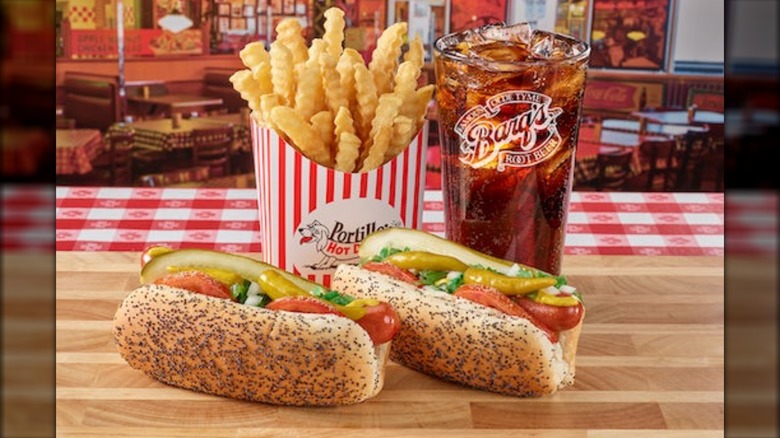 Portillo's
Looking for a place to go that's got lively charm, plenty to look at, and good food to boot? If so, you should definitely give Portillo's & Barnelli's Chicago a try. This place is often packed with people and includes plenty of interesting memorabilia for you to feast your eyes on while you devour the food.
As far as food fare goes, this place is known to really dish up the goods. Some of the most honorable mentions include the chocolate cake milkshake along with the Italian beef. As far as hot dogs go, most customers seem to agree that these range from pretty standard to very good. Enjoy the Chicago dog or a chili cheese dog with diced onions. Going the vegetarian route? It has you covered there, too. Enjoy a Chicago dog made with plant-based ingredients for a traditional, filling, and totally vegetarian-friendly hot dog grab. The prices are also said to be affordable in general when dining at Portillo's and Barnelli's, so it really is a win-win when dining at this popular Chicago location.
9. Budacki's Drive In
Budacki's Drive In is yet another hot dog joint in Chicago that's totally worth the visit. Not only is the food pretty good, but it features a large parking lot and even picnic tables to take some of the stress out of your visit, allowing you to enjoy the breezy outdoor air as you eat.
According to a reviewer on Yelp, the portions here are hearty and the food is certainly worth it. Besides the delicious hot dogs, some love the Korean steak and others adore the vegetarian options also offered at this location. It dishes up everything from chili cheese fries to milkshakes, and yes, of course, your traditional Chicago-style hot dog. The place is affordable, as well, at least according to most visitors, which only adds to its charm and convenience.
So, are there any drawbacks? Well, according to a few reviews we've found, some think the hot dogs to be a bit lackluster, and the fries to be simply okay. But this by far isn't the common experience, so don't let that deter you from giving this spot a try. You'll likely love the food you get, and apparently, will have plenty of menu options to choose from to boot!
8. Chicago's Dog House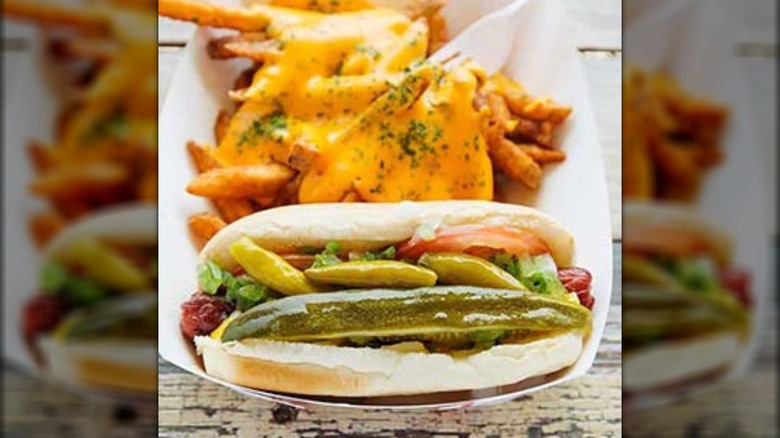 Chicago's Dog House
If you're looking for a solid hot dog to grab from the Windy City, then Chicago's Dog House is the stop for you. This place has a ton of raving reviews, and although we wouldn't say it's the best in the city, it certainly comes with its perks, and earns itself a place as one of our most recommended Chicago hot dog eateries in the area.
What makes Chicago's Dog House great is its amazing menu and fun themes. Here, you won't only find a delicious Chicago hot dog, but also a Snoop Dog, a Chihuahua Dog, and even Clifford the Big Red Dog. No, we aren't being funny. These are literally the names of current hot dogs spotlighting on Chicago's Dog House menu.
And in case you think funny menu items are all this place has to offer, take note that many of these goofily titled dogs are downright amazing, despite their tongue-in-cheek names. The hot dogs taste great, the fries are outstanding, the place is packed, and the atmosphere is loud — all signs of an amazing hot dog joint in Chicago. We absolutely love it.
7. Flub a Dub Chub's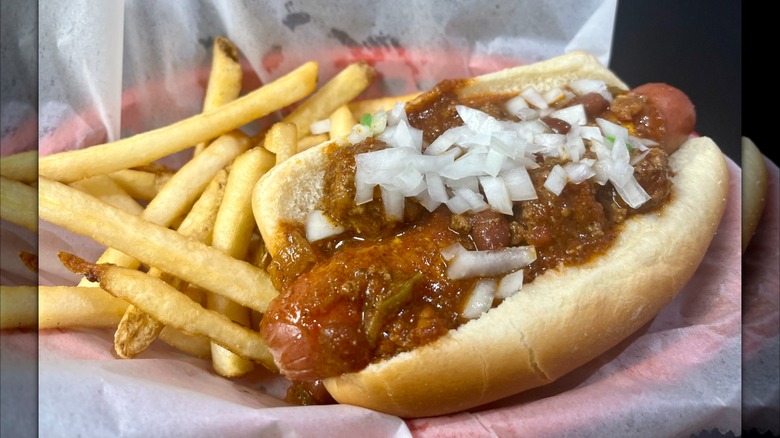 Flub a Dub Chub's
Flub A Dub Chub's is not only fun to say, but according to one Yelp reviewer, it's about as real as it gets when it comes to taking a bite of a true Chicago dog. Located underground, this fun and interesting restaurant features patron art and has its own unique charm. As a neighborhood staple, you may expect a long line here, but those who have frequented the place comment that the line moves relatively fast, so don't let that scare you.
As for the dogs, well, it doesn't disappoint! Expect to get a mouthful of delicious frankfurter topped with all your favorite goodies and fries that are cooked to perfection to top it all off. Oh, and if you thought you were gonna smear your hot dog with ketchup (something that is very taboo in Chicago), just know that one Yelp reviewer has spilled the beans and claims someone will take a picture of you and play it on loop on their digital Wall of Shame. You've been warned.
6. The Hot Dog Box
If you want a really big tasty hot dog full of wonderful toppings and deliciousness, look no further than The Hot Dog Box on West Washington Street. Father and daughter owned, this shop has garnered a lot of attention for its family-oriented origins, as well as the eclectic offerings. One of the most popular hot dog staples is the Bronzeville Bourbon Dog. This hot dog is covered in rich bourbon BBQ sauce, nestled on top of a steak dog with steak peppers and hickory smoked bacon. As if that wasn't enough, portion sizes tend to run very large, so be sure to come hungry if you plan to get a dog here.
As for the price? Well, unfortunately, that's the downfall of this joint. Although this restaurant has a lot going for it from the artistically curated murals on the building to the ample portions and unique hot dog creations, if there's one thing patrons are complaining about, it's the price. Still, some may think it well worth the money spent, especially considering the amount of food you get upon ordering. Either way, The Hot Dog Box is certainly a solid place to grab a good dog, especially when you're feeling particularly ravenous.
5. Wolfy's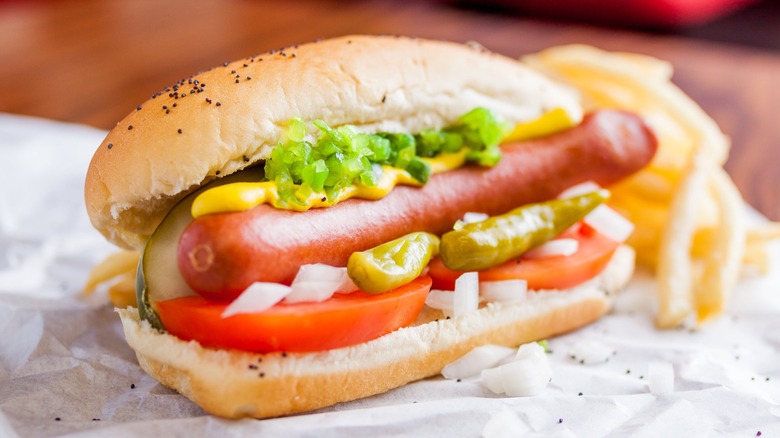 Wolfy's
Wolfy's is a classic Chicago favorite, and if you're in the area, you might as well do yourself a favor and stop on by. Not only does this hot dog joint dish up delicious hot dogs (we'll get to more about those in a second), but it also doles out juicy, and delicious burgers that feature grilled onions and melty cheese. If you're a cheese fry fan, (or heck, even a "regular" fry fan), take heart, because according to reviews, Wolfy's knows how to get these kinds of sides just right. Just know that you'll have to be a fan of artificial cheese to really get into the cheese fries. But if you're down for it, rest assured that Wolfy's pulls these off exceptionally well.
As for the hot dogs? Well, reviewers rave that they're one of the tastiest you'll find. The hot dogs come with plenty of celery salt, plump, red, juicy tomato slices (even during off-seasons), and thick hearty pickle spears that just scream "Chicago." Don't forget to sample the Italian beef and chili dog, all for a reasonable price, too. We're digging it!
4. Fatso's Last Stand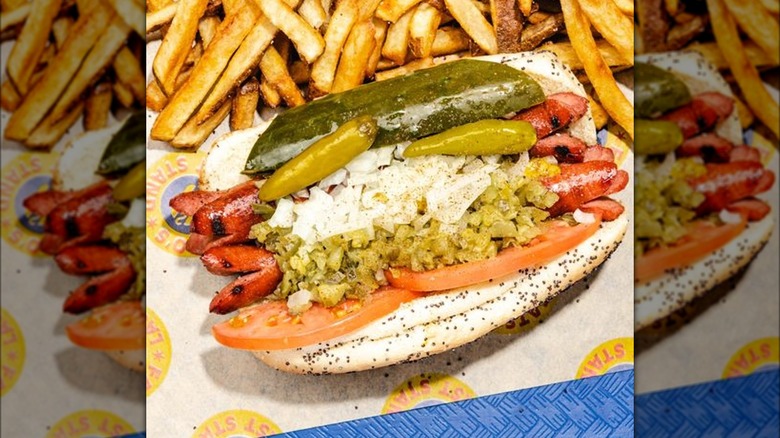 Fatso's Last Stand
Looking to pair your hot dog with fried shrimp, homemade mac and cheese, onion rings, or a big bowl of chili? Fatso's offers its patrons all that and more. Aside from delicious-tasting hot dogs, this Chicago eatery features a whole host of savory grabs, all of which can be paired with your hot dog or eaten on its own.
The hot dogs themselves shouldn't be overlooked either, as Fatso's offers hearty, filling, and breathtaking hot dog creations, including its version of a Chicago "char dog" with fries, chili cheese dog, and even a Maxwell Street Polish Style sausage. Oh, and don't forget the Italian sausage with peppers! The restaurant also offers several mean burger grabs, making this a top spot for scoring delicious Chicago-style foods. There's also free parking, awesome customer service, and plenty of vegetarian options to go around. It's definitely worth the stop the next time you're in the city.
3. Gene and Jude's
In operation for over 70 years, Gene and Jude's has become a community staple, and not for no reason. This counter-style diner has no seats but has proven to knock the socks off tourists and locals alike. With just a quick glance at the menu, it may be impossible to understand what all the fuss is about. After all, from what we can tell, there are only a total of four items on tap, and those seem arguably mundane for a restaurant that receives so much hype. However, what Gene and Jude's does offer is so well executed that it keeps its customers coming back (and has been) ever since 1945.
So, what's so special about Gene and Jude's dogs? A typical hot dog comes with onions and sport peppers, along with a hearty helping of mustard. It's then topped with pickle relish before it gets a handful of fries thrown — not on the side, but literally on top of — the hot dog. Call it strange if you wish, but anybody who's ever had a dog here knows it's delish. Thus, Gene and Jude's is the real deal when you want a true Chicago treat.
2. Jimmy's Red Hots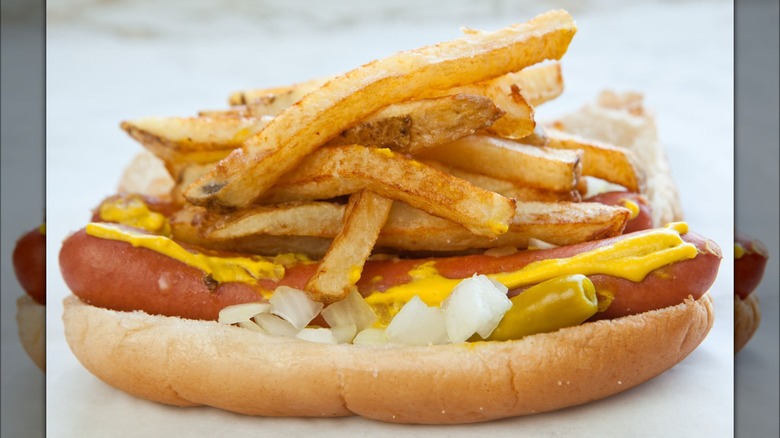 Jimmy's Red Hots
If you love the idea of fries directly on your Chicago dog from Gene and Jude's, you're in luck. You'll likely love the dogs at Jimmy's Red Hots just as much. As the name implies, Jimmy's offers delicious "red hot" hot dogs that are sure to satisfy your taste buds and your appetite.
Yelp reviewers agree; this is one shop that people keep coming back to due to its crispy, juicy, and snappy hot dogs and Polish sausages. Though they don't appear to come topped with relish and tomatoes, they do come with onions, a hearty helping of fries, and mustard. Everything is served on a fresh steamed bun along with a portion of delicious fresh-cut fries. Of course, some hold the opinion that Gene and Jude's is better than Jimmy's Red Hots, and we'll admit, the two are head-to-head. Still, which one truly wins out will depend on your taste preference and judgment, but we definitely think this is a place well worth the No. 2 spot on our list of best places to grab a great Chicago hot dog.
1. Superdawg Drive-In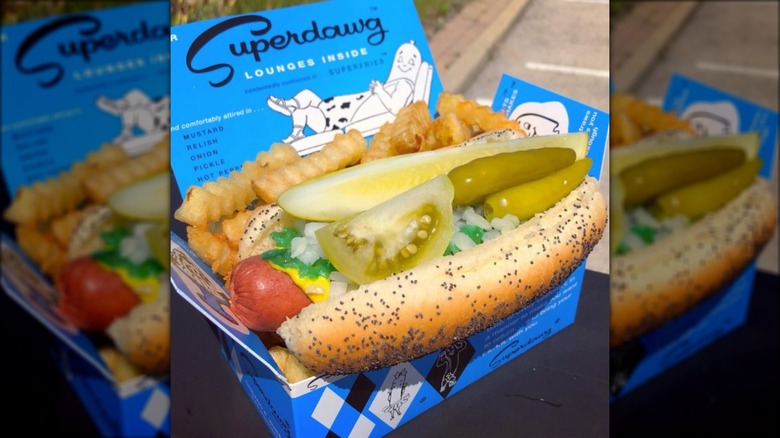 Superdawg Drive-In
Superdawg Drive-In has managed to steal the top spot among so many fellow Chicago hot dog competitors, and when you read further into the history of the restaurant, it's easy to see why. Maurie and Flaurie Berman, the dynamic duo of a couple who founded the restaurant in the '40s, went to great lengths to create their own exclusive version of a hot dog that is unmatched and unparalleled. This bigger, bolder, and more flavorful version of a hot dog comes topped only one way, but don't worry, that "one way" is a heck of a grab. Enjoy a Superdawg packed with chopped Spanish onions, mustard, a dill pickle, piccalilli, and a hot pepper, all atop a poppy seed hot dog bun. This all-beef no-filler hot dog is then paired with Superdawg's famous "superfries" and served with a smile.
According to reviews, this old school shop is sure to please and has left customers returning for more for ages. The place still offers a car hop service, but you can also walk up to the counter. Fans agree that the Chicago dog here is well worth the money spent, and that the green tomatoes are a nice change from the original red sort found on most Chicago dogs. So, it seems safe to say that Superdawg Drive-In is one of the best places to score a yummy hot dog in the Chicago area. Be sure to stop by and see for yourself what all the fuss is about.