How Many Chefs Does The White House Have?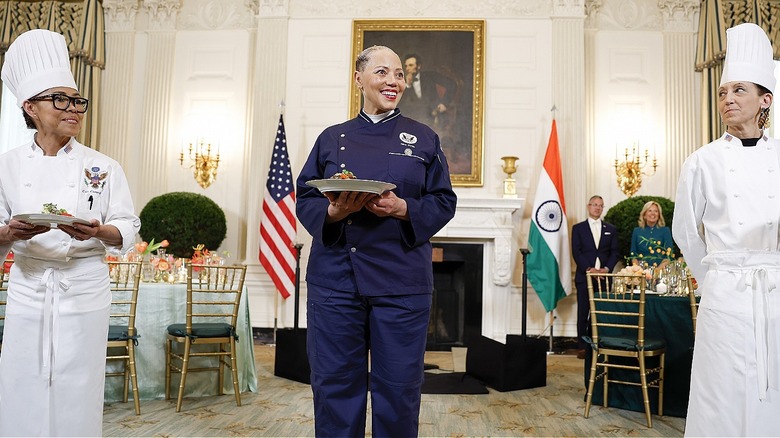 Anna Moneymaker/Getty
For many chefs, being in charge of the kitchen in one of the world's most famous landmarks would probably be a dream job. While restaurant work is the career path of many in the culinary industry, a few lucky chefs may find themselves in the kitchen of the president. 
The vast amount of food that must be prepared to feed a president, their family, and a slew of visiting world leaders requires a small army, which is why the White House employs a total of six chefs, including the White House Executive Chef Cristeta Comerford. While five chefs is already an impressive number, that figure doesn't include the dozens of prep staffers, kitchen assistants, and servers that also work in the White House. 
The teams are responsible not only for keeping the Oval Office's main kitchen running, but also for working in the White House's two pantries, the official pastry kitchen, and in the Executive Kitchen located inside the president's residence. On top of this, White House kitchen staff are also expected to be on call 24 hours a day in case the president or their staff get a little peckish while working overnight in the Situation Room. 
What a typical day for a White House chef looks like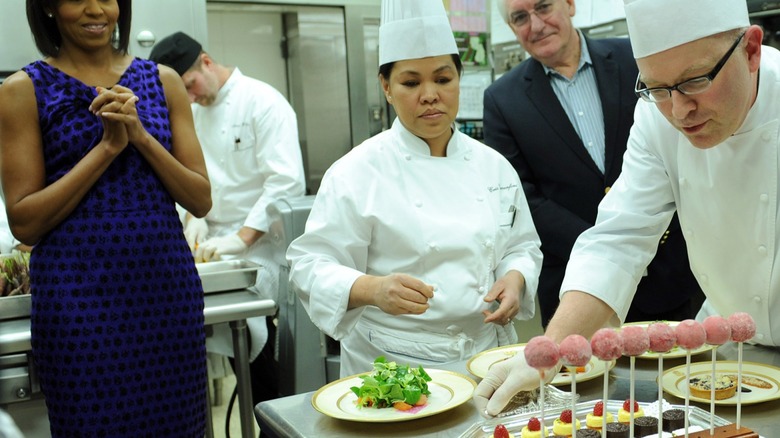 Pool/Getty Images
As you may expect, a day in the life of a White House chef starts with preparing breakfast for the president, their family, and other White House officials. While we don't know exactly what the president eats for his morning meal, White House Info has disclosed that guests dining at the White House Mess can choose from a selection of popular breakfast items including low fat sausages, cinnamon toast, cheese omelets, and even breakfast tacos. 
If the White House happens to be holding a state dinner or other special event, the day gets considerably busier for Oval Office chefs. For these events, the chefs may be tasked with preparing a gourmet meal for as many as 140 guests or creating hors d'oeuvres for over 1,000 during less formal occasions, according to official White House estimates.
While cooking for the president is definitely time intensive, White House chefs are compensated well for their work, reportedly making more than $93,000 per year (via Comparably).