Pumpkin Pancakes Are The Easiest Way To Celebrate Halloween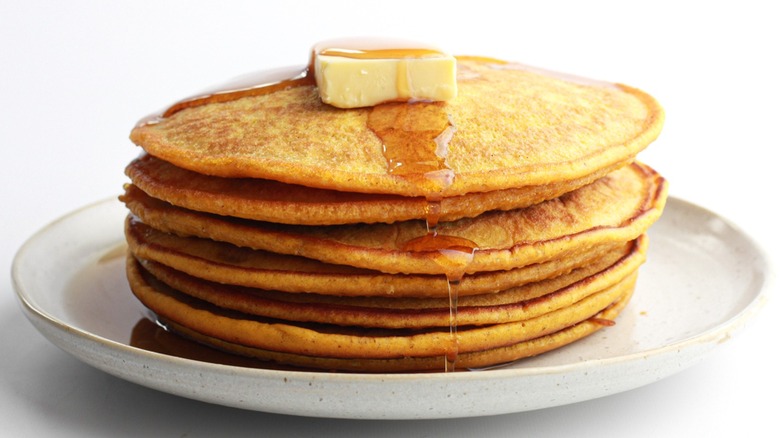 Susan Olayinka/Mashed
If the annual release of Starbucks' Pumpkin Spice Lattes and Pumpkin Pie Pop-Tarts is any indication, fall is here — and for many, a favorite holiday is quickly approaching. Is it ever too early to start celebrating Halloween? Whether you go all out with giant spiderweb decorations or prefer to enjoy the warm, comforting food and drinks of the season, we think pumpkin pancakes are one of the easiest and most delicious ways to observe this spooky holiday.
While this recipe may not seem to scream Halloween at first thought, it contains a critical seasonal ingredient. Pumpkins have been associated with Halloween since the mid-19th century when Irish immigrants arrived in the United States and the practice of jack-o'-lantern carving with them. Instead of using turnips like they did back home, they turned to pumpkins, which were larger and easier to carve.
In modern times, we love to eat and drink anything pumpkin-flavored during the fall. For instance, IHOP's pumpkin pancakes struck a chord with fans, with over 1 million being sold annually. IHOP also offers seasonal pancakes with a Halloween twist — Scary Face Pancakes — but if you're making these at home, how scary you make them is entirely up to you.
Pumpkin pancakes can be spooky or sophisticated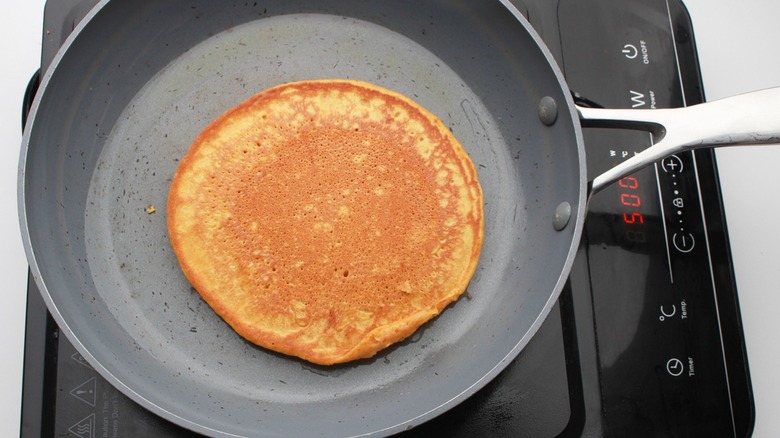 Susan Olayinka/Mashed
Whether you're making pumpkin pancakes for a Halloween brunch or a group of excited kids, numerous recipes are available to help you get in the spirit. Home chef and Mashed recipe creator Susan Olayinka created our easy pumpkin pancakes recipe with only nine ingredients. It's kid and adult-friendly, making it perfect for larger family gatherings. If you're seeking something more sophisticated, adding pecans, a cranberry-based topping, or even a cream cheese glaze will take these pancakes to another level.
For those with kids — or to indulge the kid in you — a simple jack-o'-lantern face made from raisins or chocolate chips is sure to please. You could also use Halloween molds for your pumpkin pancakes and turn them into ghosts, scared cats, and jack-o'-lanterns. Are you looking for something more unique? Create whipped cream ghosts that appear to be floating out the top of the pancakes, or make syrup with black food coloring and paint spiderwebs, ghouls, or Halloween cats onto the cakes. Better yet, let your kids paint their own spooky designs on top. A little effort is all it takes to make your pumpkin pancakes a Halloween treat!