Things From Trader Joe's That You'll Wish You Had Bought Years Ago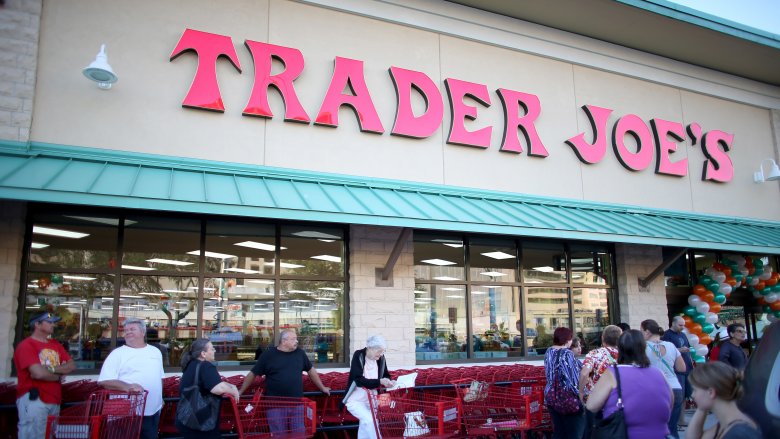 Getty Images
We may receive a commission on purchases made from links.
Trader Joe's may be just a grocery store, but it's got a cult following that can't be denied. There are whole blogs and Instagram accounts dedicated to tracking new products at the chain, and it's been voted one of America's favorite grocery stores for years now. 
Even so, with shelves so full of distractingly tasty goods, it can be easy to overlook some of Trader Joe's best products. These are the ride-or-die foods that we never want to be without, the ones that make mealtime less of a chore and more of an experience to be treasured. 
Better yet, all of these picks are $5 or less, meaning you can stock up on your favorites so you never run out. 
Whether it's your first time hitting up the chain, or if you're a Trader Joe's expert, consider adding a few of these tasty items to your cart the next time you go grocery shopping. 
Trader Joe's Everything But The Bagel Seasoning
The best part of an everything bagel is the seasoning on the outside, and Trader Joe's has finally bottled that fragrant blend of sesame seeds, garlic, onion, poppy seeds, and sea salt for us to use at home. 
You could of course use this to make your own everything bagels at home, but it's even more fun to get creative with it. Turn plain buttered toast into an "everything" breakfast experience, sprinkle the stuff on mashed potatoes, or add it to your cacio e pepe for some added crunch and flavor. 
It's also excellent when added to breading for chicken tenders and other fried foods, sprinkled over Asian-inspired soups, tossed with popcorn and melted butter, or added to your favorite homemade snack mix. 
If there isn't a Trader Joe's near you, you can purchase a bottle of Everything But the Bagel seasoning on Amazon, or you can try making it yourself using the spices you already have at home. 
Trader Joe's Speculoos Cookie Butter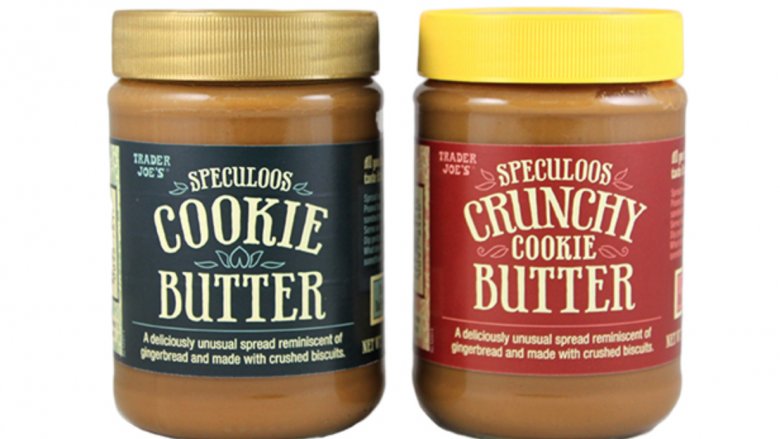 Trader Joe's
Dairy butter and nut butter had been the only spreads we used with any regularity for years, but after we were introduced to Trader Joe's Speculoos Cookie Butter, everything changed. 
Speculoos cookies are sweet Belgian biscuits that have deep caramelized notes and that are usually spiced with cinnamon and nutmeg. To make cookie butter, Speculoos biscuits are pulverized and blended with vegetable oils until they come together in a smooth spread. 
You can use cookie butter as a substitute for peanut butter in sandwiches and confections, or let it shine as a schmear on your morning toast, blended into smoothies and milkshakes, swirled into softened ice cream, or eaten straight up with a spoon. 
There's a smooth Speculoos Cookie Butter at Trader Joe's, as well as a crunchy version if you like a little more texture in your spreads. Both are sold for about $3.69 at Trader Joe's, but you can experiment with making your own if you have access to Speculoos cookies (look for Lotus brand Biscoff cookies), but not a TJ's.
Trader Joe's Green Dragon Hot Sauce
Yes, Trader Joe's sells the seemingly ubiquitous Sriracha sauce at their stores. But on the same shelf, there's a green hot sauce that beats the red stuff by a mile — Green Dragon Sauce. 
Green Dragon sauce has a fresher, more nuanced flavor than the simple sweet-tangy-spicy profile of Sriracha. Lime juice and tomatillos add a more vibrant acidity to the sauce than plain white vinegar alone; the heat comes from both organic jalapeño peppers and habanero pepper powder; and cilantro, garlic, and spinach give the sauce an earthy taste that makes it pair especially well with grilled and roasted meats. 
Green Dragon Sauce is incredibly versatile, but one way to ensure that it pairs well with your meals is to serve it with foods that come from cultures that cook with cilantro, garlic, and hot peppers to begin with. It's just as tasty dashed onto a lengua taco as it is squirted into a bowl of slippery Thai noodles.
Trader Joe's Cauliflower Gnocchi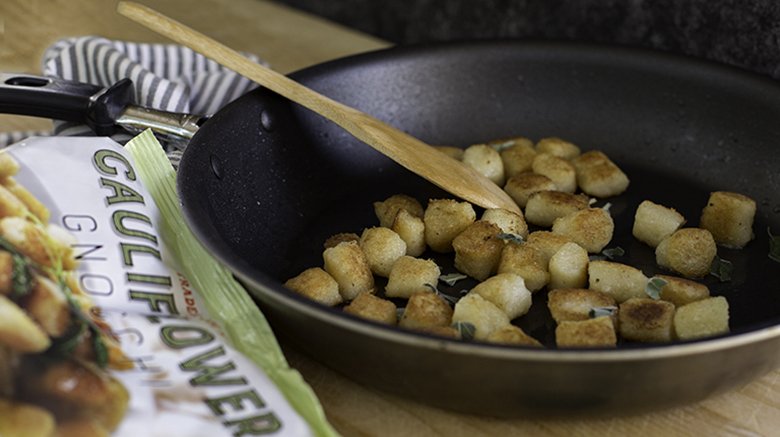 Trader Joe's
Premade gnocchi is one of our favorite ways to make a quick weeknight meal feel a little fancy, but it usually contains flour, which gets a big "No!" from our friends who don't eat gluten. Enter Trader Joe's Cauliflower Gnocchi. 
The gnocchi is made in Italy, so you know it's legit. It's made with cauliflower, of course, and instead of using flour and eggs as a binder, the Trader Joe's recipe includes cassava flour and potato starch. This results in a gnocchi that's gluten- and egg-free (great for allergy sufferers), and it also has less calories and fat than traditional potato gnocchi. 
You can sauté the cauliflower gnocchi in butter or olive oil until crisp on the outside and tender within, or boil it (or even microwave it!) until soft and tender. Toss with your favorite sauce or some brown butter and sage and you've got a chic gluten-free dinner in minutes. 
Trader Joe's Fig and Olive Crisps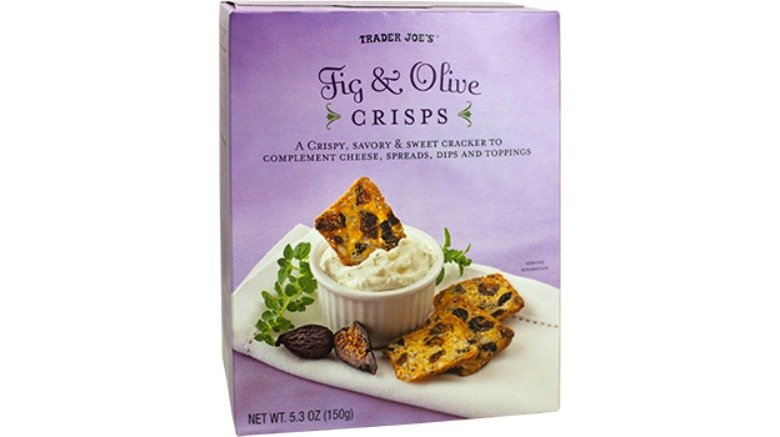 Trader Joe's
What transforms a plate of cheese and crackers from a hurried after-work snack to a party-worthy dish? Upgrading your crackers!
Butter crackers and plain flour wafer crackers are fine for more casual affairs, but if you really want to wow your taste buds, swap those basic biscuits for Trader Joe's Fig & Olive Crisps. 
They're hearty, crunchy crackers dotted with dried figs and kalamata olives, with flax, sesame, and sunflower seeds added to the mix for extra flavor and texture. The figs and olives make for a salty-sweet bite that pairs well with all of your favorite cheeses. 
Even a grocery store brand sharp cheddar tastes better when served on a fig & olive crisp. They help bring out the nuanced flavors in your cheese without overwhelming it. While a slice of cheddar on a Ritz cracker can just taste like a salt bomb, the same cheese paired with a fig & olive crisp has notes of caramelization, tanginess, and umami that would otherwise be lost. 
Better yet? These crackers taste pretty fancy, but you can get a box for just $4 at Trader Joe's. 
Trader Joe's Unexpected Cheddar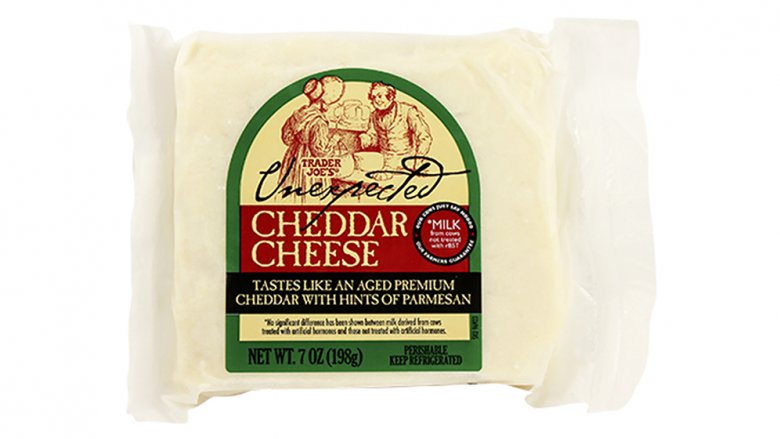 Trader Joe's
Trader Joe's is known for its tasty and affordable selection of cheeses, but there's one selection that stands out. 
That would be the Unexpected Cheddar, an American aged cheddar that's notable in that it also has a hint of Parmesan flavor and texture. It's a little sweet, has small salt crystals that give it the subtle crunch of real Parmesan, and overall tastes like something you would get at a fancy cheese shop, not your local Trader Joe's. 
Perhaps not unexpectedly, Unexpected Cheddar was the winner in the cheese category in the Trader Joe's 9th Annual Customer Choice Awards, coming in ahead of other customer favorites like Double Cream Brie and Cheddar Cheese with Caramelized Onions.
Whether you're eating it plain with some fig and olive crisps, shaving it onto a bowl of pasta, or melting it between two pieces of sourdough to make the ultimate grilled cheese sandwich, Trader Joe's Unexpected Cheddar is well worth the $4.
Trader Joe's Mandarin Orange Chicken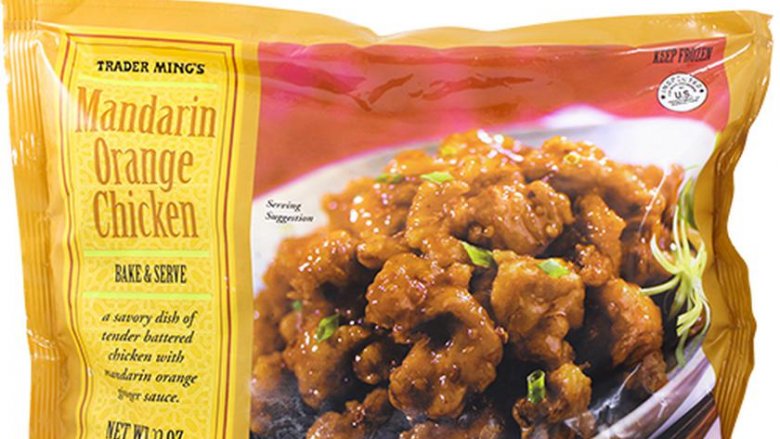 Trader Joe's
Trader Joe's Mandarin Orange Chicken is a mainstay of their frozen food selection. It was ranked as the favorite product overall in the 9th Annual Customer Choice Awards, and has been on offer from the chain since 2004, making it a true classic. 
What makes it so beloved? For starters, it's easy. You just bake up the breaded chicken, which gets nice and crispy in the oven, and then toss it with the thawed or microwaved packet of included Mandarin orange sauce. The sauce is made with real California orange peels, ginger, garlic, green onions, and soy sauce, adding a ton of flavor to those plain baked chicken pieces. 
If you're feeling fancy, Trader Joe's recommends adding the sauce to a hot wok or pan until it's thick and bubbly, then tossing the cooked chicken in there so it really soaks up all the flavor. 
Once cooked, you can enjoy the Mandarin Orange chicken with a bowl of rice, but it's also delicious as a salad topper or rolled up in a wrap along with some crunchy green cabbage slaw. 
Best of all, at $5, it's way cheaper than getting delivery. 
Trader Joe's Golden Oolong Tea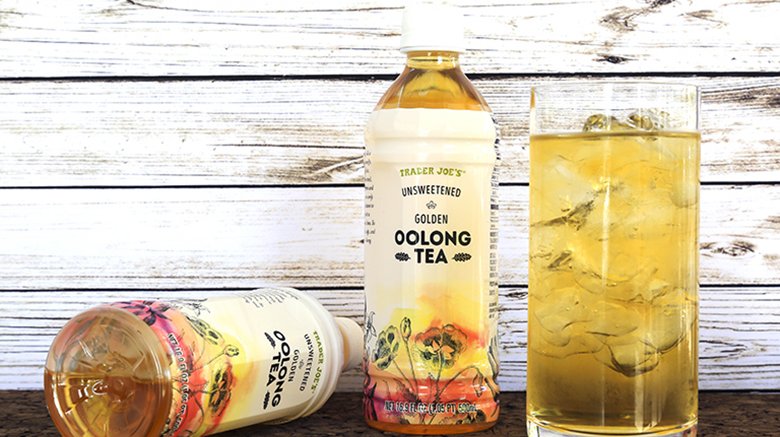 Trader Joe's
It can be hard to find a good bottled iced tea, and there's a reason for that — tea distributors often save their lowest quality leaves so they can be sold to bottled iced tea companies and as tea bags in the South (where they'll be made into sweet tea). In both cases, a hefty dose of sugar is the main beverage flavoring rather than the tea, which is more of an afterthought. 
That's why Trader Joe's Golden Oolong Tea is such a pleasant surprise. This unsweetened iced tea actually tastes like tea! It has just a touch of ascorbic acid to help it retain its color, instead of the taste bud punch of citric acid that so many sweetened iced teas contain. 
Oolong is a tea that falls somewhere in between green and black teas when it comes to body and flavor. Oolong tea is partially oxidized, whereas green tea isn't oxidized and black tea is fully oxidized. After oxidation, the leaves are roasted, which gives Oolong tea its slightly smoky flavor. 
Bottled iced teas aren't always our cuppa, but this bottled gem from Trader Joe's is something we wish we'd discovered long ago.  
Trader Joe's Soy Chorizo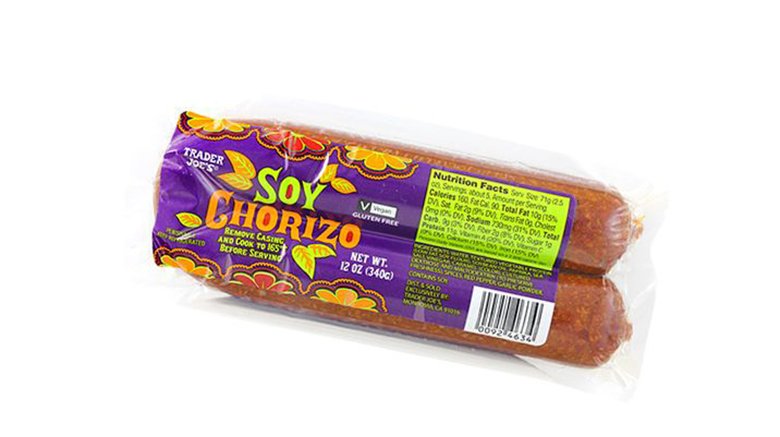 Trader Joe's
Cooking vegan and vegetarian meals can seem like a challenge, but sometimes all you need is the right ingredient in your fridge to inspire a whole meal. Trader Joe's Soy Chorizo is a backbone of our meatless Mondays, and it could be for you, too. 
Made with soy instead of pork, this vegan chorizo is flavored with the same seasonings you would find in its traditional meaty counterpart, including paprika, vinegar, red pepper, garlic, and other spices. Remove it from the plastic casing and you can sauté it with your favorite veggies to make epic burritos, rice bowls, and quesadillas. Combine with hash browns and fold into tortillas for satisfying meatless breakfast tacos, or stir some cooked soy chorizo into a pot of soup to add a vibrant burst of flavor. 
Even if you aren't vegetarian or vegan, soy chorizo can help you cut back on indulgence. You'd never guess this ingredient actually has 60 percent less fat than traditional chorizo, or that it has zero cholesterol. If you're watching either of those labels, soy chorizo can be a mealtime savior. You get all of the flavor and none of the negative health effects. 
Trader Joe's Bamba Peanut Snacks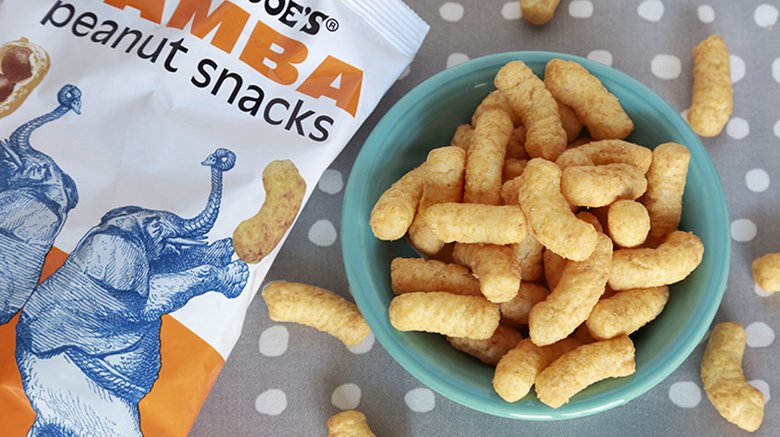 Trader Joe's
Peanut butter lovers and Cheetos addicts alike are bound to fall in love with Trader Joe's Bamba Peanut Snacks. They're basically a fusion of peanut flavor and crunchy puffed Cheetos texture that makes them almost impossible to stop snacking on. 
TJ's Bamba is made in Israel, which is also the country where they're the most popular. First, the corn is turned into the puffy Bamba, which is then cut into snack-sized pieces and tossed with melted peanut butter. Each bite gives you a rich peanut flavor without the heaviness of actually eating peanut butter with a spoon... not that we've ever done that. 
We like serving them at cocktail parties instead of the traditional mixed nuts, and these days we'd be hard-pressed to host a movie night without a bag or two on hand. Considering that Trader Joe's Bamba Peanut Snacks come in at just under $1 per bag, it's one munchie that we definitely don't feel guilty about stocking up on.