Taco Bell Stackers Finally Return To The Menu, But There's A Big Catch
Long-time Taco Bell fans may recall the limited menu item, the $1 Stacker, which was released back in 2017. A tortilla filled with beef, a blend of three cheeses, and cheese sauce, it's folded into a three-layered stack. While the $1 menu item sold very well, garnering something of a cult following, the chain has apparently waited to bring the Stackers back to the market for unknown reasons. That is, until new reports this week that the taco chain is planning another limited release of the classic item. Unfortunately, like many other popular menu items, the Stacker has become a victim of fast food inflation, now arriving with a doubled price tag of $2.
While some fans of the Stacker may be perfectly comfortable looking past the price increase, the item is expected to only be available in the Tucson, Arizona region, per a report on Brand Eating. This news is likely frustrating for any Taco Bell superfans nationwide who can't or won't take a road trip for a $2 meal, though some may hope that the Stacker's limited market return could be a soft launch for a wider release. This wouldn't be an unheard-of strategy for the brand, as the original Stacker release began with a market opening exclusively to the Birmingham, Alabama region before going nationwide.
What is the Taco Bell Stacker?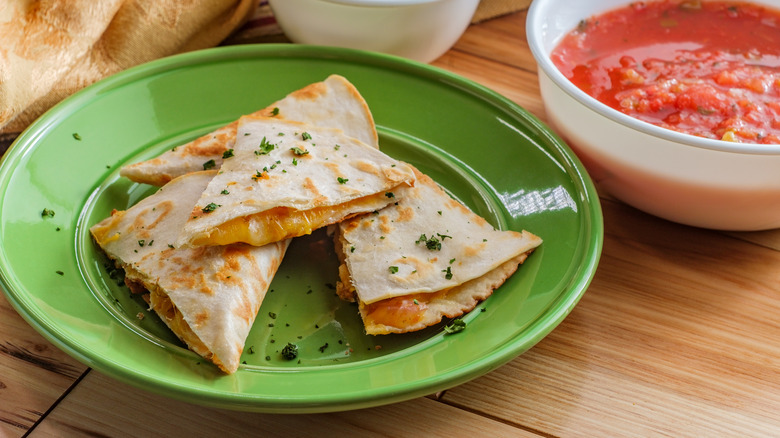 Ezume Images/Shutterstock
When the Stacker debuted about six years ago, it was very similar to a Taco Bell quesadilla. They were available by themselves for a dollar or in a $5 box with such offerings as the Doritos Locos Taco and the crunchy taco. Later, the chain released a breakfast version that contained eggs, cheese, and sausage or bacon. Now that the Stackers are rolling back out to a limited market, they are available in their original recipe along with a new spicy take that includes pickled jalapenos.
Since the Stackers' initial run, there have been a host of social media posts from fans demanding a return, and copycat recipes have cropped up. Needless to say, the item would almost certainly be a massive hit if Taco Bell were to bring it back in a wide release, leaving some fast food fanatics to assume it's only a matter of time before we see the $2 Stacker available across the country.