Hot Ones Collabs With Panda Express To Give The Chain Its Spiciest Item Yet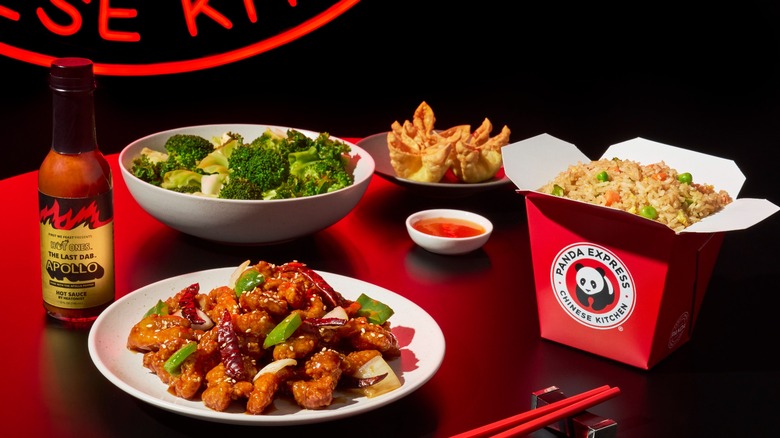 Panda Express
Panda Express is turning up the heat. The American Chinese restaurant chain just released a spicy dish developed in collaboration with the YouTube talk show "Hot Ones." The new Blazing Bourbon Chicken incorporates the show's Last Dab Apollo hot sauce and will be available until January 2. This dish is designed to capture the spirit of the show, which hosts celebrity guests who attempt to answer interview questions as they eat chicken wings that get increasingly hotter.
Panda Express is just the latest food brand to work with "Hot Ones" on a culinary endeavor. Hot Pockets announced a joint effort with the online show to create new, spicier varieties of its frozen products earlier this year. And in 2022, Shake Shack released four menu items created in conjunction with "Hot Ones."
The new Panda Express menu item, a spin on classic Southern cuisine, is sold at 50 of its more than 2,300 locations nationwide. The chain also warns that this will be their spiciest ever dish.
Blazing Bourbon Chicken is the hottest dish at Panda Express
If you're looking to have a "Hot Ones"-type experience of your own, Panda Express may have what you need. The chain's new Blazing Bourbon Chicken is made with the only sauce in the world to feature the Apollo pepper, which gives it its fiery kick and makes this Panda Express's spiciest-ever offering. The dish consists of boneless, crispy chicken bites and stir-fried fresh vegetables tossed in a combination of "Hot Ones" Last Dab Apollo hot sauce and Sweet Bourbon sauce.
Panda Express' Blazing Bourbon Chicken is inspired by Taiwanese popcorn chicken and made with dark meat that receives a crispy coating intended to deliver a satisfying bite. A Mashed correspondent who attended the press event for this release learned that the spicy sauce is made with bourbon, honey, smoke, and Last Dab hot sauce. While the "Hot Ones" team had to convince Panda Express to opt for the spiciest sauce out there, the new partners collectively came up with something they thought customers would love.